On a sudden trip or a planned trip, it is often needed to have cold drinks on a hot summer day or hot coffee on a nice cold and foggy day. A good tumbler is the best option to keep both "hot" or "cold" drinks at the right temperature and not only on a trip but also in the offices, houses, etc. whenever and wherever people want to take a favorite drink with them a tumbler is a simple solution. A tumbler is a flat bottomed drink container that is traditionally made of glass or plastic. They keep the drinks cold or hot for a long time. In that way, you get fresh beverages. Here we featured the top 13 best tumbler cups for your convenience. We researched the market very carefully as we understand how delightfully quirky you can be about your beverage container. We also clearly added which tumbler is best in which category. So, enjoy your ride with us and pick up the suitable one.
---
Best tumbler Cup for Hot & Iced Drinks Review
Skinny tumblers present 12 colored acrylic tumblers with lids and straws. Due to double walls, the cup keeps warm drinks stay warm and cold drinks stay cold. It has a slim design that can be satisfying to hold and great for children and arthritic hands. It contains 16oz of your desired beverage. It's 8.5" high and 2.5" in diameter. Interestingly enough, it gives you a free mini wire cleaner to keep the straws bacteria and mold-free.
PROS (What we liked)
Nontoxic BPA free Acrylic.
You can place it in the dishwasher. So, it's straightforward to clean.
Tumblers are a perfect size to hold. So, it's very comfortable to hold.
Perfect tumbler for party lovers.
Splash-proof screw-top lids to minimize spills.
Straight sides are suitable for branding, vinyl logos, or monogramming.
CONS (What we didn't like)
---
This black tumbler cup is exclusively built for the outdoor explorer. This 20 oz. Stainless steel tumbler is designed to be ultra-convenient and exceptionally durable to last for a long time. It keeps your cold drink cold (up to 12 hours) and hot drink hot (up to 6 hours). It includes a transparent lid to monitor your drink. It fits in most car cup holders. It made of an easy to grip material so that people can easily take it on their travel plus everlasting hydration on the go.
PROS (What we liked)
It includes two unique lids. They are called simple lid (inspired by millions of coffee drinkers) and flip lid (allow the people to enjoy drinks safely)
The matte finish gives the tumbles a classy look.
It's eco-friendly.
The tight clip seal on the flip lid assists prevents spilling and splashing.
It features a steel straw, which offers to sip on your beverage easily.
It also includes a straw cleaner to keep your straw fresh.
It's made of 100% stainless steel. So, it's very lightweight and sleek.
It offers a lifetime guarantee.
CONS (What we didn't like)
The lid is difficult to get on and off.
---
This simple modern 16oz classic tumbler comes with a flip lid and straw lid. These simple modem classic tumblers are double-walled plus vacuum insulated that keeps your favorite beverage cold or hot for hours ( a long time). This tumbler is made from premium gauge 18/8 stainless steel. It is powder-coated in a durable matte finish. Most importantly, this tumbler fits in most cup holders. However, it is more important about this brand because it believes in quality, excellence, and generosity. It donates over 10% of the profits.
PROS (What we liked)
It's leakproof.
Easy to clean.
There is no condensation at all.
It's highly rust-resistant. It does not retain flavors from previous drinks like plastic cups.
The lids are BPA free.
This tumbler cup will last for a long time.
CONS (What we didn't like)
It's not dishwasher safe.
---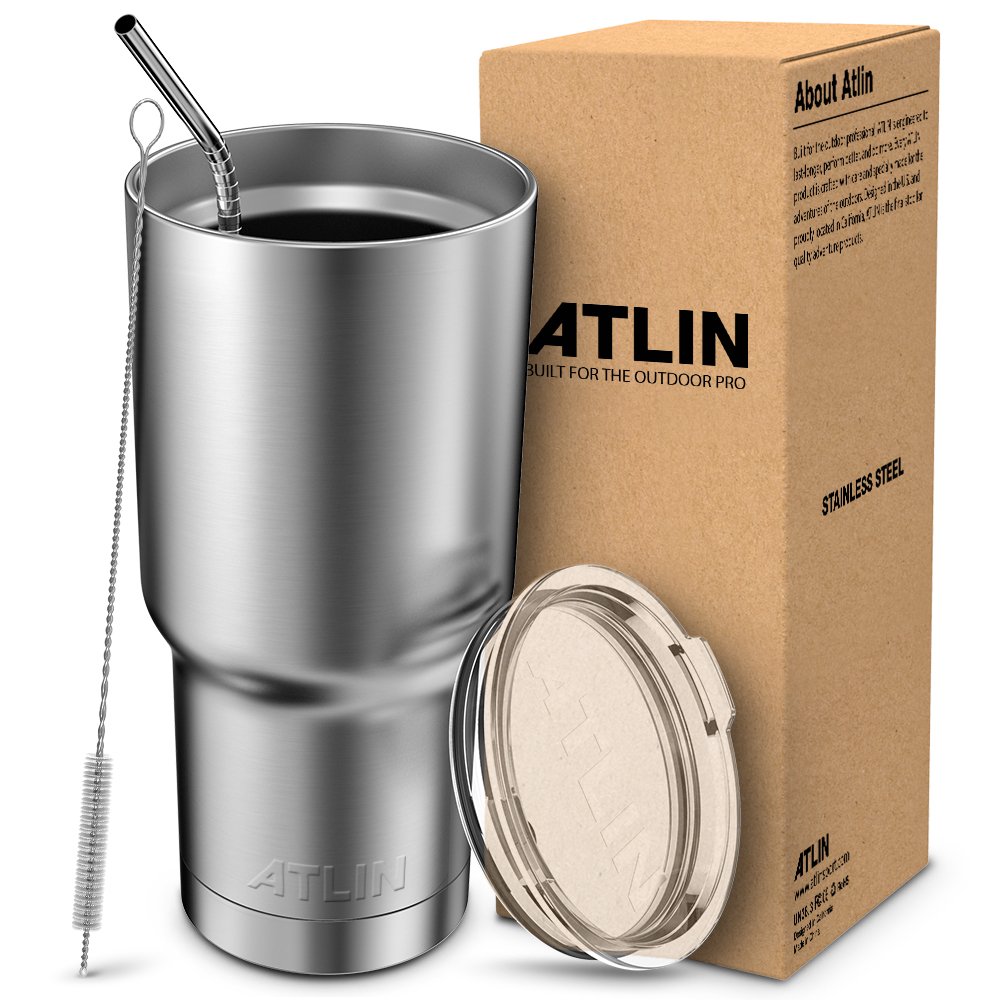 This tumbler offers 1 x 30oz Atlin Tumbler, 1 x Tumbler Lid (plastic), 1 x stainless steel straw, and 1x straw cleaning brush in their deal. The Atlin Tumbler is 7 5/8″ high. It carries up to 30 oz of fluid. It's made of 100% stainless steel. It very much grip-friendly. So, you will face any problem to hold. It fits in standard-sized cup holders. It has a transparent lid to monitor your remaining drink.
PROS (What we liked)
It features two layers of insulation to keep your drink's temperature no matter the outside climate.
It has a sleek design.
It's BPA free.
It's dishwasher safe.
It keeps liquids hot for up to 6 hours.
It keeps liquids cold for up to 24 hours.
It's slim enough to fit any cup holder.
It's extremely durable.
It's effortless to clean.
CONS (What we didn't like)
---
YETI Rambler comes with the YETI MagSlider is the only drink lid that used the power of magnets to keep your beer, water, or favorite drink on lock. It has some advanced technology like double-wall vacuum insulation, 18/8 stainless steel construction, and no sweat design. These features keep your drink's temperature intact and also keep your hands dry — the YETI 20 oz. Rambler stands 6 7/8 in high. It has a lip diameter of 3 ½ in. What is more, Dracut is a durable coat of color that won't peel, crack, or fade through extended field use. It also offers additional grip to the Rambler's exterior.
PROS (What we liked)
It's dishwasher safe.
The rambler is BPA free.
The stainless steel is puncture and rust-resistant.
It fits in any standard size cup holder.
It keeps hot drinks hot and cold drinks cold until the last sip.
Comfortable to hold.
Durable
CONS (What we didn't like)
---
This Skylety 12 oz insulated wine tumbler is made of 304 stainless steel. It's more durable than any standard glasses. Most importantly, they are not easy to be broken. It's designed with advanced insulation technology, which is excellent for keeping the drinks cold or warm for a longer time. However, you can use it in any season. What is more, the lid is adorned with a straw hole for a cup on the surface, which is great for easy sipping with straws plus assisting reduce splash. Furthermore, these two wine cups are great for storing any beverage such as beer, water, wine, and so on.
PROS (What we liked)
The ergonomic design lets the users hold the wine cups effortlessly.
It has 34 different colors.
The walls are sprightly colored and exclusively treated to minimize discoloration plus fragmentation to provide a smooth handle.
It keeps hot beverages hot over 3 hours plus cold drinks cold for 5 hours.
The non-stick interior makes the cleaning easy.
For easy drinking, it features a straw hole on the lid.
It comes with vacuum insulation technology, which prevents heat from spreading plus maintains the outside of the cup at a stable temperature.
CONS (What we didn't like)
You cannot use these cups in the microwave, oven, or stovetop.
---
This 30oz RTIX Tumbler is made of stainless steel. It is a double-wall vacuum insulated. It works fantastically for hot beverages and also keeps your drink ice cold longer. It also features a crystal clear which allows you to know How Much drink you have. It has a tall and narrow design that fits more cup holders. It is effortless to grip. It has no sweat exterior.
PROS (What we liked)
It keeps cold for up to 60 hours.
It keeps hot for up to 12 hours.
Airtight seal heavy duty lid seal locks in the cold.
It's effortless to clean.
It features a splash-proof lid.
It's straw friendly.
CONS (What we didn't like)
It's not really dishwasher safe.
---
This 30 oz Chillout life stainless steel tumbler is designed with double-wall vacuum insulated technology. This high tech insulation method stops heat transfer to the outer walls of the cup. It keeps hot drinks scalding-hot for up to 8 hours plus the cold drinks ice-cold up to for 24 hours. It also features a sweat-free design, which prevents condensation or changes from forming on the outside. It also ensures that the cup never leaves a spot, plus you never burn yourself.
PROS (What we liked)
It's made of durable, premium 30418/8 food-grade stainless steel.
The electropolished on the inside makes sure that your cups remain rust-free.
It also has a super grip colored finish on the outside.
For easy portability, the bottom of this mug is comfortably sized to fit car cup holders.
100% BPA free plus FDA approved.
It has different 15 colors. You can pick up your desired one.
CONS (What we didn't like)
It's not dishwasher safe.
---
With this 30oz stainless steel tumbler cup, you will get a removable tumbler handle, two drink lids 999leakproof for cold, sliding for hot), stainless steel tumbler straw, and straw cleaning brush. Interestingly, the MalloMe brand is tested and tried against RTIC and YETI (on YouTube), and it came out on top because of its impeccable engineered wall design.
PROS (What we liked)
The 304 18/8 stainless steel construction out and inside makes the tumbler long-lasting and rustproof.
The tall and narrow design fits in more cup holders.
It includes a grip handle to make your experience more delightful.
They are dishwasher safe.
The brand provides a lifetime guarantee plus a 100% guarantee.
CONS (What we didn't like)
The flip lid is not very significant for drinking thick shakes.
---
This beast 20oz stainless steel tumbler cup is travel-friendly and comes with two straws, a splash-proof lid, a pipe brush, and a gift box bundle. For maximums insulation, it's designed with a super robust, double-wall vacuum with copper lining. It is built with 18/8 food-grade steel with an enhanced non-faded coating finish for superior durability. The bundle comes with a gorgeously printed gift box, 100% recyclable, printed on attractive craft paper.
PROS (What we liked)
It's tested against leading brands like YETI.
The splash-proof closeable lid keeps the drinks protected and insulated for longer.
The tumbler provides you a charming touch with a sweat-free design.
An electropolished interior makes sure that your cups remain rust-free plus pure.
It imparts no unwanted flavors.
It's perfect for thick drinks.
It's built to last for a long time.
CONS (What we didn't like)
The lid is a bit difficult to clean.
---
11. Contigo AUTOSEAL – Best tumbler for coffee
This Contigo travel mug is the top-selling product on Amazon. It's is ranked in #36 (in terms of selling) in the kitchen and dining category. It has immense popularity among consumers. It has tons of positive reviews in forums and online shops. This travel mug is designed to adapt to any commute. It is available in 24 ounces, 20 ounces, and 16 ounces. This leak plus spill-proof mug maintains liquids icy cold or piping hot for hours. You can comfortably use it in just one hand.
PROS (What we liked)
The bottom of FormAUTOSEAL technology is a leak- and spill-proof.
Due toDDue to THERMALOCK vacuum insulation, drinks stay cold for up to 17 hours and hot for up to 7 hours.
One-handed drinking with OgvjnoooooOne handed drinking with the push of a button.
Secure lid opens entirely for thorough cleaning. Easy-clean Lid opens entirely for thorough cleaning.
Top-Top-rack dishwasher safe lid.
It 100% BPA-free. It's 100% BPA-free.
CONS (What we didn't like)
The stainless steel body is not dishwasher safe. It's hand wash recommended.
---
12. Be Burgundy w/Splash Proof Lid – Best tumbler for tea
This 20 oz tumbler cup comes in 7 different colors and ten different font options. The mug has a narrower bottom so that it can fit with most cup holders. It provides with most American cars. Due to double-wall vacuum insulated tumblers, it keeps drinks up to 36 hours cold or up to 24 hours hot.
PROS (What we liked)
It comes with free laser engravings, which will not fade over time.
It's BPA and lead-free.
It comes with a clear lid.
The color options are vibrant.
100% satisfaction guarantee.
It's dishwasher safe.
It's lightweight as well as durable.
CONS (What we didn't like)
The lid tends to come loose.
---
This 30 oz insulated travel coffee thermal mug comes with an elegant and sleek design. This 30-ounce vacuum insulated construction doesn't condensate. It keeps drinks cold or hot for hours. It is built of solid and thick 18/8 stainless steel.
PROS (What we liked)
It's spill and leak proof.
It comes with stainless steel straw plus a silicone tip.
It features a cleaning brush to keep the straw clean.
Durable construction.
It has a free bonus chill cup cork coaster.
CONS (What we didn't like)
Sometimes the lid may not stay on well.
---
Overall Ideas
These areour top 13 best tumbler cups reviews. Buy the one which fits your requirements; if you would like to share anything, comment below.
---
Tumbler Cup Buying Guide
What is a tumbler cup?
This is probably not a strict secret that most people's day begins with hot drinks such as tea or coffee. But early in the morning, unfortunately, not everyone has enough free time for decent tea, and in this case, the purchase of a tumbler cup makes sense. Thanks to this mug, you can take your favorite drink with you and enjoy it on the go. An insulated cup serves to keep warm or cold different beverages. This is possible because such cups are equipped with a double wall and have a unique vacuum construction in between. Such a useful invention may be used in everyday life, e.g., B. on the road and during a hike or fishing. The advanced tumbler cups also offer away.
These cups are usually only used by one person, so if you need more capacity, then look for a tumbler cup that can be bulkier. But if you do not just drink on the go but also want to get something between the teeth, then the plastic food storage boxes are also ideal for warming up in the microwave ideal.
---
How to choose your insulated mug?
Small accessory very useful; a small insulated travel mug can quickly become essential. To be able to choose among the multitude available on the market, here, in my opinion, are the necessary criteria that will have to be taken care of before setting your sights on a model.
The material
Composed mainly of stainless steel, the insulated mugs allow keeping your drink in a material compatible with food and resistant to rust.
Being partly made of plastic (mainly the lid), it is essential to ensure that it is free of bisphenol-A. There is no release of toxic materials when in contact with the drink, especially with hot beverages.
The interview
For sanitary reasons, obviously, and for taste reasons (to appreciate your freshwater without the taste of your coffee of the day before, it is top), it is recommended to choose an easily washed model in the dishwasher, cover included.
This will guarantee a good wash and ensure getting rid of odors and stains left by the previous drink, if necessary, and without much difficulty. Of course, in this case, choose a model that is easy to disassemble and that does not include too many sub-parts (ideally only count the body of the mug and lid).
The capacity
The capacity chosen for your mug depends mainly on the use you intend to make.
As you only want to use it for your morning coffee or to replace the disposable plastic cups offered by the coffees, a size of 300/400 ml is more than enough.
On the contrary, if your mug is intended to contain your drink for the whole day or several people, you will have to opt for a much larger container, about a liter.
The effectiveness
Of course, opting for an insulated travel mug, you are mainly looking to keep your drinks hot or cold for a while. According to the cups, the isothermal efficiencies will be quite variable because they are often correlated with the investment price.
However, it is advisable to think about the use you want to make, because sometimes it is unnecessary to invest a lot. If you're looking to keep the temperature of your drink just a few hours, then most mugs will do the trick.
If, on the contrary, you need your drinks to stay hot or cold for long hours, you will need to invest a little more.
In any case, check that the chosen model is well sealed, which will allow you to keep your mug closed in your purse and not having to always keep it straight in hand.
Portability
Know that the capacity of your mug will directly affect the portability of it.
Thus, it will be easy to slip the mugs of less than 500 ml in your purse (provided that it is well sealed) while the larger ones will have to be carried by hand or in a backpack large enough.
The capacity will also undoubtedly play on how you will drink your beverage. Thus, in general, large mugs of about 1 liter do not drink directly to the mouth but often have a cap that serves as a cup.
As a result, two hands are often needed to serve, not ideal for transportation or walking on the street, although quite suitable for hiking breaks.
On the contrary, the smallest mugs are used without worry like a cup, often with a suitable lid to reduce the risk of splashes and burns. Ideal if you intend to use it while walking or driving when you have only one hand free.
Practicality
As mentioned above, the size of your mug will make it an object more or less convenient to use.
Around 1 liter, the bigger ones often have a rather simple hermetic cap, which you unscrew and then pour your drink into the cup.
The small cups that are drunk directly like a cup compete on how the lid works since it must act as an airtight closure while letting the liquid pass without getting burned or put everywhere.
Some of them work with a simple airtight shutter. In contrast, others have more sophisticated systems, such as Contigo's auto seal technology, which allows the mug to close automatically between sips to avoid any risk of spillage. Press the small button on the opposite side of your mouth to take a sip and then release to close, all with one hand, of course.
This system can be paired with a Cleanguard protection cap that allows it to be rotated to cover the tip to stay clean while locking the auto seal button.
Manufacturing technologies Production
Technologies that make a tumbler cup are also critical. Consider the models with a double wall and vacuum technology to keep your favorite beverage cold or warm for a long time. Thanks to vacuum technology, the liquid is kept warm or cold in a cup. But if you do not need to keep the temperature of your favorite beverage constant for a long time (for example, you're entirely exhausted when driving), then you'll want to consider the models that have double-walled air. This solution allows the cup to be comfortably held with one hand without burning.
Additional user
Comfort The user comfort of an insulated cup also plays an important role. The correct placement of the outlet ensures comfortable and safe drinking during the movement. Furthermore, if you want to use the isolation cup in a car, look for the models equipped with rubber pads for more stability while driving. For everyday use, the models are most suitable, which can be disassembled with ease. Such tumbler cups are easy to clean under running water and are dishwasher safe.
Tightness
Whoever spills flies out, a coffee mug must always be tight when traveling. Insulating cups that do not reliably fulfill this criterion are not even included in the test.
Isolation
Here's the question: Can this cup also call a tumbler cup to go, or is it cold coffee? The longer and better he keeps your drinks warm or cold, the better the grade for a tumbler cup in this category.
Cleaning
Is the part clean again? When cleaning, we look at how easy it is to clean the coffee tumbler cup and if any leftovers can settle and form unappetizing edges. The question of the suitability of the dishwasher also affects the asterisks. Hand wash gives point deduction. Iso-cups that you can fish cleanly from the dishwasher, get pluses.
Capacity
You can also drink a thimble of coffee at home. In a tumbler cup on the go, so a little purer fit. The larger the thermal mug capacity in the test, the better it cuts off in this category.
Dimensions
Does the iso-mug fit well in all standard mounts, and is it also stable on the ground? Then he gets good grades from us.
Production
For a tumbler cup to be called "eco," it has to do more than save paper cups. If his production conditions are fair to the environment and the workers who make him, he stands well in this ranking. If the production conditions are unclear or even ugly details come to light, there is a deduction of points.
Warranty
Those who give a guarantee are convinced of the quality of their products. Therefore, a manufacturer's warranty is a good indicator of longevity and thus worth a proper evaluation.
Price-performance
Of course, there is no Ferrari for the price of a bicycle. If price and performance fit together, you can look forward to a full cup of a coffee mug to go.
In short, many different systems to ensure a perfect seal, a hygienic system, and always hermetic.
---
Some tips and tricks for insulated coffee mugs
Stainless steel insulated cups are an integral part of your everyday life?Then maybe you have even more fun with the hot coffee cups with our tips and tricks.
1. Longer warm or cold
This trick helps you keep your coffee or tea hot longer: You fill hot water in the Iso coffee mug andleave itfor a few minutes.Then you dump the water andfill upyourhot drink.You can do the same with ice-cold water and cold drinks.
The principle behind it is straightforward: the water heats or cools the tumbler cup's wall. It absorbs or releases energy from the cup wall and becomes colder or warmer. The actual drink loses a few degrees less while filling and thus keeps its temperature longer. Your drink stays hot or cold for up to 25% longer with this trick.
2. Shake it, baby!
Speaking of cold: Give me amilkshake or a smoothie and some crushed icein the vacuum cup.So you have in the iso-mug to go in the summer always a delicious refreshment.
3. DIY tumbler cup
You can also design your tumbler cup and make it unique. For that, you can printorengrave(let) them with the most different pictures or a cheeky saying that suits you and your coffee to go. You can do that with the cups from our tumbler cup Test. Some cups also offer the option to putpictures ina dedicated holder.
---
How to use a tumbler cup?
It is effortless to use an insulated coffee tumbler cup. Here is a quick tutorial on the different steps to follow:
Heat the water if you want tea or coffee. Suppose you prefer hot chocolate, heat milk.
Pour the boiling liquid into your tumbler cup.
Add coffee, cocoa powder, or your teabag.
Close your tumbler cup hermetically.
And now, you can take it everywhere with you without a problem but be careful not to burn yourself!
If it is an insulated mug with a lid as a cup, unscrew it and pour your drink into it.
---
How to clean a tumbler cup?
Maintenance requires cleaning. Do not let the dishwasher systematically do the dirty work. Some models can not be cleaned in the dishwasher. Wash it by hand, without using too much detergent that could damage your tumbler cup. Corrosive products based on chlorine are strongly discouraged and even less bleach. It would be best to use dishwashing liquid or hot water and soap.
To increase the life of your tumbler cup, be sure to follow some basic guidelines, starting with never putting the tumbler cup in the oven to heat it. Pour your drink first into a container suitable for this purpose. Do not let the drink ferment in the tumbler cup for several days. Make it a habit to clean your insulated mug every night after use.
---
Frequently Asked Questions
What materials are the thermal mugs usually produced from?
Tumbler cups are usually made of high-quality stainless steel for enclosures and food safe PVC-free plastic for lids. Some models also have an inner layer of copper to keep the drink warm. Besides, in insulated cups, unique technologies are used, which depend on a specific manufacturer and provide long hot or cold holding a liquid. All modern tumbler cups nowadays have a double-walled design with vacuum insulation. All of these solutions ensure that your favorite drinks are kept frozen or warm for a maximum time.
How long can an insulated cup keep the liquid hot or cold?
An isolation cup can keep the fluid hot for up to 7 hours and cold for up to 15 hours.
Can I clean an insulated cup in a dishwasher?
That depends on a concrete model. Some vacuum cups are dishwasher safe, the others – not. There are also the tumbler cups, in which only a few parts are dishwasher safe, for example, the lid. But such tumbler cups can rarely be found on the market. Usually, most modern insulated cups are dismountable. They can be easily cleaned in a dishwasher.
Can I place an insulated cup in a standard car holder?
Yes, that's entirely possible, because today's insulated cups fit perfectly into any standard car holder. Such models are very convenient and convenient to use. Thanks to this solution, you can enjoy your favorite drink on the go, without fear of something coming out or dripping.
What maximum capacity can a tumbler cup provide?
A tumbler cup can typically provide a maximum capacity of up to 500 ml. The 355 ml and 470 ml models are also available on the market.
I read on the Internet that it depends on a secure locking system very much. Is that true?
Yes, that's true. A closure system with good seals ensures safe transport of the cup and prevents unwanted dripping of the liquid. When choosing an insulated container, pay attention to this feature and purchase only a tumbler cup with a very dense lid with removable rubber seals. The rubbers should also be cleaned to prevent the formation of unpleasant odors and the proliferation of bacteria.