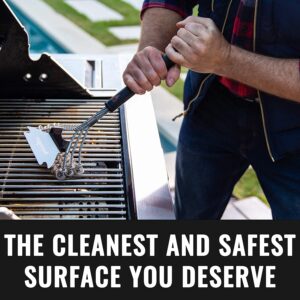 Nearly everyone loves to have smokers in their house for smoking their meat. It is because the process of food smoking enhances the taste of our meals to a great extent. It is because of the Maillard reaction, in which the heat on the surface of the dry food breaks down the sugar and amino acids making it more scrumptious.
I will like to inform you all, that smokers are pretty expensive and can cost up to a thousand dollars. Furthermore, just like everything else they do not last forever. As a result, cleaning and maintaining them on regular basis is very important. Otherwise, you will end up spending hundreds of bucks on repairing and replacement of your smokers.
In addition, irregular and improper maintenance hinders the flavor and taste that the smoker imparts to your meat.
Henceforth, if you want to avoid the expense of buying another smoker. Moreover, if you want to enjoy the scrumptious taste of smoke for years without any hindrance, then you are on the perfect page. It is because in this guide I will briefly discuss the ways in which you can clean your smoker effectively.
How To Clean Smoker Like a Professional
Before, starting please keep in mind that I will discuss two types of cleaning methods. The former one will be for regular cleaning, i.e after every use. The latter method is for deep cleaning which we need to do once every month. Furthermore, the latter one is for those as well who have not cleaned their smoker for a while.
Optional: There are a couple of tools and cleaners, which will really simplify your work. Furthermore, they will give a professional touch to your work as well and make your smoker shine like now. But, these tools and cleaners are only optional as you can also clean the smoker without their help. However, those who are looking for such tools and cleaners can pick one from below as I have shortlisted the best among them.
Before Starting
Before starting, there are a couple of things that you should take care of to avoid any issues later. I am giving simple pointers that you can use as a checklist before kicking off the cleaning.
Wear a plastic glove before cleaning to avoid getting your hands dirty or injury.
Have a scrapper or a 4" putty knife for scrapping of the grease. Furthermore, make sure its clean and working smoothly.
Make a soapy and watery solution with degreaser detergents for cleaning the grill in case you do not have a professional smoker cleaning spray.
For removing any rust make sure to have steel wool and re-season with high temperature cooking oil.
1. Regular Cleaning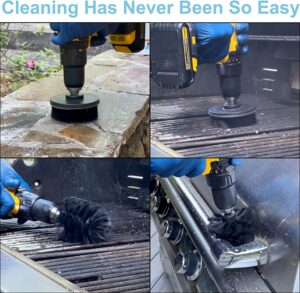 I will seriously recommend everyone to clean their smoker after every use if they have sufficient time. It is because regular cleaning makes the taste last forever. Moreover, it enhances the longevity of smokers as well. Furthermore, regular cleaning is also very simple and less time-consuming than heavy-duty cleaning. Just follow the given steps to clean your smoker within 10 minutes.
After the BBQ session leave the smoker idel for a couple of hours to cool off. Otherwise, you will end up buring your self.
The first thing you should do is removing the ashes. It is because they hold moisture which is the prime cause of rusting. You can take the help of clean cloth to swipe them off and then dispose them.
After the ashesh have been removed, take a damp cloth for wiping off all the sause marinades. Otherwise, they will form an unpleasent odur inside the smoker.
Brush off the grease with the help of a scrapper or a 4" putty knife.
In case there is minor rusting then you can spray canola oil on it and let it sit for a couple of minutes, then buff it off with steel wool.
I assure you that this regular maintenance will really save you a lot of bucks and hours in the future.
2. Deep Cleaning
In case you are not able to garner sufficient time for cleaning your smoker regularly, then you can follow the given steps for cleaning your smoker. I will like to inform you that it will be a little time taking process. It is because of a lot of rust and grease deposits in such situations. Furthermore, it also degrades the taste imparted by the smoker. However, I assure you that after cleaning the smoker it will be worth your time. It is because the cleaning will make your smoker as good as new.
Open the vents of the smoker wide open and do a clean burn for burning down all the remaining residue. Try to do this step in an open area and away from any combustible material. After this, give the smoker a while to cool off.
Wash the smoker thoroughly with the solution of degreaser detergent and then risen it.
Please, note that for emliminating large amount of rust a wire brush is a must have. Hence, it is my request to please go for one. I am listing some of the best wire brush for smokers below. In addition to this, you also need to have sand paper to burnish over it untill all the rust is eliminated.
For rust over the exterior of the smoker we need to quote it over with a spray paint.
Lastly, make sure that the thermometer is working correctly. If not then turn the thermometer's back nut till it interprets the right temperature.
Finally, wipe all the surfaces with a clean cloth and you will end up with smooth and clean smoker.
After the maintenance is completed, I will advise reseasoning the smoker. For this purpose, make a fire and set the smoker to 350°F for several hours.
The list of recommeneded products for the best results is given below
Final Words
I love smokers a lot. For this purpose, I have more than 4 smokers in my house and I bought my first one when I was 15. For this reason, I nearly know all the methods for cleaning and maintaining a smoker.
In order to ensure that the readers are able to clean the smokers easily. I have given the easiest and the most lucrative methods of cleaning the smokers.
I will recommend everyone to regularly clean their smokers intead of doing the heavy maintanence. It is because the later proceudre is time taking and expensive. On the other hand the former procedure will cost you less than 10 mins.
Lastly, if you are still having any issues on the topic best types of smokers. Then please do let me know through the comment section. I will try my best to solve your issue and give an appropriate solution as soon as possible.