Life has always been unpredictable. But this cycle of uncertainty hits people like a thrashing wave as they age. It usually showers down in the form of age-related illnesses, with physical disability accounting for the major part of it.
In fact, in a 2014 study conducted by the US census bureau, the most common disability found among people above 60-years is mobility. The study concluded with more than 5 million people reporting difficulties in climbing or walking.
Why Walking Aids for Elderly?
After decades of roaming around like an energetic free soul, It must feel devastating and uncomfortable to resort to a wheelchair or mobility scooter for moving around.
If you're one such person who doesn't want to confine to the limits your physical body has imposed on you, a much better and safer alternative would be to use walking aids.
A reliable walking aid can not only save you from the risk of falling and maintaining balance but also Improves the overall balance and control over your body.
But over the recent years, these devices have become a huge Industry such that, an elderly citizen searching for a suitable walking aid might find it intimidating to choose the perfect walker, crutches, or rollators for him/her from the immense varieties and types of walking aids available on the market.
Therefore, in this article, we have compiled the list top ten best walking aids for elderly citizens so that they could enjoy the freedom of moving around in a very safe and effortless manner.
1. DYNAMOME SPORTS SWING CRUTCH – Experience the joy of walking with DynamoMe sports swing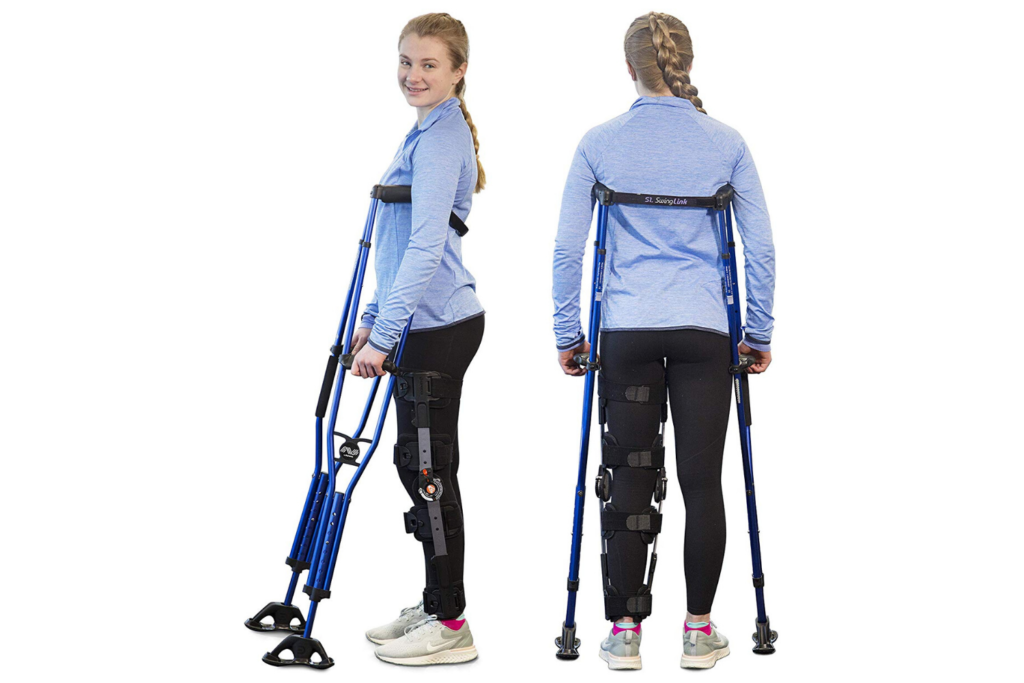 Ideal walking aid for a fast recovery from mobility issues, the Dynamo Sports Swing Crutch is designed in a way to make you experience the joy of effortless walking again.
These crutches come equipped with a swing link tether, a removable tether that can be tied across your back which helps in maintaining your posture and prevents falling off due to slip-outs.
The DynamoMe Sports crutches are more than a normal walking aid.
Fitted with a shock-absorbing frame that keeps checking on the bigfoot, along with a palm-down handgrip that relieves pressure on the wrist and fingers, these durable crutches are worth the bucks and will assist for all the years to come.
It comes in 4 different sizes – small, medium, tall, and youth.
The available colors are – Green, blue and black.
PROS (What we liked)
The articulate frame helps the user walk with control and confidence.
Palm-down handgrip helps the user feel less or zero pressure.
Shock absorbing leaf spring design.
Bigfoot tread with more surface area and hence better traction.
CONS (What we didn't like)
Mobility requires the full input of the hands.
Not preferable for long-distance walks.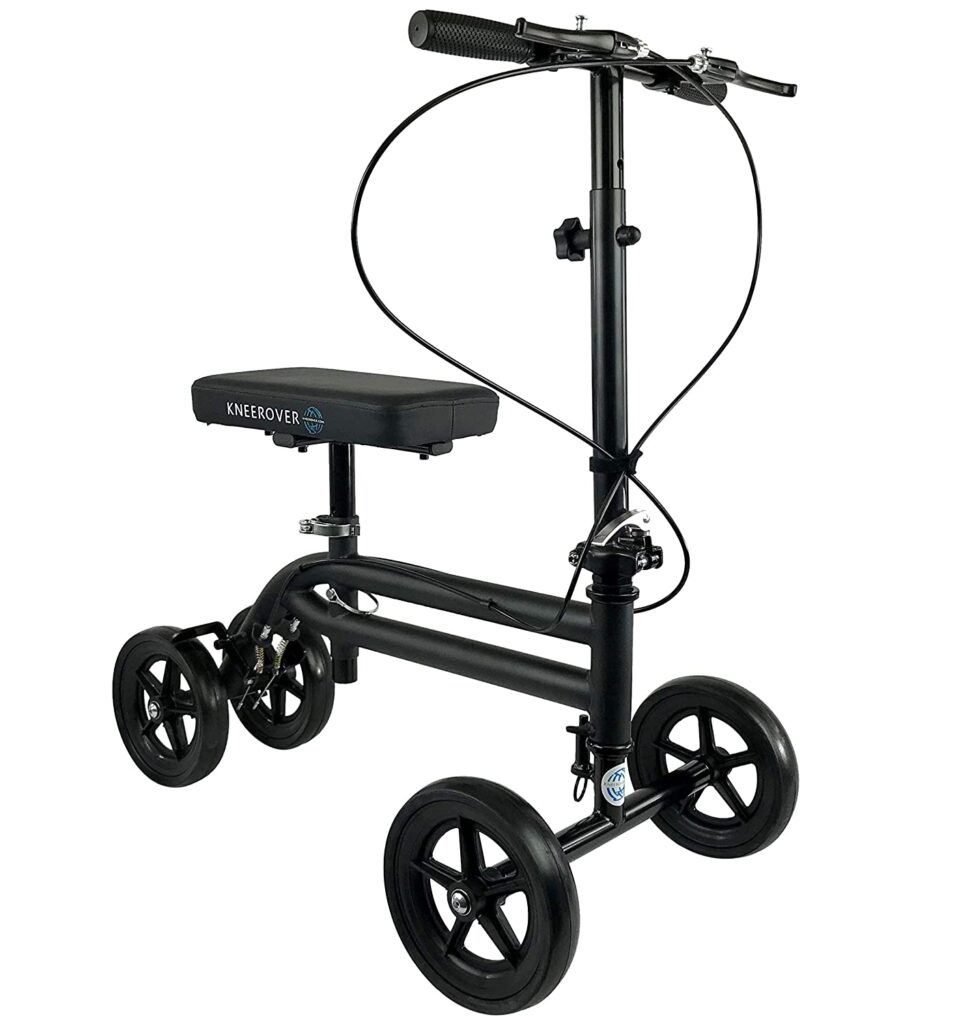 Knee rover is one of the well-known names in the walking aids industry which offers innovative mobility solutions and crutch alternatives. The Knee rover steerable knee walker is one of their flagship products that are loved by all of their customers worldwide.
Featuring four 7.5" rubber wheels, dual adjustable handbrakes and dual rear on-wheel breaks, the knee rover walker offers the most premium features at many affordable prices compared to other competitors in the Knee walker niche.
The ergonomic design of this exceptional device also comes with a handlebar with an instant release folding mechanism for better storage and transportation. It's also equipped with padded knee platforms and handlebars that are convenient for a comfortable fit.
The product comes in 6 colors – Matte black, metallic blue, green, blue, and light green.
PROS (What we liked)
An excellent crutch alternative that offers premium features at more comfort than conventional crutches.
Comes with top-end stability systems for easy maneuvering and control.
Ergonomic and lightweight – Weighs only 9 kgs and has a weight capacity of 136 kgs which makes it a perfect choice for both elderly as well people of any age group.
CONS (What we didn't like)
Wheels forming rough marks on floors over time.
Poor customer service.
Not recommended by customers for indoor usage after a prolonged period.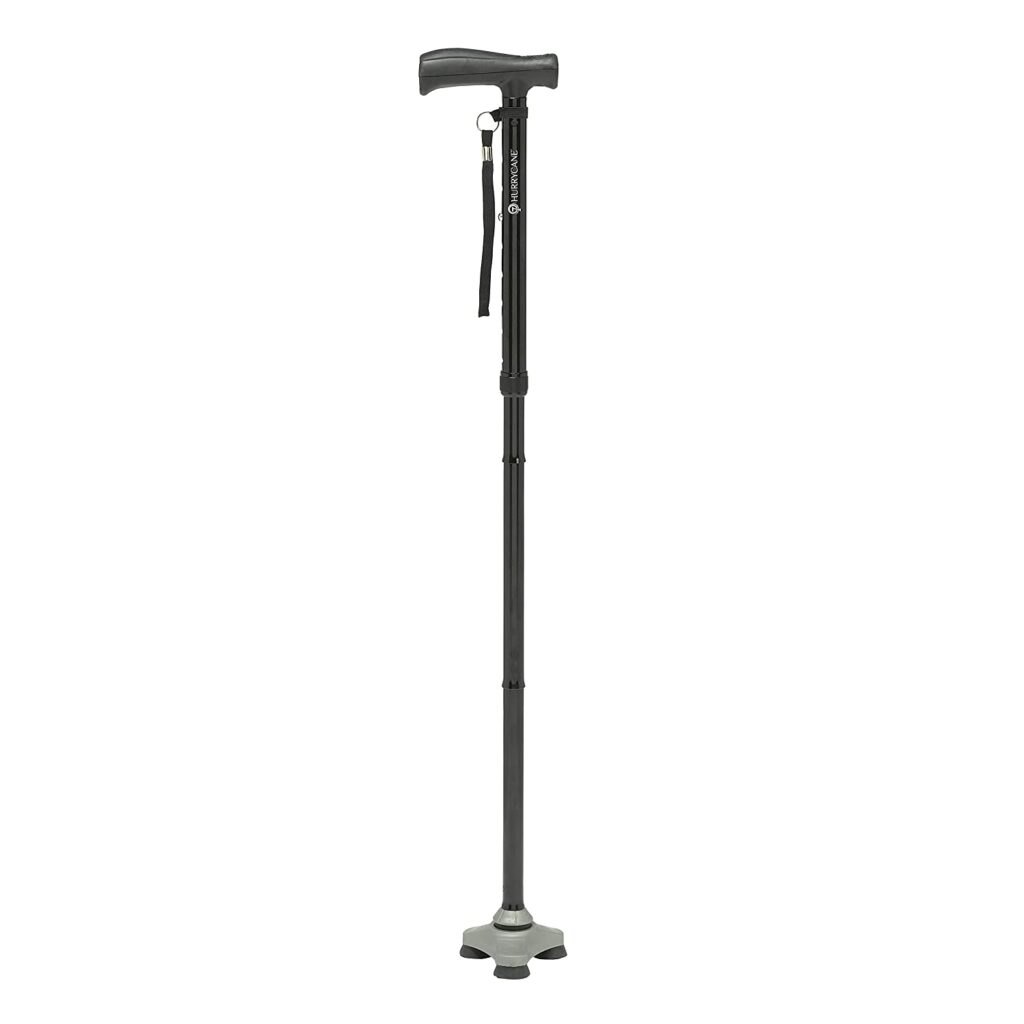 Stands by your side when in need and folds up compactly in milliseconds while you're resting, the Hurrycane freedom folding cane is the #1 selling cane throughout America due to the in-built cutting edge tech and a flawless ergonomic design.
Being the best-seller on amazon both in terms of units sold and ratings, this is above your average folding cane. With an ingenious steady grip tech that stabilizes and Improves the overall traction along with Comfort grip fit that offers versatile stability, the hurricane folding cane is the ultimate companion for elderly people for effortless walking, irrespective of any given terrain.
This walking cane is pressure tested and is strong and sturdy enough to support 158 Kgs. About the height adjustments, with just the push of a button, the device instantly adjusts itself to any of the 5 in-built heights, ranging from 31" to 38".
PROS (What we liked)
Innovative stabilizing technology for Indoor as well as outdoor usage.
The only device in the walking aid industry to be featured on national TV.
Re-designed feet locking system with the whisper flex base design.
Versatile stability and non-skid traction.
CONS (What we didn't like)
Risky to handle in city streets.
Minimal shake makes the cane rattle due to looseness.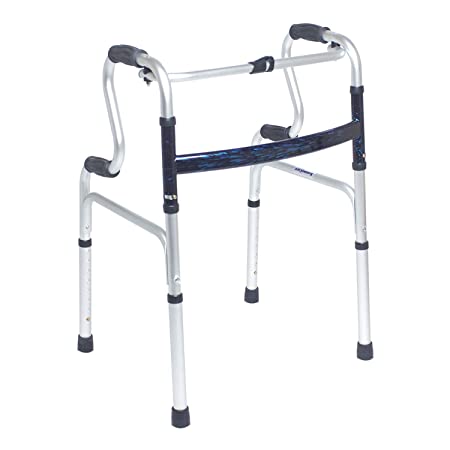 With a step-up feature that assists elderly people as they rise from sitting, lying position to standing posture with complete balance, the Kosmocare bariatric walker has been carefully designed by prioritizing the weak points of senior citizens with their mobility issues.
Ensuring maximum strength while being lightweight due to the safe and sturdy 1-inch diameter aluminum construction. The device can also be switched to reciprocal to normal walking mode, all according to the user's convenience.
The product also comes with an easy-to-use height adjuster where the heights can be adjusted from 30" to 38" as per the requirements of the person using it.
With an ergonomic step-up design, easy push-button mechanism, lightweight yet sturdy and stable usage, the Kosmocare Bariatric walker is one of the most user-friendly walking aids for the elderly available right now.
PROS (What we liked)
A very seamless assembling process.
Very efficient for regulated movement.
Lightweight, sturdy and foldable.
A highly valuable asset for elderly people with reciprocal movement.
CONS (What we didn't like)
No locking pins on the vertical pipe of the walker frame.
Doesn't come with a return policy.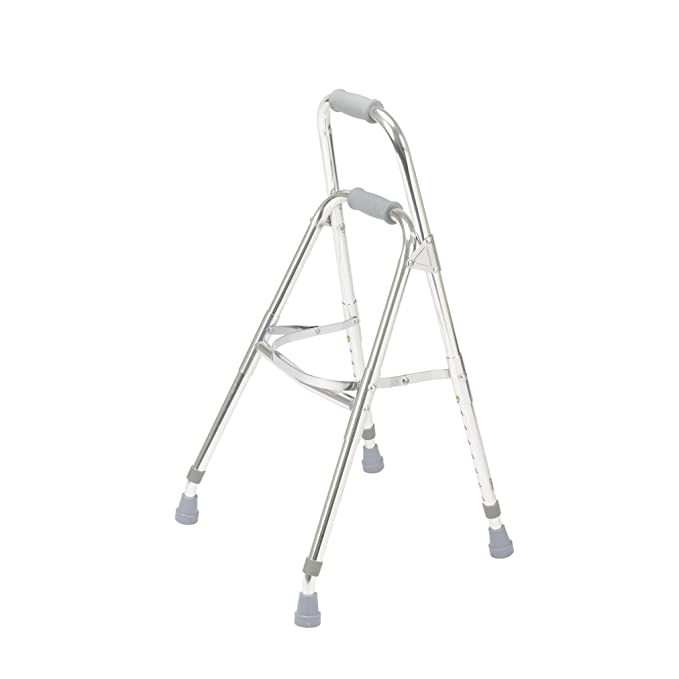 One-arm walkers are generally designed for people who need support for 1 arm. With that said, many products under this category are too lightweight to support the entire weight leaning towards the walker body.
After deep research on the above issue, and after cross-checking between a myriad of products available in the market, we've found that the drive medical one arm walker serves the purpose much efficiently than any other conventional walkers.
Drive medical walker is lighter than a normal walker but 10x sturdier than the best-selling cane. The user can easily direct his/her entire weight into the apex part of the walker and can move around effortlessly without having to feel any discomfort due to their disability.
PROS (What we liked)
Ideal for users who simply need a wider base of support.
Sturdiness outweighs the demerits caused by being lightweight.
Easily foldable with a single hand.
Works best for people who need one-arm assistance after a hip surgery.
CONS (What we didn't like)
The walker can be wobbly if the user leans frequently.
Refunds only half the money if the user is not satisfied.

Canes are common devices for elderlies. As we start going old, our balance imparts and a good cane helps elders in maintaining proper balance. Medline Offset Handle Cane offers an ergonomic design that directs the weight of the user to its strongest part and provides comfortable support to weight-bearing users.
It is also packed with a height-adjustable mechanism that operates from a button push on the stick. Height can be adjusted from 29″ to 38″ (74-96.5 cm).
Its weight capacity nears 113kg (250 lb.) which is way more than any of its common user's weight, and with a locking end at the bottom of the stick, it provides support and silent walking aid without causing noise and proper grip on the ground to avoid any slipping.
It comes with many different patterns and color options to provide a modern and fashionable look and got comfortable and soft wrist wraps with a foam handle. As we have looked at many walking aids for elderly people, we can surely say this one provides the most fashionable look of them all with the most comfortable, if you are looking for something fashionable to match with your look, this is a great choice.
PROS (What we liked)
Sturdy and durable for long-lasting support.
Restful grips for the hand with a balanced offset design.
Budget-friendly if you are looking for a pocket-friendly cane.
Its locking ring avoids slips which are crucial for safety in a cane.
CONS (What we didn't like)
If you are not a fan of offset design, you might not like it.
The handle is made of plastic and can fall apart easily.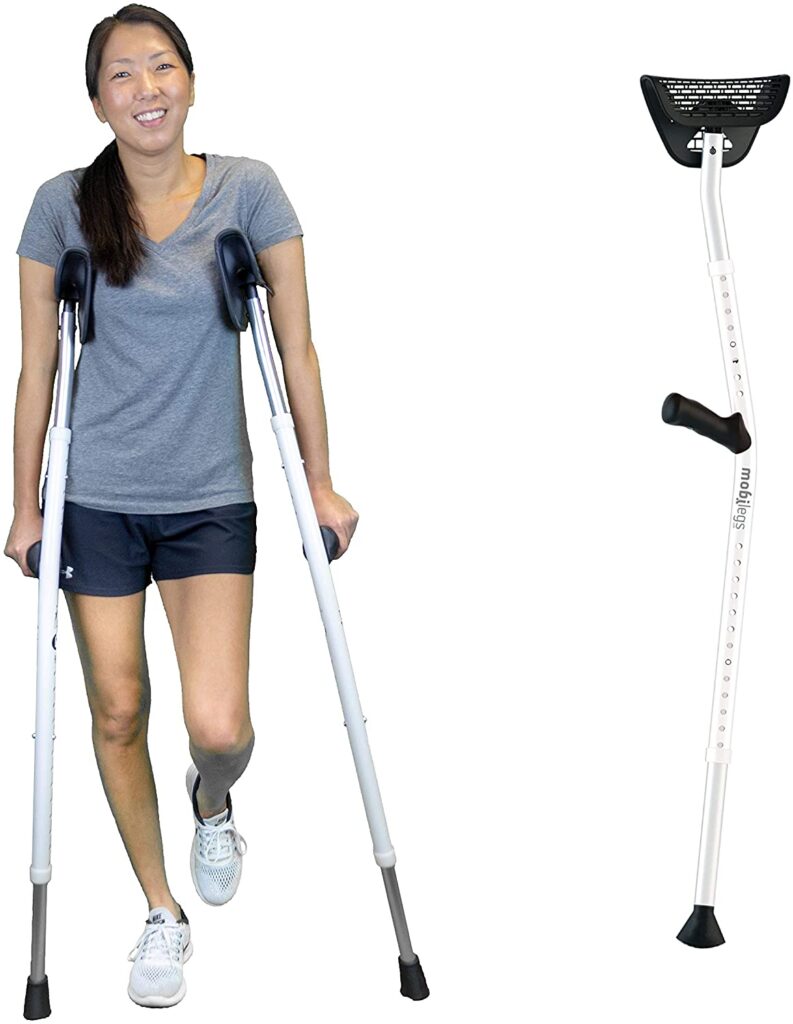 If you are suffering from any joint injury or have mobility problems in your kneecaps and find it difficult to walk, then Mobilegs Ultra Crutches can help you greatly as they are made primarily for patients who have problems in their joints and feels pain when moving.
The design of this crutch is the most attractive point to me as if is specially made different than other crutches in the market. The design will make sure that the settles easily in the front part of your body. This makes the elder's movement extremely easy and comfortable. It will lessen the discomfort.
It provides an easy solution for the users to keep their hands in a neutral position and comfortably rest on it. Also, the handle is convertible which is a great addition in my opinion as users can always adjust it according to their use case and personal preference.
Also, the bottom rocker feet it provides make sure that its touch on the ground stays solid to reassure your safety. In terms of good comfort and simple design, I see this as an absolute winner.
PROS (What we liked)
Feature to be able to stay in a neutral position is beneficial for elders.
Design is made specifically to provide less pain in the underarms.
Adjustable Handle angles will make sure you can set it to your preference.
CONS (What we didn't like)
For an average user, it's very expensive.
Not very well suitable for small and compact movements, fits more for large movements.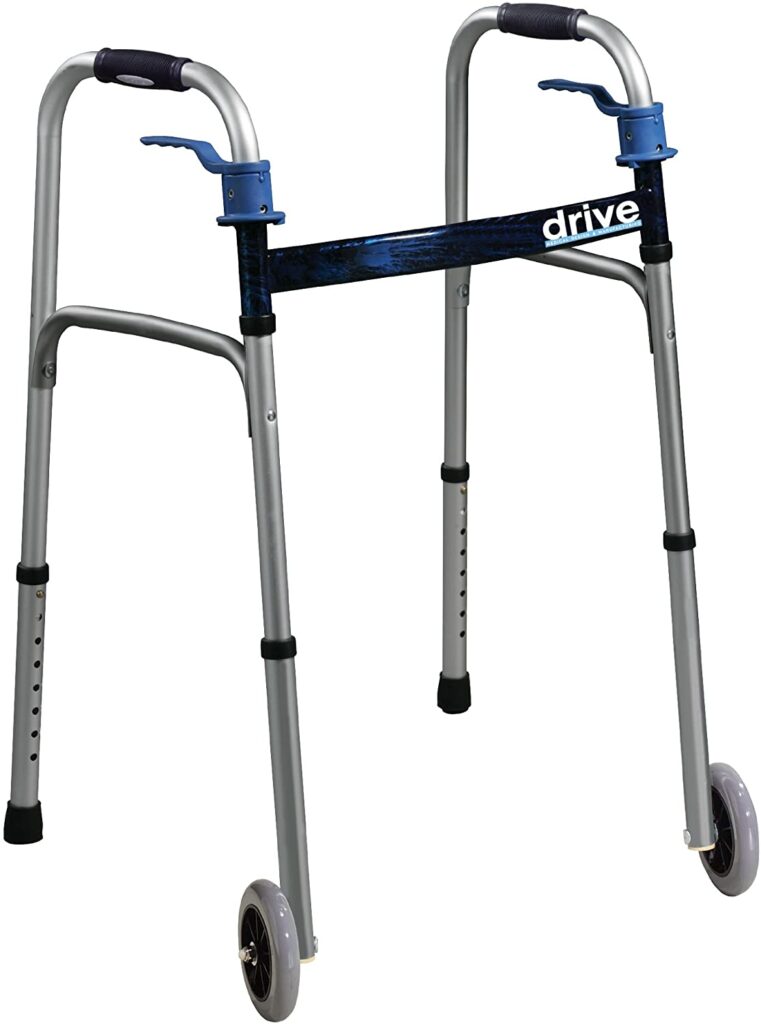 Drive Medical Trigger Release Walker stands out immediately due to its various designs to suit different needs of users. One part that got our attention is its folding system, it contains triggers that are available on the frame located beneath the handgrips. As soon as the user presses them, the frame closes immediately and without the need for the user to let it go.
This is a very stable product for the elders, being very lightweight it a great choice for every elder. Made from solid aluminum to ensure its durability. Also, this product provides fast speed all due to its durable and lightweight body design.
There are a few movement and balance issues in this, that may confuse the buyers but we still recommend this due to its simple and lightweight model for seniors. If you are not expecting to go long way and roam around for hours, then this could be a great aid for your walking.
PROS (What we liked)
It's lightweight which makes it easier for elders to use.
The design with the trigger system is modern and effective for use.
Overall a simple design to use and understand.
CONS (What we didn't like)
The swivel on the wheels might cause a problem for those with arthritis.
Not very comfortable with the grips.
Factors to Consider while Buying Walking Aids
If you're someone who is confined to the four walls of home because of your physical disability, an efficient, reliable walking aid will turn out to be the best gift you could ask for.
But as we have discussed initially, walking aids has become a very huge and profitable industry over the recent years. As popularity rises, so does the multitude of options to choose from.
Finding the best quality walker that would suit your requirements and sync with your body language seems like a hectic task these days.
But it's not as hard as you think it is.
As you can see below, we have listed 4 different factors that highlight the specific aspects of a walking aid that would be suitable for a specific set of people.
Have a read of these below 4 factors, and note down your requisites. Then choose your ideal walking aid from the best walkers of the top 10 categories that we have mentioned above in this article.
1. Safety
At the end of the day, only 2 things matter – Safety and security. No matter how good a company claims about its product, you as a user must ensure the overall safety and reliability of the device.
Here are few things you can do to ensure the safety of the product –
Read the safety measures equipped with the product at the company's official website.
Read the 1-star reviews given by verified customers on prominent sites like amazon or other major review platforms.
Talk to a friend or family member who has had experience using a walking aid similar to the one you've chosen.
2. Identify your Need
There have been instances where people buy rollators for supporting themselves when all they needed was one-arm support. As much as it's unnecessary, buying the wrong product which serves the wrong purpose can further deteriorate your physical strength.
Therefore you must identify exactly what you need.
You can do the following steps to find your Ideal walking Aid –
The best thing to do is visit your doctor and inquire about the same.
Study about your disability and update yourself with the right information before making a purchase.
Your disability/Injury, height, weight, and the check if these sync with the specs of the walker as well.
Ask a friend or family member who has been through the same situation.
3. Pros and Cons
Just like the twin sides of a coin, there's a dark side to every product out there. For every 1000 positive reviews, there is always a handful of people who have had negative experiences with the product.
So keep an eye out and research every nook and corner before you advance to make a purchase.
Try to read all the negative reviews, compare and cross-check, and choose the product that falls into your requisites level, has relatively more merits, and is reliable in the long term.
4. Budget
Even when everything seems right, the budget can be quite the issue for most people. It's not surprising to see that high-quality products that offer top-end features come at a higher price.
There are few ways you can deal with this issue:
Plan your budget right before everything else. Start your research, analysis, cross-checking, and product choosing only after planning your budget. Allocate an amount that you could afford to spend for a walking aid.
Wait for amazon's great Indian sale or big billion sales to get a big chunky discount for your ideal walker.
Walking Aids for Elderly FAQs
How much do walking aids cost?
It varies with the type of walking aid you're looking for. The cost of a normal walker usually ranges between $30 – $100. Two-wheelers and folding walkers cost around $60 – $200. Rollator walkers are the most expensive ones among all, with budget rollators costing as little as $70 and expensive ones costing $600 or more.
Which is better, walkers or crutches?
For an Injured leg, crutches are the most popular option. But still, if you would not want to deal with limited mobility and muscular pain in the arm muscles after prolonged usage, Knee walkers are a much preferred and modern alternative to crutches.
Can height be adjusted for walkers?
Yes, most walkers come with the feature where the user could easily customize the height of the device according to the user's requirement. All you have to do is study the manual that comes with the product, which consists of all the instructions you would need to know before using your walker.
What is the best walking aid for the elderly?
Again it depends from person to person and the type of injury/disability. But still, If you're someone who wants to roam around both indoors and outdoors as effortlessly as possible, rollators would be the best choice here. Rollators come in 2 or 3 wheeler options and are a much better mobile stability aid than walkers, crutches, or canes.
Do you have stairs at home?
If you live in multi-floor houses and use stairs regularly, you should consider chair lifts for stairs. They are safe and easy to install and use. Please check out our coverage of the best chair lifts for stairs.