Can't get your room air conditioner to fight all that heat outside? Sometimes, in large building or houses, an air conditioning might not be enough to save you from the heat, in situations like these, USB fans comes to rescue. They are compact and don't make a loud noise like those bulky and plugged wired fans.
USB fans are a portable version of traditional fans that are lightweight and compact and can easily fit in small bags to carry around easily. They make little to no noise to let you keep your focus on your work without getting distracted. Since they are USB fans, they do not need an electric socket to use. They can use computer USB ports, wall outlets using power USB adapters, or any other place you can plug a USB into.
USB fans are ideal for close-range cooling and can't cool an entire room, you can put it in from of you and rather than being small in size, they are powerful enough to cool you up.
Being highly portable, they can be carried around easily and can be used in places where electric outlets are not available. Due to these features of USB fans, they are in high demand and I did extensive research to find out some of the best USB fans available under the 20$ price range.
Best USB Fans under 20$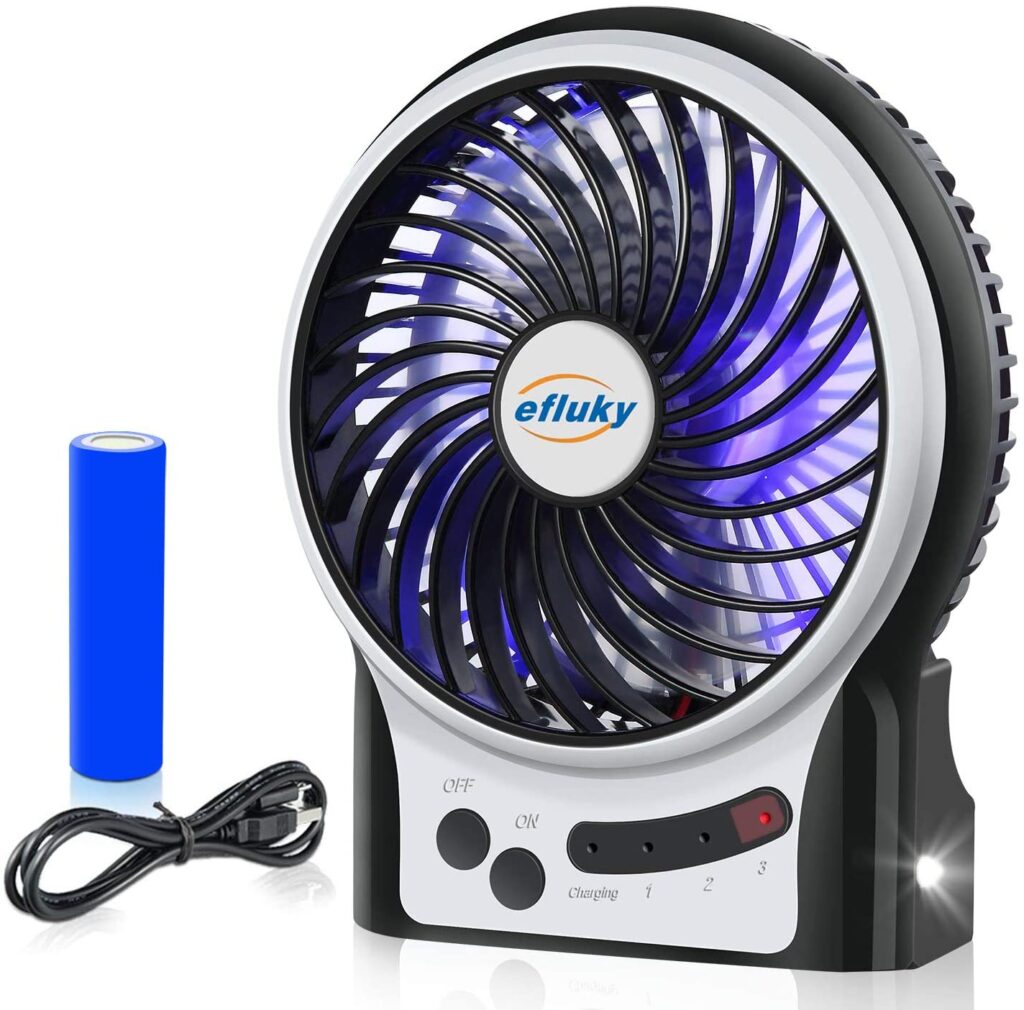 The Efluky USB Fans are built for comfort and come with two anti-slip rubber band at the bottom to prevent noise and reduce vibration when used in high wind mode, as this fan comes with 3 different speed setting that is soft, natural wind, and high wind that can help you can choose as to your preference. It comes with a 2200 mAh rechargeable battery that can last up to 3-9 hours depending upon which speed mode you are using.
I took a personal liking to its fast charging that can fully charge the device in 2.5 – 3 hours. Also, if you hold on to the power button for 5 seconds, its internal blue lights turn on and give it an RGB kind of look and in case you want to turn the emergency lights on, just tap the power button 4 times.
Its body shape is made for portability and looks premium, this design allows you to easily pack this fan in your bag and carry it around with relative ease. It can be used in almost any place be it office, camping, gyms, etc.
PROS (What we liked)
3-speed settings (soft, natural wind, and high wind) gives the flexibility of use.
Anti-slip rubber pads at the bottom provide rigid support to keep the fan stable.
Rechargeable 2200 mAh battery with 3 – 9 hours battery life and 2.5 hours fast charging.
CONS (What we didn't like)
Its solid design doesn't give a lot of room for adjustments.
The high-speed option is way more powerful for a fan of this size to handle.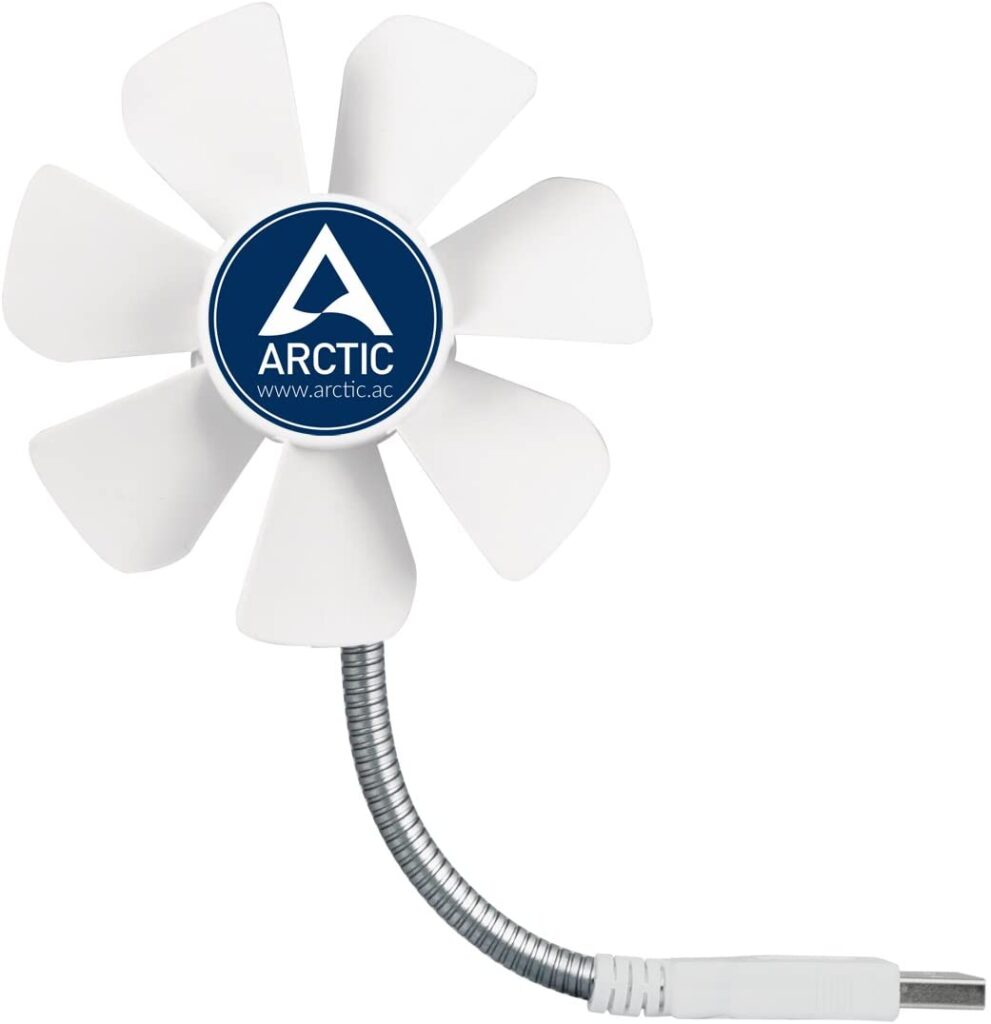 Arctic Breeze USB Fan is an extremely portable fan and comes with 92 mm fans that are proven to provide great cooling even on hottest days of summer and being portable you can take with you anywhere you go and have your cooling is ready everywhere right inside your bag. It can be connected to any USB port nearby and can cool you up in your long travels keeping you fresh before you reach your destination.
It is extremely silent when in use, as it adapts the well-successful case of arctic fans that are known for their silent cooling. This provides a quiet environment to work in silence without any distraction from the fan. Being extremely small and lightweight in size also helps in its silent cooling.
I like that it can be adjusted according to users' needs with its long and flexible gooseneck that allows easy adjustment in any direction the user prefers. Also, the rotation speed can be set manually too, so you are not just stuck with the 1700 RPM that it offers from the default which is more than enough to keep you cool in warm environments like train cabins or a warm café.
PROS (What we liked)
The long gooseneck is extremely flexible and can be adjusted easily.
Little to no noise while running for use in places like offices.
Powerful in working while remaining small and lightweight.
CONS (What we didn't like)
Its solid design doesn't give a lot of room for adjustments.
The high-speed option is way more powerful for a fan of this size to handle.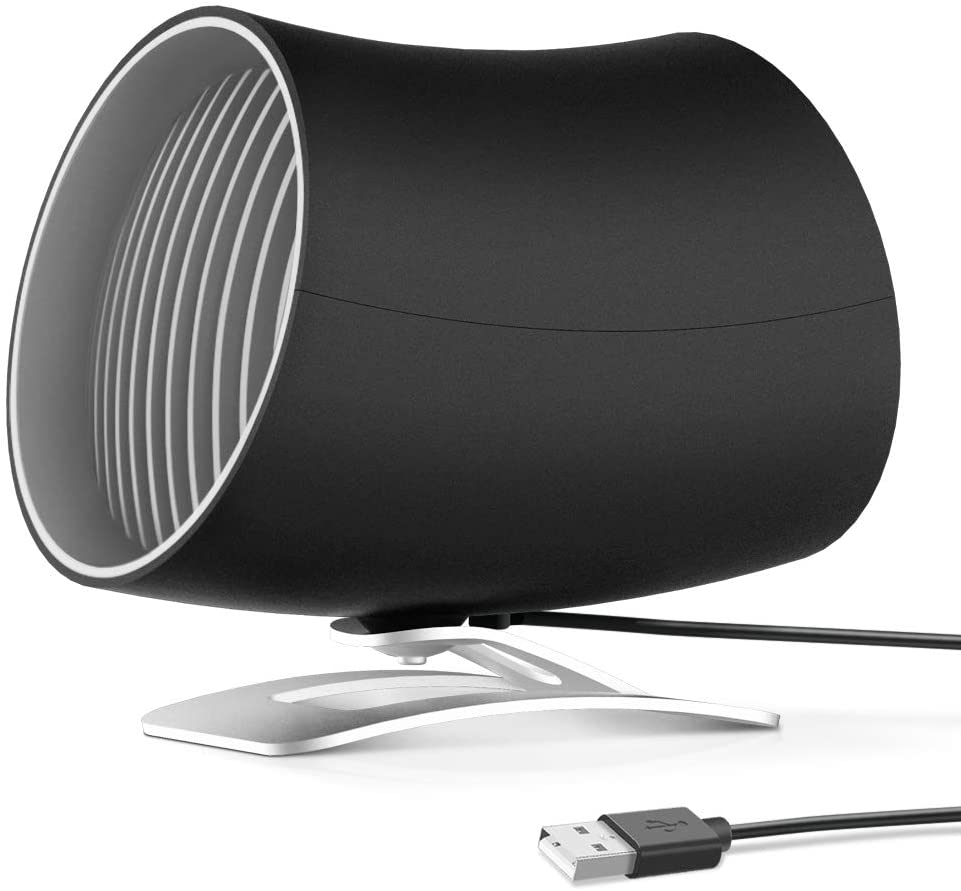 Aikoper's USB Desk Fan comes with a futuristic-looking twin-turbo design and is best suited for office use or in work environments. The twin-turbo design is a cyclone-like structure that directs the flow of the air evenly and continuously to provide a constantly refreshing stream of cool air throughout the room. It comes with 2 different speed settings, high and low, that provide comfort to choose from according to your requirements.
It comes with two rubber pads at the bottom to provide sturdiness and avoid movements due to vibration when it's running. It's extremely silent in operation due to its dual blade design that is very well known to provide cool air at the least possible sound except for the slight sound of whirring that you may hear sometimes.
It comes with touch-based controls on the base metal so no more buttons to push there, just touch the metal base once to turn it on or off. Though this sometimes could lead to accidental touches. It can also be adjusted upward or downward for flexible cooling.
I love the black finish it has, as I can easily blend this with my office environment and this gives a premium look also.
PROS (What we liked)
Sleek futuristic-looking black finish design provides a premium feel.
Extremely silent even with the powerful cooling operation.
Touch-based controls.
CONS (What we didn't like)
Adjustment angles are not flexible enough.
Only 2 fan speed options with no medium setting.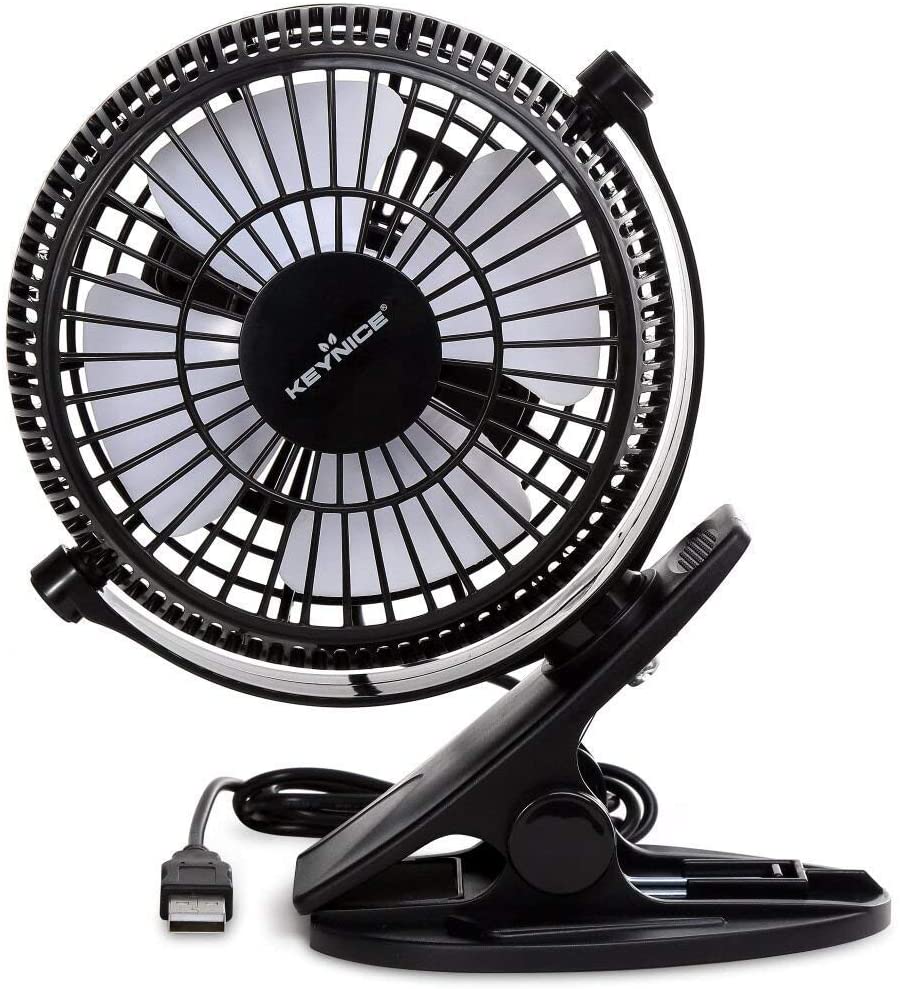 Keynice USB fan is a relatively large size fan and comes in a unique clip-like design that is made for a convenient use case for office, home decors, and game cafes where you can adjust it easily and need more cooling power than other fans in this list. It offers a complete 360-degree rotational adjustment design so you can direct the airflow in any direction of your choice with ease.
Even though its size, it is relatively very quiet in its operations and you can comfortably use it without any loud noise distraction. The clip-like design allows you to attach it to unconventional places where other fans can't be placed such as on the top of an office cubical wall and come with 2 different speed options that are high and low airflow and is missing a medium setting.
It doesn't come with an inbuilt battery and needs to be attached to a power source through USB to work and you might prefer using it with a power bank or something similar due to its power consumption.
PROS (What we liked)
360-degree adjustable design for flexible cooling.
Clip based design that helps to place the fan in unconventional places.
Create minimal to low noise for quiet working.
CONS (What we didn't like)
Doesn't have any battery so always needs a power source to work.
Only 2 fan speed options with no medium setting.
Not extremely powerful such as other USB fans on the list.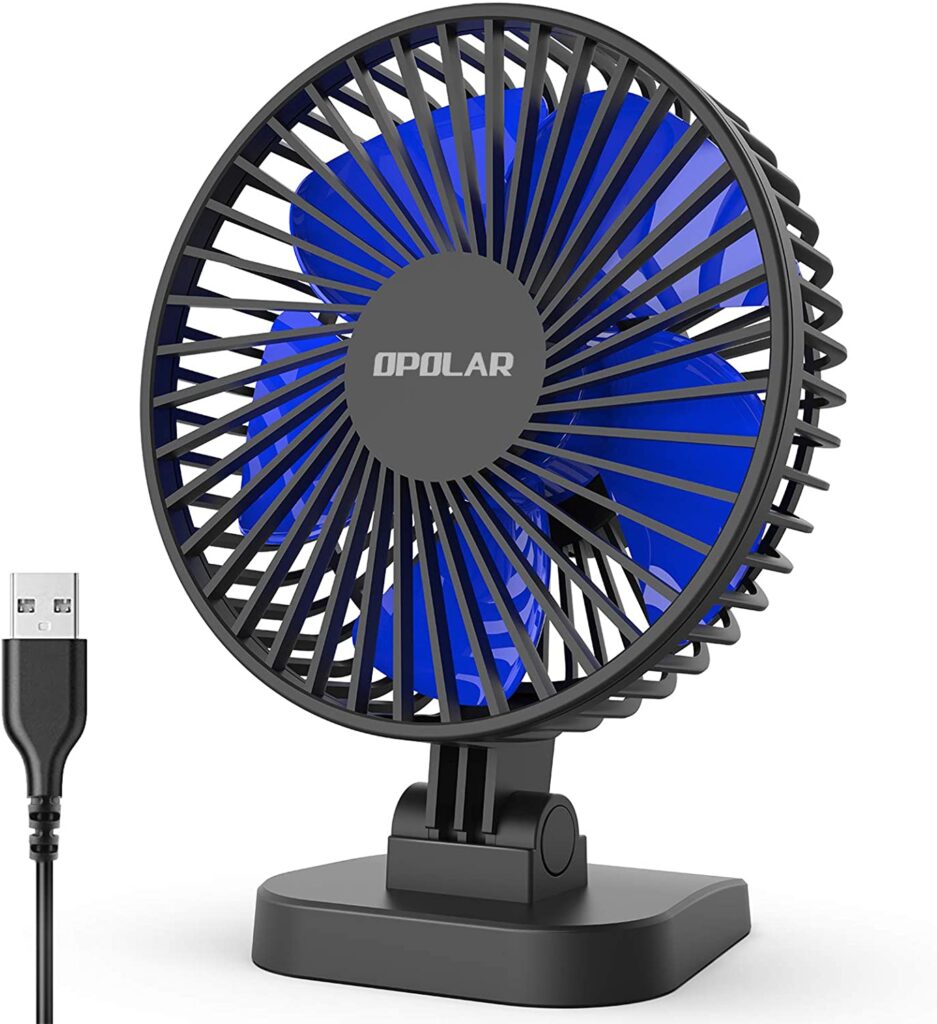 Opolar Mini USB Fan is one of the smallest on the list but don't let the small size mislead you, this small fan is capable to cool you even on the hottest days of summer with its powerful blades and rotation. It also packs a long 4.9 foot USB cable to make sure you can place it even far away from the socket since it doesn't come with inbuilt rechargeable batteries.
This fan comes with 3 speed setting of low, medium, and high which is extremely useful as you can adjust the speed according to your usage and even on high speed with the help of its 4 rubber pads at the bottom it stays quiet in its operations and provides stability to avoid movement due to vibrations.
The body is made from plastic unlike others on the list, and due to this, it is extremely lightweight and compact which allows it to be portable as well. The head of the fan is adjustable up to a 40-degree angle which is not much but still provides a little needed flexibility.
You can keep your Opolar mini USB fan clean and increase its life by cleaning its blade and inside on weekly basis and it made it extremely easy by providing a removable front, so you no longer have to worry about dust on your fan blades.
PROS (What we liked)
Produces less than 50 dB, which is extremely silent.
Provides powerful cooling for extremely hot days.
Can be cleaned easily with a removable front.
CONS (What we didn't like)
Doesn't comes with any rechargeable battery to be used outside.
Build with plastic which is not as durable as metal.
Not great in adjustments since only had a 40-degree head turn.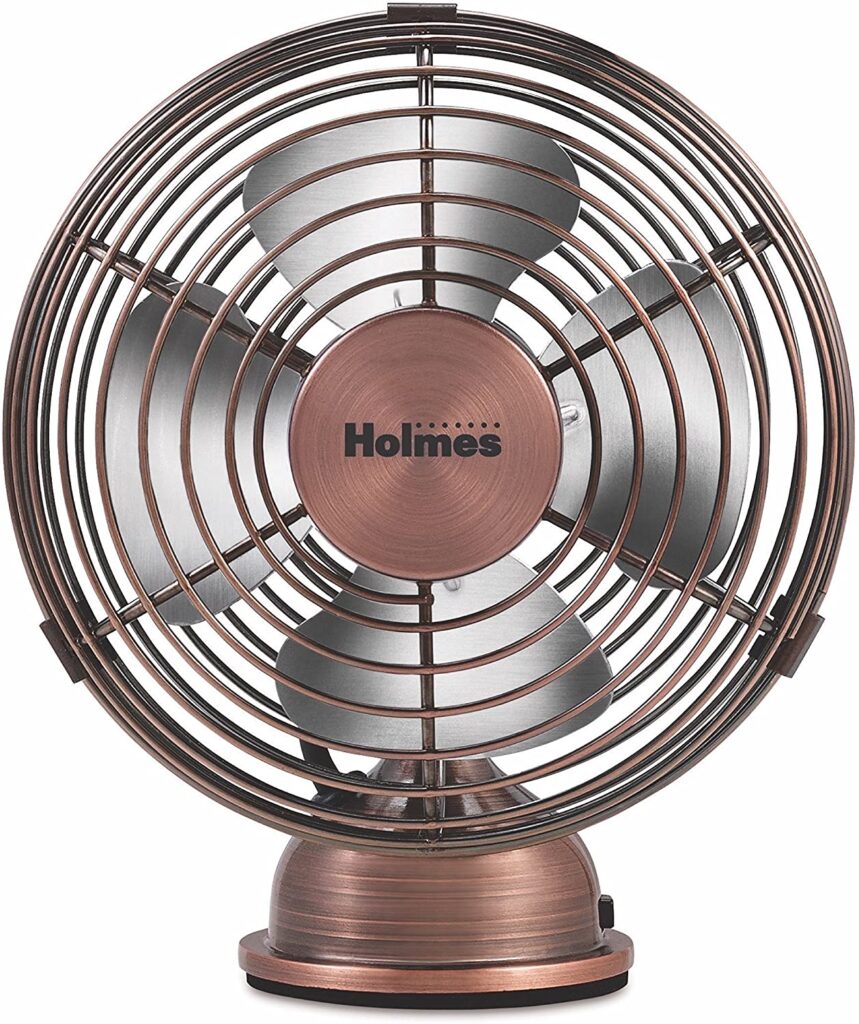 Holmes is famous for its vintage-looking products and Holmes Heritage USB Fan is no different as it comes with a classic looking metal-based vintage design that looks sleek and would fit so well with home and office workplaces.
The fan contains 4 inches small blade that despite being small are extremely powerful and provide great cooling on hot summer days. Though the design looks antique, the features it packs are well modern and advance, and it can be run from a computer, power bank, or using any socket also making it flexible to use.
It comes with an adjustable head that directs the flow of air in the direction where it is needed, though it is not very flexible so don't expect large adjustments with this fan. If you are looking for something small and powerful with a feel of old times and features of today and don't need portability then this can be your go-to choice.
PROS (What we liked)
Powerful fans provide great cooling.
A sleek and classic antique look to enhance the beauty of the place.
High-quality metal-based finish for durability.
CONS (What we didn't like)
Doesn't comes with any rechargeable battery to be used outside.
Doesn't have any fan speed option.
Adjustment is not very flexible and is very limited.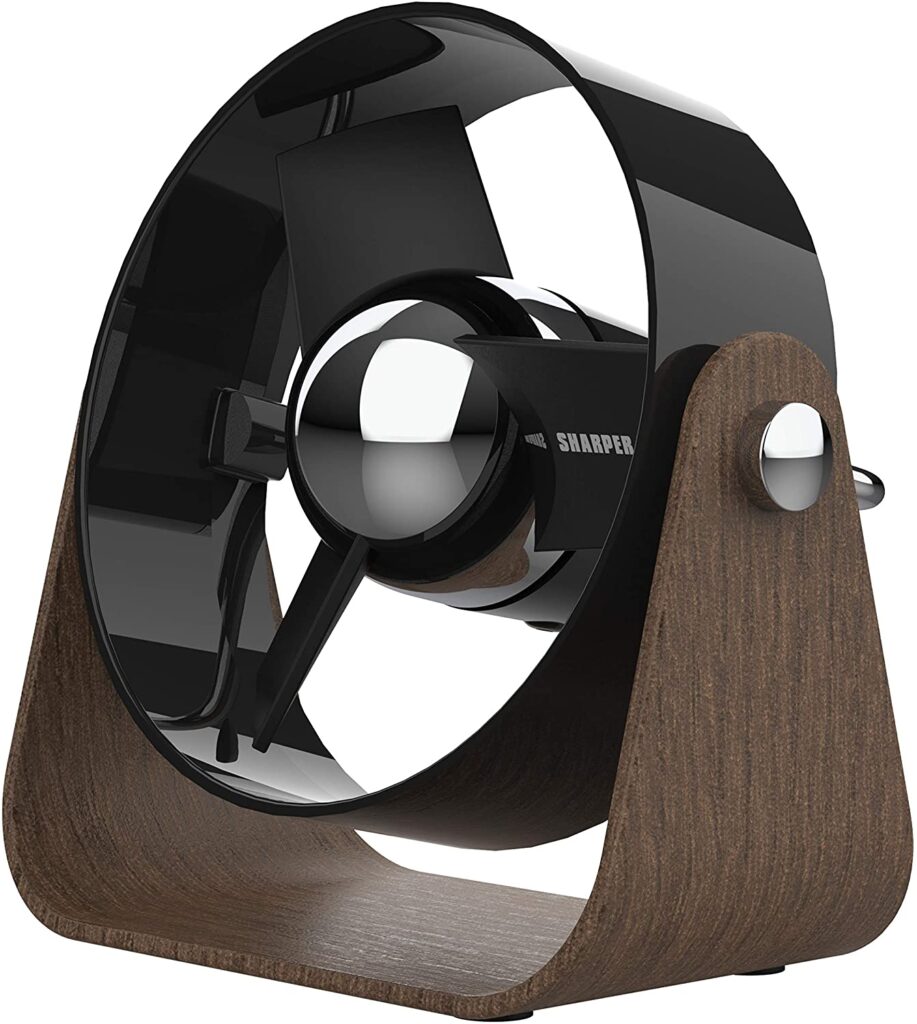 Sharper Image SBS1-S1 USB Fan focuses on a classic-looking sleek design with a wooden-grain finish that looks retro-modern and can suit well for any desk. It was made with minimalism in mind, be it for design or functionality, that's why it operates solely on a single button and comes with two-speed options. It contains slip-resisting and non-marring feet that help avoid any movement due to vibration when in operation.
The blades of this fan are exposed without any protection and can cause injuries if touched while running so it is advised to put it at a distance to avoid any accidental touch. It is 5. 6" in height and is portable on the go and can be used with computers, laptops, or power banks.
Due to its design, it has airflow in multiple directions and provides soothing cool air and the head can be tilted upward or download to a great length resulting in the flexibility of use for the users and comes with an extremely long 6 feet USB cable so that the cable can reach even in most inconvenient places also.
PROS (What we liked)
Elegant and Premium looking retro-modern design.
Fans are quiet while in operation.
Minimal controls with a single button for on/off and speed control.
CONS (What we didn't like)
Doesn't comes with any rechargeable battery to be used outside.
Only comes with 2 fan speed options without any medium speed setting.
Adjustment is not very flexible and is very limited.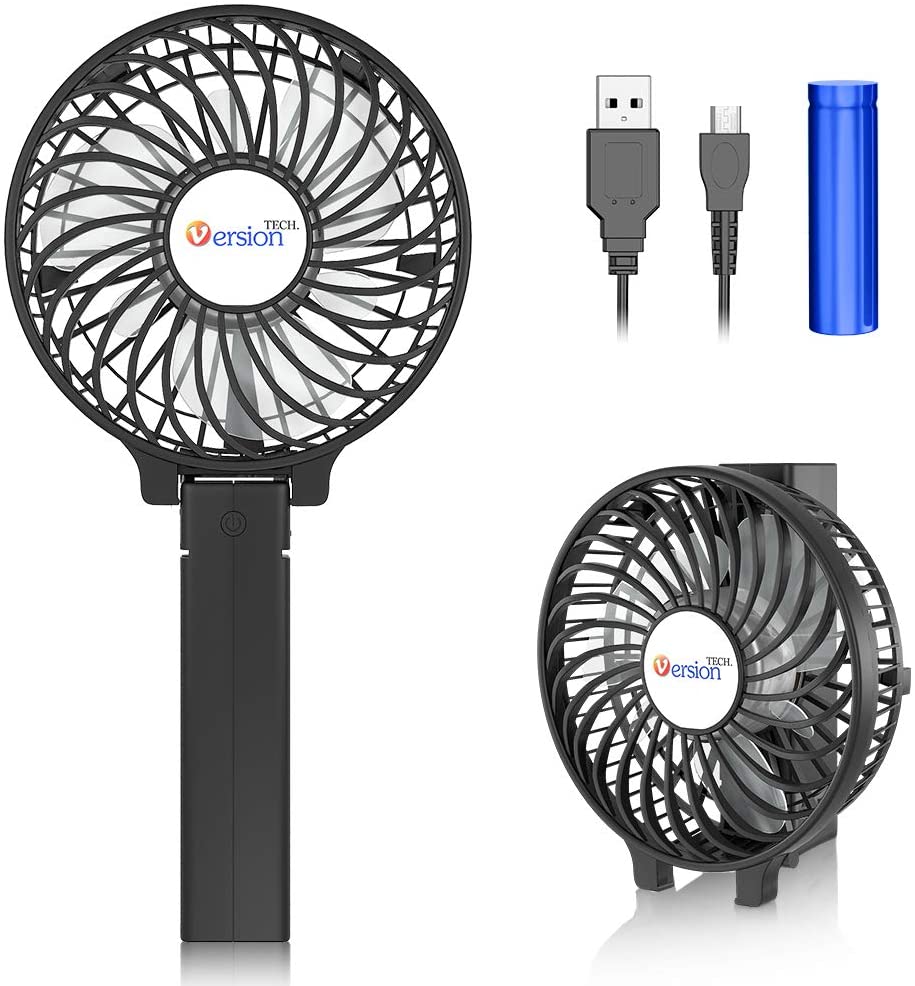 VersionTECH's Mini Handheld USB Fan is a uniquely designed fan that is known for its high portability design which allows people who like to travel a great relief as they can get cool refreshing air anywhere they want. It can be folded up to 180 degrees that provide the flexibility of airflow in multiple directions.
It can be used in various ways such as by holding in hand or making it stand on a table, it can also be clipped and be hanged on objects, and comes with 3 different speed options that are, low, medium and high. With top speed going as high as 3600 RPM, this little device is power-packed with speed to be able to work in outdoor environments such as camping and stadiums too.
Now if you are going to travel with it, you might not always have a USB plug nearby, but worry not, it comes with a 2000 mAh rechargeable battery that can last up to 3 hours on a single charge. In case of emergency, you can remove the rechargeable battery and replace it with the regular non-rechargeable battery as well.
Also as I was using it, I found that due to its lightweight it also creates very minimal noise and is rather quiet when in use.
PROS (What we liked)
Extremely portable with a unique foldable design.
It comes with a rechargeable battery and the battery can be replaced too.
Supports a standard battery too.
Comes with 3 different speed options.
CONS (What we didn't like)
Not extremely silent in quiet environments.
As compared to other desk fans, it is less powerful.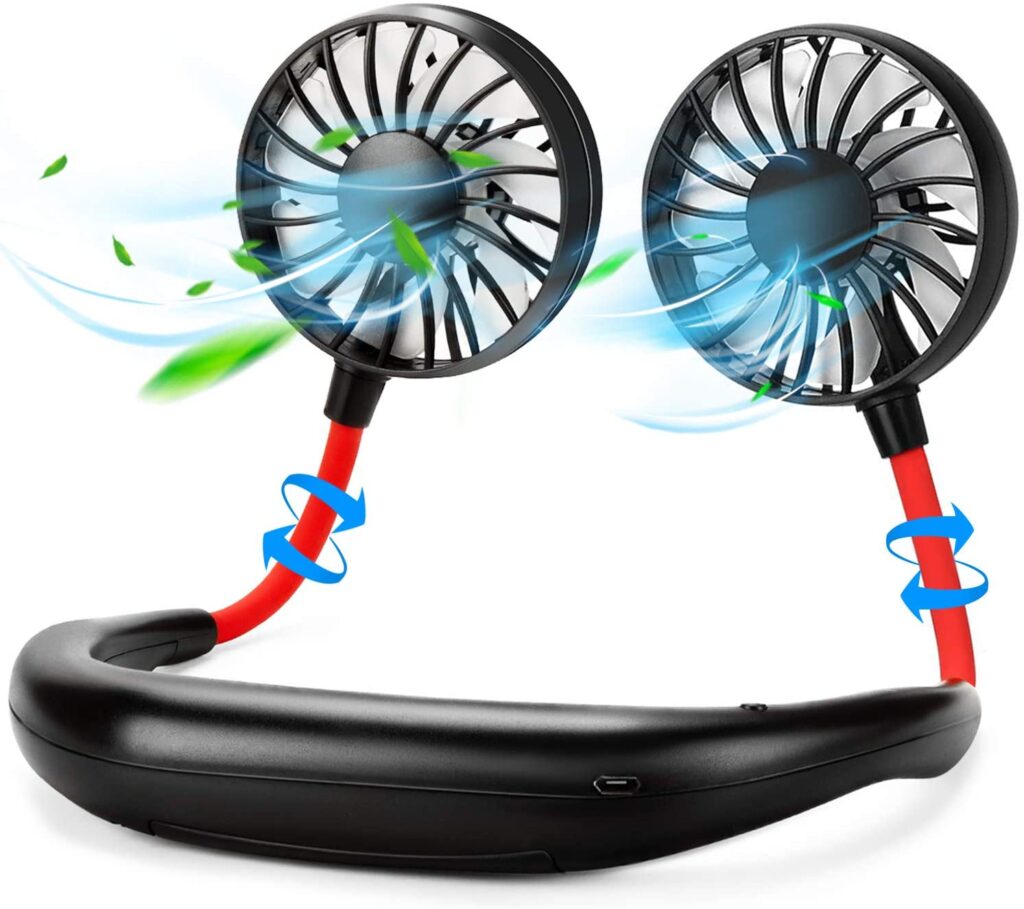 The first neck USB Fan of the list comes from Haomaomao's USB Fans, and this is the truly portable USB fan that can be hanged around your neck and will direct cool airflow right on your face. It is very suitable for people who like to go sporting or gym in hot weather as it can provide hands-free cooling on hot summer days when heat can be extreme especially in the outside environment.
The design is made in such a way that it allows you to be able to fold it completely 360 degrees so it will cover the direction of airflow in any way you feel like. With seven leaf design blades, these little devices come with power and 3 different modes that are low, medium, and high to provide for your convenience.
It is chargeable meaning you can charge and take it out without the need to plug in any USB port. Come with a 2200 mAh battery that can last for 3 – 11 hours depending on the mode you let it run in. This ensures long cooling sessions without any interruptions.
If you are looking for something really portable that you can just wear and enjoy the cooling then this should be your go-to choice as you won't find anything this portable and powerful packed together in such a compact size.
PROS (What we liked)
The compact size and wearable design make it a truly portable USB fan.
It comes with a rechargeable battery.
Comes with 3 different speed options for better convenience.
CONS (What we didn't like)
Not as powerful as other USB desk fans.
The plastic build is not very durable and can be damaged if dropped.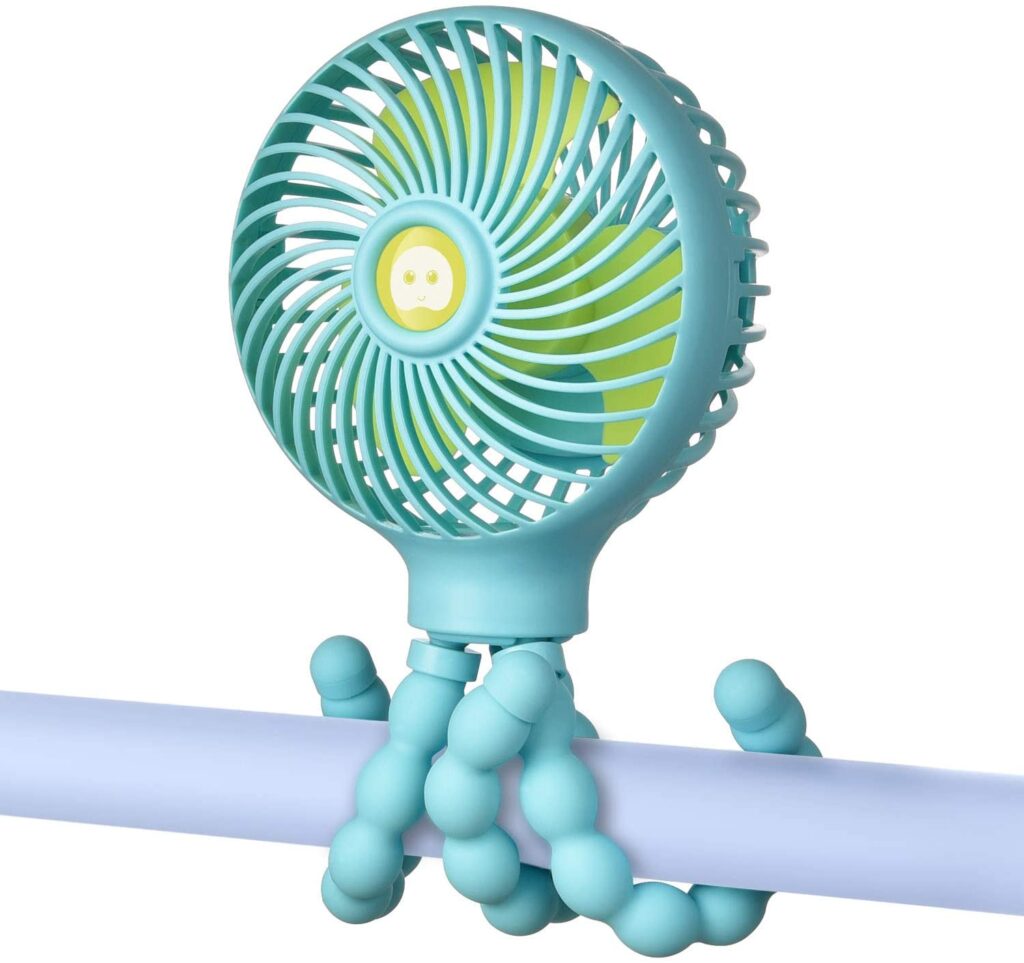 WiHoo's Mini Handheld Stroller USB Fan is a stroller design fan known for its unique design and capability to use in different and unconventional places. It has a tripod-like stand that is made with high-quality metal and can be bent in any way we want.
Being compact and portable in size and design, it doesn't compromise with power and gives more than enough refreshing cool breeze for your long office work or gym workouts sessions on hot summer days. Comes with 3 different speed types that cover most of your needs with ease and are relatively quiet in working.
It can work on a USB or one its rechargeable 2600 mAh battery that can run as long as 3.5 hours at least if used at maximum speed and can be easily charged through a computer, power bank, or laptop.
Most suited as a car fan as it can easily be attached to the seats and can cool up the entire car with its compact powerful blades and high RPM speed.
PROS (What we liked)
The tripod-like stand allows comfortable usage in places like cars and desks.
Comes with a powerful 2600 mAh rechargeable battery.
Comes with 3 different speed options for better convenience.
CONS (What we didn't like)
The stand is made of metal but the fan body is plastic that is not very durable.
Factors to Consider Buying USB Fans
There is a huge number of USB fans available in the market and you can easily get lost in the never-ending list of products self claiming to be the best ones. In summers, we can't always have our air conditioners with us, and sometimes even with them we might need an additional cooling source and due to this demand for these portable fans, there is a huge number of sellers in the market.
To filter your needs and preference, you need to specify few things that you should be looking at in your fan before buying any of them, and I am going to share these important buying factors with you so you can be sure to look for these features in your next USB fan.
1. Cooling Power
The primary purpose of a USB fan is to prove a cool refreshing breeze and help us get to stand in the high temperature of hot summer days. If your fan can't provide powerful cooling then no matter how well made and premium looking it is, it will be a total waste.
Look for USB fans that offer multiple speed modes since you might not always need the same speed. On an average day, you might prefer your fan to be slow while on hot and humid days, you would want it to work on full power and highest speed.
High quality and well-designed blades will utilize the full potential of the fan and will give huge airflow for the user as nicely designed blades are made to catch and release maximum air possible.
2. Portability
Using a USB fan rather than traditional is often because of the portability feature of the smaller and compact USB fans, as they can be fit very well in a small bag and traveled around with providing you airflow in places like trains and bushes which on their own have a poor cooling system. So you want your fan to be portable enough for you to carry it easily to places like these.
Being compact and lightweight in size is the core of being a portable product, the lighter and smaller your fan is without compromising on power, the better you can travel with it in your bag packs.
It should contain a rechargeable battery of its own that can last at least 2.5 hours so you don't always need to search for a USB port every time
you want some cooling for yourself.
3. Design
A well-thought-out design can make or break a product and a USB fan is no different, with the correct blade design to adjust for multi-direction airflow, your fan should be designed in a way to provide you comfort. A good design will also ensure to reduce and absorb most of the fan's noise to provide you with a noise-free environment.
It should be durable and made with solid materials that can long last and can be cleaned and maintained easily.
It should be silent in working, as such that when in use even when on high power it should generate minimal to no noise at all and be silent while operating.
Can be placed in different environments well, such as a clip-based design can be hanged in places where desk fans can't and the same goes for tripod-based designs. These make sure that you can place your fan in the most comfortable places possible.
4. Features
Some great set of features to enhance your experience is what we always look for in a USB fan. It should contain a basic adjustment mechanism and must have a solid stand method that can be used to place it in different places. A good and comfortable on/off button is also a necessity.
The adjustment angle of the head should be flexible enough for it to move in different directions and make the airflow in multiple ways to ensure proper cooling in all the needed directions. It should also rotate properly without any force and with ease.
It must have widely known and well-established position types such as clip-based or a stand-based position that allows the fan to be placed in a place without any movement.
USB Fans FAQs
Are USB fans worth it? 

Yes, a powerful USB fan is more than necessary with current weather scenarios. They are convenient and provide the best compact cooling option available and increase the airflow and even support your air conditioning to cool better. Being compact and lightweight they are portable also and can be carried around easily.
Can a USB fan be plugged into a phone charger?
Yes, a USB fan only needs a USB port with a power supply in it and a phone charger will work like a charm. You can even use your computer or laptop to charge or use these fans too. This makes it highly convenient to plug in any device available and use.
What is the normal RPM of a USB fan? 

USB fans RPM comes in a variety of ranges and can differ greatly due to the type of USB fan you are using. Still, the most common average is 2000 RPM which is good enough to get you cool and fresh.