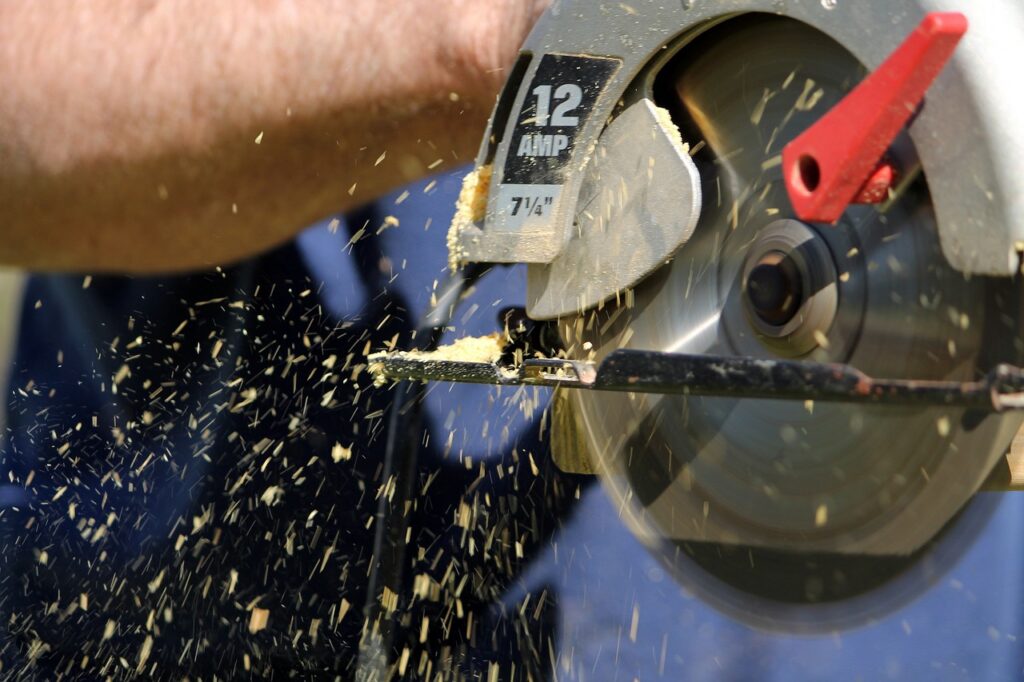 Circular saws will be your best friends once you discover all the handy things they can do. If you enjoy doing DIY projects at your home, this handheld power tool is a must. It can easily cut through wood's grain or across it with its circular blade. DIYers will understand how a circular saw can make tasks like framing, woodworking, or even masonry plain-sailing. They come in a variety of styles and sizes, and the kind of teeth may differ too.
You can choose from different powered variants, but a corded circular saw is more powerful than a cordless one. A good home workshop requires a circular saw with speed and accuracy. Our comprehensive guide of the best circular saw will help you choose one that makes the cut and also tell you the things you should consider before making the purchase. But, if you are in a hurry then here are our top 3 recommendations.
Best Circular Saw With Good Blade And Smooth Cutting
Power: 12 Amp
Blade Size: 6½ inches
Blade Side: Right
Max RPM: 5,200
Max Cutting Depth: 2-3/16 inches
Circular saws either come with a guiding line of the rail or a laser. Despite the accuracy that laser guides offer while cutting, the good old rail-guided circular saw is still the best when it comes to high-level precision. The Makita SP6000JI circular saw has a 55-inch long guide rail which allows for accurate repeated cuts. It isn't a tablesaw and has a long 7.9 feet cord; both features give it good portability despite it not being cordless.
The Makita SP6000JI has a 6½-inch plunge blade which means you can "plunge" the blade from any point in the material, unlike other circular saws where you have to begin cutting from the edge. The 12-Amp motor and magnesium components can handle all types of cutting tasks efficiently. You can get nice, clean cuts and its variable speed control dial is very helpful to change the blade's speed.
PROS (What we liked)
Great accuracy
Plunge blade
Bevel adjustments
CONS (What we didn't like)
Power: 15 Amp
Blade Size: 7¼ inches
Blade Side: Left
Max RPM: 5300
Max Cutting Depth: 2⅜ inches
The best feature about this circular saw is its worm-drive design. This allows you to have a better reach due to the increased distance between the handle and the blade. You can also make longer cuts more precisely because of this. This saw is an excellent choice if you use it for more extended periods of time because it is relatively lightweight at 11.5 pounds. This reduces fatigue during longer runtime. The SKILSAW SPT77WML-01 features cut-ready depth adjustment levels for quick adjustments for ¼ ply, ½ ply, ¾ ply, and 2x ply.
The Dual-Field 15-Amp motor is quite powerful and can easily handle cutting different materials. This motor doesn't heat up much during operation. An anti-snag lower guard helps with smooth functioning with cut-off pieces. There is a maximum 53-degree bevel capacity with the option to lock it at the most-used level. Users have noticed that the gear oil is absent from the gear housing, so make sure you take that into account before buying this.
PROS (What we liked)
Only 11.6 pounds
Powerful 15-Amp motor
CONS (What we didn't like)
No gear oil in the gear house
Sale
Power: 12 Ah (Ampere hour)
Blade Size: 7¼ inches
Blade Side: Right
Max RPM: 5,800
Max Cutting Depth: 2½ inches
Milwaukee's 2830-20 packs the robust and durable M18™ Redlithium™ battery. This is a high output and gives 12 Ah, which means it provides 12 Amperes of current for one hour. This circular saw has garnered excellent customer reviews because of its battery's performance, and the 5,800 revolutions per minute surpass other corded models. Being battery-powered, you get more portability to take it to your work rather than getting your work to a table saw.
This circular saw has other utility features like an LED light for when you are working in a poorly lit environment. It comes with a dust port attachment that is easy to open up and clean. Storing this is also made simple with the rafter hook, especially when you are working on decks or ladders. The rear D-handle aids with a good grip.
PROS (What we liked)
5,800 RPM
All-day battery
LED light
CONS (What we didn't like)
4. Makita SH02R1 – Cordless Circular Saw Kit
Power: 12 Volt battery
Blade Size: 3⅜ inches
Blade Side: Right
Max RPM: 1,500
Max Cutting Depth: 1 inch
The Makita SH02R1 Max CXT circular saw defies the concept that cordless circular saws do not deliver as much power as corded ones do. Its 12-Volt lithium-ion battery is more than enough for giving a blazing 1,500 revolutions per minute. So, this combines portability with cutting power. You can easily cut through a variety of materials like plywood, melamine, MFD, particleboard, and much more.
The 3⅜-inch blade is smaller than its competitors and hence has a 1-inch maximum cutting depth. It will handle lightweight tasks well. Being just 3.5 pounds, it is one of the lightest and best circular saws on this list and has significantly less operator fatigue. It also packs with it a built-in dust blower to keep cut-off pieces away for greater precision. The handle has a rubberized handle for better grip and comfort. This is a circular saw kit, so it includes accessories like a lithium-ion battery, a battery charger, and a matching carrying case!
PROS (What we liked)
Extremely light and portable
Easy to carry
Can do lightweight tasks
CONS (What we didn't like)
Slow compared to competitors.
5. Ryobi One P505 – Best Battery Circular Saw
Power: 18 Volt battery
Blade Size: 5½ inches
Blade Side: Left
Max RPM: 4,700
Max Cutting Depth: 1-9/16 inch
If you are on a budget but still want a high-performing circular saw, the Ryobi One P505 is worth taking a look at. First up, this is one of the best looking circular saws on this list with its pop of grey and lime green! It has a powerful 18-Volt Ryobi ONE+ battery that is compatible with many of the company's other tools. The highlight of this circular saw is its gripzone; it is lined with a rubberised mold for more friction.
It has an extra side handle for better control which is positioned such that you also get a better view of the blade. The blade is fitted with a polyurethane guard, which is transparent, so your visibility is not hindered. It is pretty portable, given it weighs 5.3 pounds and does not have a cord. You can cut at different angles with the Ryobi One P505, as it comes with an adjustable beveling shoe (up to 50 degrees). The one drawback of this saw is that it doe not come bundled with a charger.
PROS (What we liked)
Powerful 18-Volt battery
Rubberized grip zone with extra side handle
Transparent polyurethane blade guard
CONS (What we didn't like)
Sale
Power: 4 Amp
Blade Size: 4½ inches
Blade Side: Left
Max RPM: 3,500
Max Cutting Depth: 1⅙ inch
The process needs could differ depending on the tasks you perform in your DIY projects, and it might not always be the case that you need a heavy-duty circular saw. If your requirement is a compact circular saw that is easy to manoeuver, then the Genesis GCS445SE is an excellent option. As it is lesser in size and weight, it dramatically reduces operator fatigue over long periods of use. But don't be deceived by its size; it still packs a 4-Amp battery that is rated for up to 3,500 revolutions per minute.
Another great feature of this circular saw is that it is designed to be used with just one hand with a slim barrel grip. You also get a built-in dust port with an adaptor that can be used with a shop vacuum. The premium carbide blade is capable of cutting through all 2x materials. You can make straight, bevelled, or ripped cuts. The mechanism for changing blades is also relatively trouble-free.
PROS (What we liked)
Extremely portable (one-handed use)
Built-in dust port
Bevel adjustments
CONS (What we didn't like)
Can't be used for heavy-duty projects
Sale
Power: 4 Amp
Blade Size: 3⅜ inches
Blade Side: Left
Max RPM: 3,500
Max Cutting Depth: 1-1/16 inches
The Rockwell RK3440K Versacut does exceptionally well when it comes to the ergonomics of a circular saw. Its slim body is designed for one-handed use. It has a laser indicator that allows for precise cuts. Despite being small, it packs a punch with its 4-Amp battery, which can easily handle lightweight cutting like wood, sheet metal, plastics, even tiles, and much more. There is a dust extraction attachment that will keep the cut line clear of any cut-off pieces.
One feature that sets it apart from other circular saws is that it comes with three blades instead of just one. It has a high-quality 24T carbide blade for cutting wood, a diamond blade for handling tiles and cement board, and one 44T HSS blade for PVC and aluminium. It also comes with a depth adjustment lever with a lock to set it at the angle you use the most.
PROS (What we liked)
Lightweight
It comes with three blades
Easy to use
CONS (What we didn't like)
Not meant for heavy-duty projects.
Factors To Consider Before Buying A Circular Saw
1. Style Or Design Of The Saw
The function of circular saws will differ depending on the style. They are either worm-drive or sidewinder style. The motor in a worm-drive saw is located behind the blade, which gives it higher torque than circular saws. They are better for high-power cutting tasks like knotty wood or pitch cuts. Sidewinder or direct drive saws have the motor to the side. This can act as a hindrance because of the side where the motor is being slightly heavier than the other one. But you get better overall control with a sidewinder.
2. Corded Or Cordless
It is evident that a cordless circular saw offers more portability. So, even if you have an outdoor project, They are also more lightweight than corded circular saws. Corded circular saws generate much higher cutting power than battery-powered models. But some battery-powered saws have brushless motors that provide enough cutting power to get DIY projects done. Additionally, they are not dependent on their battery life for running for a long time. Your choice should be swayed by the kind of projects you do more, whether you need mobility or not.
3. Blade Size
The blade size of a circular saw is essentially its diameter in inches. The most common size in use is 7¼ inches, but models which aim for more portability have smaller blade sizes. The size of the blade matters because it influences the cutting depth through more robust materials. The larger the blade, the more cutting efficiency it has. Another thing that plays an important role when selecting a circular saw is the type of blade. Most circular saws have wood-cutting blades. But if you need to cut through metal or other thick materials, you would need a blade with higher TPI (Teeth Per Inch).
4. Adjustment
When you are doing a DIY project, there will be times when you need to cut at angles (called bevelled cuts). This is why you have to consider all the adjustments that the circular saw will offer. Most models are able to tilt between 0 and 50 degrees with an option to lock into the level you use most often. This feature comes in handy, so make sure to check this out before finally buying a circular saw.
5. Power
This corresponds to the motors that run cordless circular saws. If you are in for the portability of a cordless saw, then you would have to look out for a motor that is most efficient for your DIY tasks. The most common is a 15-Amp motor that is able to perform most cutting tasks comfortably. If you are on a budget, there are 10-Amp or 12-Amp models too. Know that these models will not be able to carry out heavyweight tasks.
6. Speed
You must be wondering why the speed of the blade matters. The speed or the RPM (revolutions per minute) of the saw's blade displays how fast you can cut through a material. Most blades have RPMs in the range of 5,200-5,500 revolutions per minute. This doesn't refer to the blade's ability to cut through a material; it is just an indication of how fast it will do the job.
7. Safety Measures
A tool like a circular saw can be dangerous despite you having the experience and skill to use it. Most models come with safety measures that also help you to operate the saw efficiently. One of them is a brake stop which stops the blade once you pull your finger back from the trigger. A more advanced version of this is a guarded trigger which allows the trigger to work only when a safety button is pressed.
See Also: Best Pushblock for Table Saw
Circular Saws Specs Comparison
The important specs of a circular saw are the motor power, max RPM speed, the blade size, and max depth it can cut. You should also look for the blade side because it plays a major role depending on the place where you will use it.
Power
12 Volt battery, 1500 RPM
18 Volt battery, 4700 RPM
Frequently Asked Questions
What's the Difference Between a Miter Saw and a Circular Saw?
Despite both a miter and circular saw having the same end function– using a sharp blade to cut through lumber or other materials, they have different characteristics. Circular saws are designed to be small and handy. Miter saws are bulky and stationary but are more precise than circular saws.
Is it Possible to Cut Straight with a Circular Saw?
Don't think that because they are called circular saws, they cut in circles. That just describes the round blades. The actual function of this tool is to cut straight lines. But if you err even slightly, you might end up having a crooked cut. But with time and practice, it isn't very hard to keep your saw inline straight.
Can you Change the Blade of a Circular Saw?
Yes, it is very much possible to change them. The need to change your circular saw's blade can be because of an old/damaged blade or that you have to cut through metal or other materials. Older saws had complex mechanisms, but newer models have reasonably straightforward ways to change blades.
What are must-have circular saw accessories?
Conclusion
Circular Saw is indeed a need when it comes to cut the hardest of metal or wood to the easiest of plastic, and provide easy handling throughout the process. Make sure to take safety measures as any mistake can hurt you, deal with them with responsibility. We hope that this article would have helped you to find the best circular saw. The power and the blade size are one of the most important factors to consider to provide you with the best cutting experience and safety measures.