A traditional power drill is undoubtedly a valuable tool. Still, you can always find electric screwdriver practical for the occasional light-duty jobs that require less power and are small easy to handle tasks. These incredibly convenient tools are perfect for DIY people or professionals who want a handy backup that they can keep in their pockets. Here we are featuring the best electric screwdrivers with their pros and cons.
You can use them for DIY tasks like assembling furniture, replacing a light switch cover, or tightening up loose cabinet hinges. Their lower torque settings make them perfect for work on a more fragile material, like particleboard, plastic containers, or electronic screws.
Additionally, these are made to be highly portable. Thus comes with a compact design and battery-powered, so you can travel with it without any power socket and use it on the go and charge them when you feel like it. They also contain bright LED lights to provide assistant while working in dark areas.
Due to their portability, compact size, and unique operation, more and more people use electric screwdrivers for their DIY projects. With time, there are numbers of these devices available in the market ranging from great ones to some just made to scam people. So I went out and did my research to find some of the best ones that you can find and list them here to quickly choose the one that suits your needs.
The Milwaukee M12 2401-22 is a powerful electric screwdriver with massive 12-volt power consumption. It is enough for most of the operations you can think of with an electronic screwdriver.
It comes with many extraordinary and standard features, including different variable speed options and a wide array of torque options that make it suitable for tasks that other screwdrivers might not pull off easily. It also offers a mechanism that can help you change the bits quickly and with a single hand.
The kit includes a battery and charger. This device is known for its durability. This is a heavy-duty driver that will handle challenging tasks most of the time, so durability becomes a big concern for the users.
Additionally, it offers a small display screen built in the device to display the remaining battery percentage and features a bright LED light that provides assistant in dark working spots.
PROS (What we liked)
Extraordinary power to lift heavy tasks easily.
Durable body and design to ensure after all serious work, this device remains intact.
CONS (What we didn't like)
Relatively heavy and causes extra pressure on arms if used for long hours.
The kit doesn't come with any bits, and you have to purchase them separately.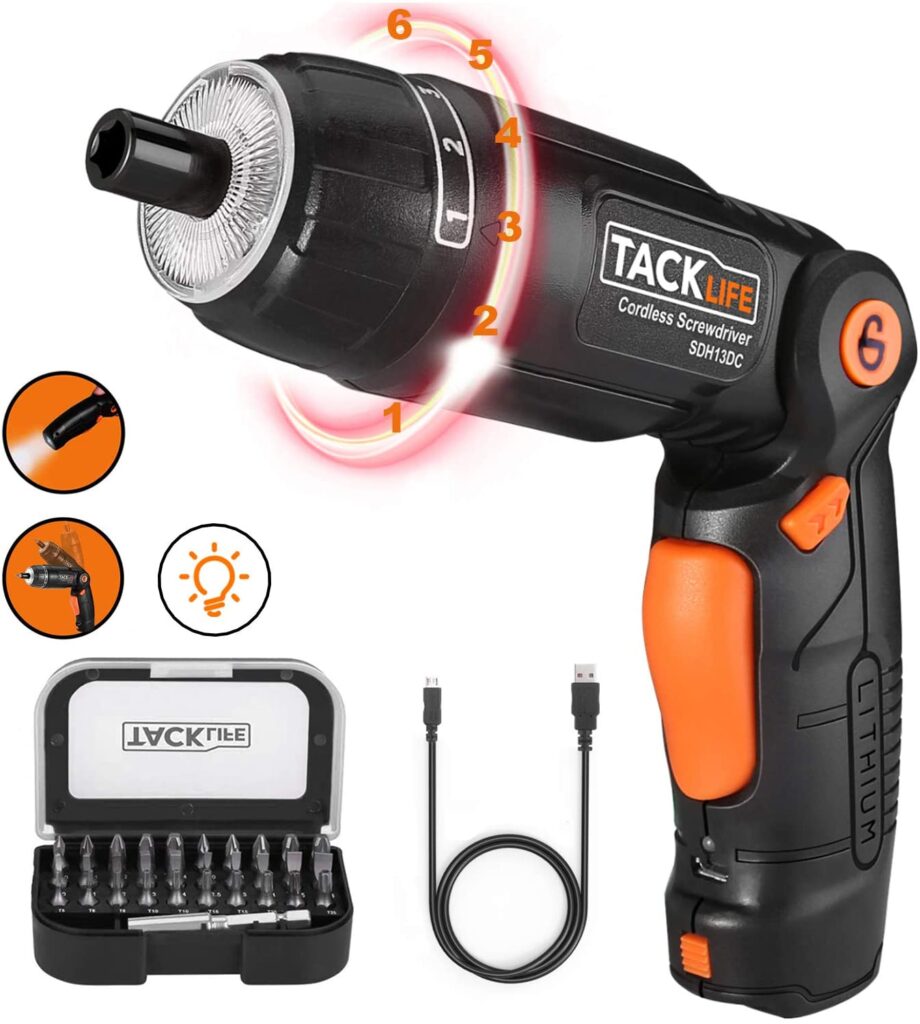 The TACKLIFE SDH13DC comes with a bright ring light around its head to ensure that working in dark areas goes smoothly without any dim and frustrating shadows. Due to the mounted top and bottom lights that most electric screwdrivers have, the shade is formed but not with this device.
There is also a second LED at the bottom of the handle, which I find unnecessary but still makes it work as a flashlight in the dark. It offers 30 different bits to work with that can certainly fit in most of your works and includes Pozidriv and Torx options that are less common.
One of the most lucrative features of the TACKLIFE SDH13DC is its three different handle positions. It can work as a pistol design with a 90-degree bend, or 140 degrees for little working places, and a straight 180 degree in case you require that.
Additionally, it contains six different torque settings to adjust from, making it flexible according to the job. It helps to prevent overpowering soft fasteners or stripping screws.
PROS (What we liked)
Six torque settings to provide flexible working according to the job.
It comes with 30 bits that can fulfill most of your daily needs for bits.
CONS (What we didn't like)
It isn't very durable in case used for heavy operations.
Doesn't provide a container bag to carry it around with ease.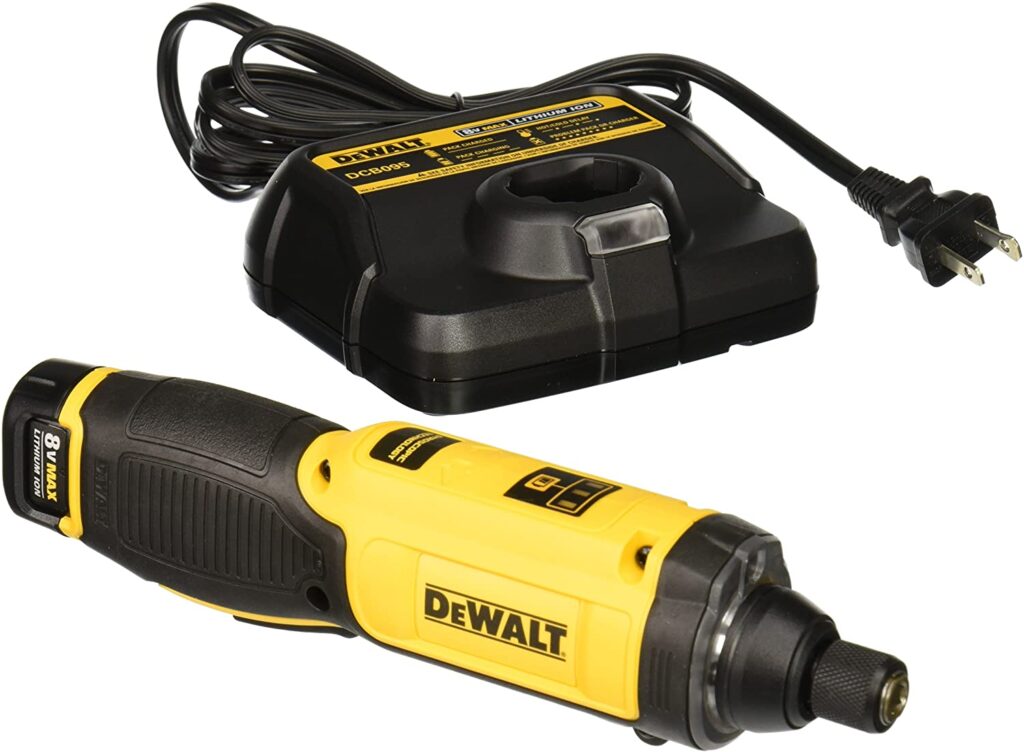 The Dewalt 8v MAX DCF6829N1 is a compact and 180-degree refined design electronic screwdriver is made for portability and ease in use. It uses motion controls to change the directions of the fasteners and offers innovative easy to use controls to access them while using.
The motion sensors work by the twist of the hands while using as you can either twist right or left, and it will detect and change the direction of fasteners accordingly. The motion-activated speed of the device ranges from 0 – 430 RPM.
IT provides a built-in display on the screwdriver to indicate battery life and offers ideal controls for people who want to keep changing them while using the electric screwdriver.
The straightforward design can be a problem for some people as the pistol-grip method is widely preferred in these devices but keep in mind that this specific design provides extra durability. You might miss the torque settings that are not available in this device, as it allows for a powerful 8 V motor to handle all your light tasks with relative ease.
PROS (What we liked)
LED light is available.
The 8 V motor is powerful and can handle tasks easily.
CONS (What we didn't like)
No customizable torque settings are available.
It is heavy that causes pain in the hand when used for long.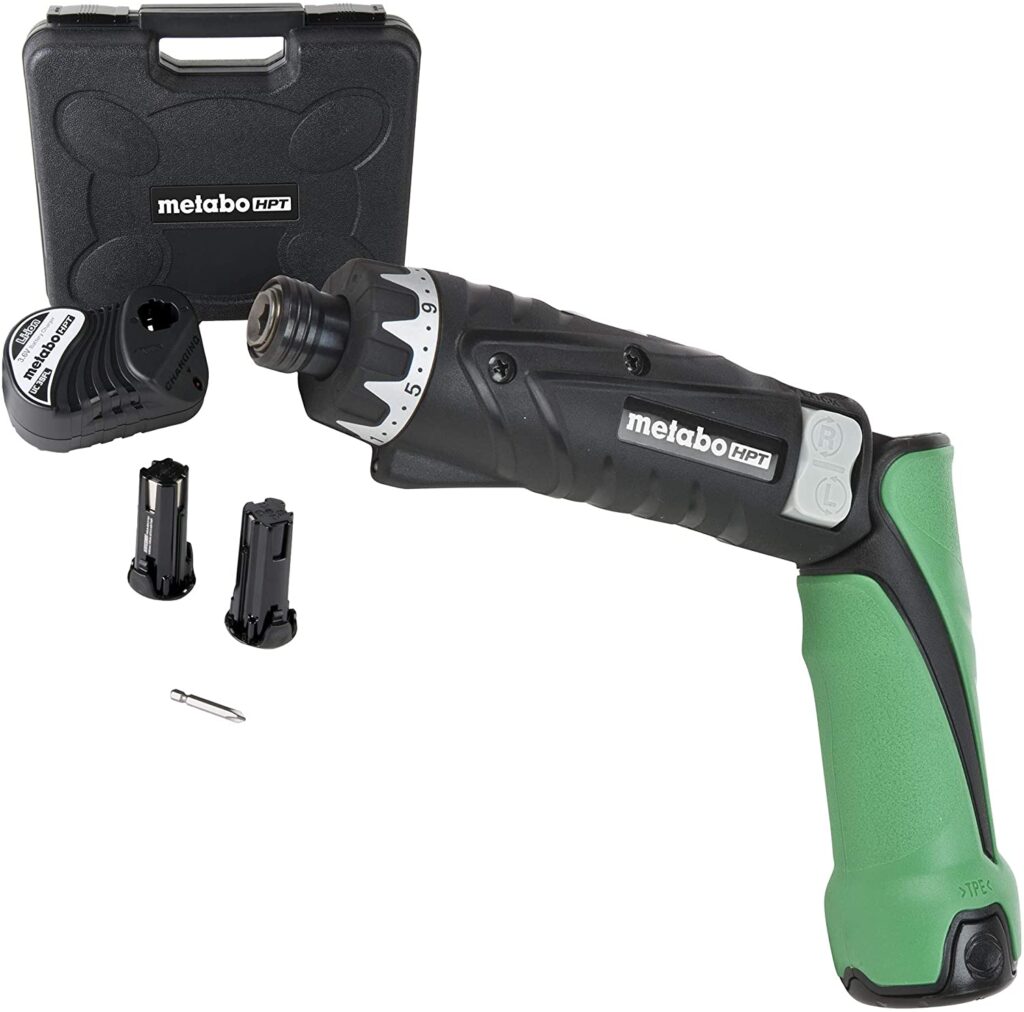 The Metabo HPT DB3DL2 is an ideal screwdriver for power users that might need to do many different tasks with their electric screwdrivers.
It comes packed with 21 different clutch settings that are way more than you will use, but it will get you covered even in most individual tasks.
It packs 2 batteries, and no, it doesn't use them both at once; it will use once, and if you drained it, you could use the other one easily for the rest of the work rather than waiting for it to be charged. Also offers a stable rubber grip for increased handling and hard case so it can be protected when not in use.
Just in case you drained both the batteries out, you can very well take advantage of its manual spindle lock to use it as an ordinary driver.
Additionally, it offers a drill setting which can't be used for heavy drilling tasks but can handle small pilot holes like jobs with ease. You can also benefit from its two-speed settings to choose the one that suits the jobs well.
PROS (What we liked)
Different speed options for flexible use cases.
Stable and comfortable hand grip for long hours of use.
CONS (What we didn't like)
The directional switch is not well placed and is inconvenient to switch while using.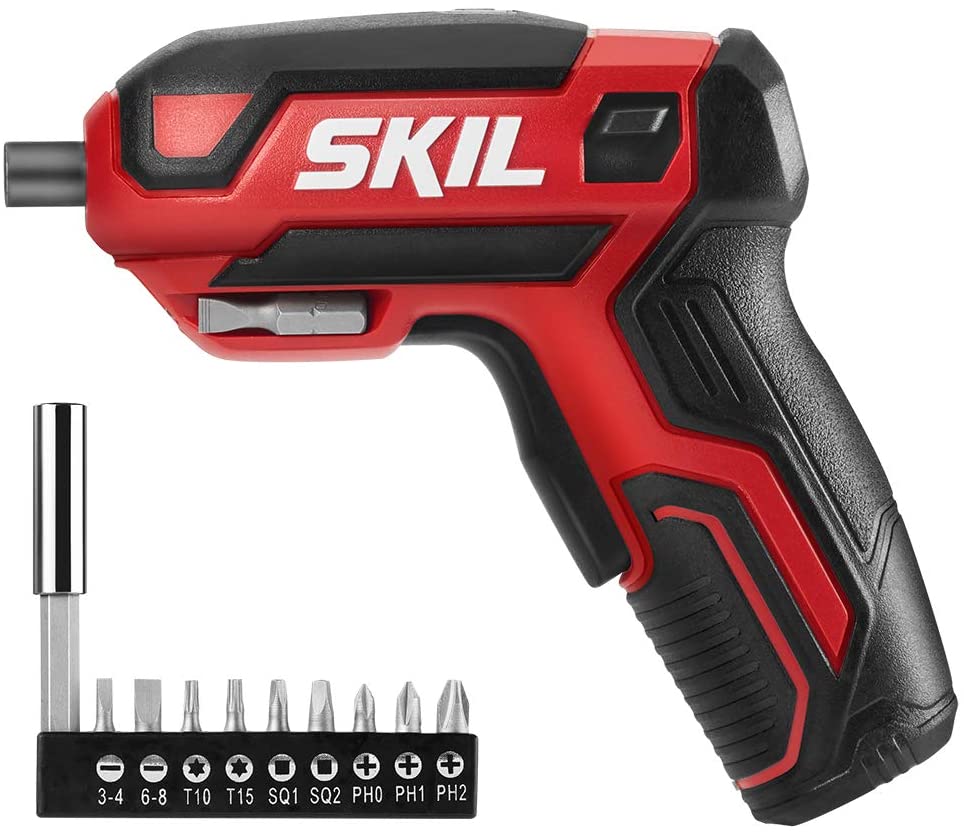 The SKIL Rechargeable SD561801 is a compact and small-sized electric screwdriver known for its portability and offers a long magnetic front to hold fasteners with ease. The compact size makes it easy to fit it in a small bag or box.
It lacks features, but that's the main point of this product; it is made for users who prefer minimal ways and don't want tons of different manipulation options in their screwdrivers. It is more of a pick-and-use product, so if you are looking for something with lots of options and settings, this might not be a good choice.
It comes with 9 bits, and the long magnetic front is made to reach small corners and areas other drivers struggle to get. You will get attach 2 magnet-based holders on both sides of the device to carry 2 bits along with it.
Additionally, the design is ergonomic, and the pistol-grip shape offers comfortable usage for long hours with rubber grips and 2 fingers trigger.
PROS (What we liked)
Compact in size for lightweight usage and better portability.
It is relatively cheap as compared to others.
It can be charged from a USB.
CONS (What we didn't like)
Not as powerful as similar models
It does not have a variable speed feature.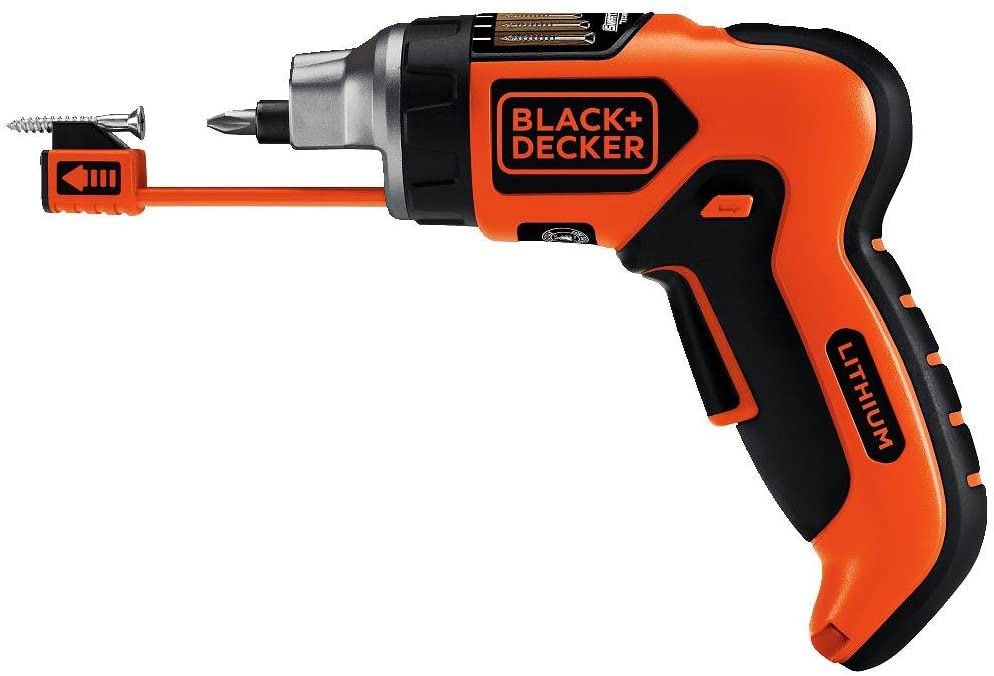 The BLACK+DECKER SmartSelect Screwdriver is most suitable if you want to use your electric screwdriver from the comfort of one hand. With its magnetic fastener attached to the front, you can achieve this quickly and operate this single-handedly.
To provide further ease to the consumers, this also attaches a visual guide on the unit to provide accurate information about which settings to use with different fasteners.
It offers a significant drill bit if you are just starting out and don't have one already. This can quickly drill small pilot holes but would not recommend it for heavy drilling tasks. The lack of speed settings does bother users sometimes, but then it got enough power to handle most of your functions with default speed only.
PROS (What we liked)
Easy for beginners to use
It can hold bits and accessories in the charger case itself.
Perfect for fasteners of tiny sizes
CONS (What we didn't like)
This charger is big and takes up a lot of space.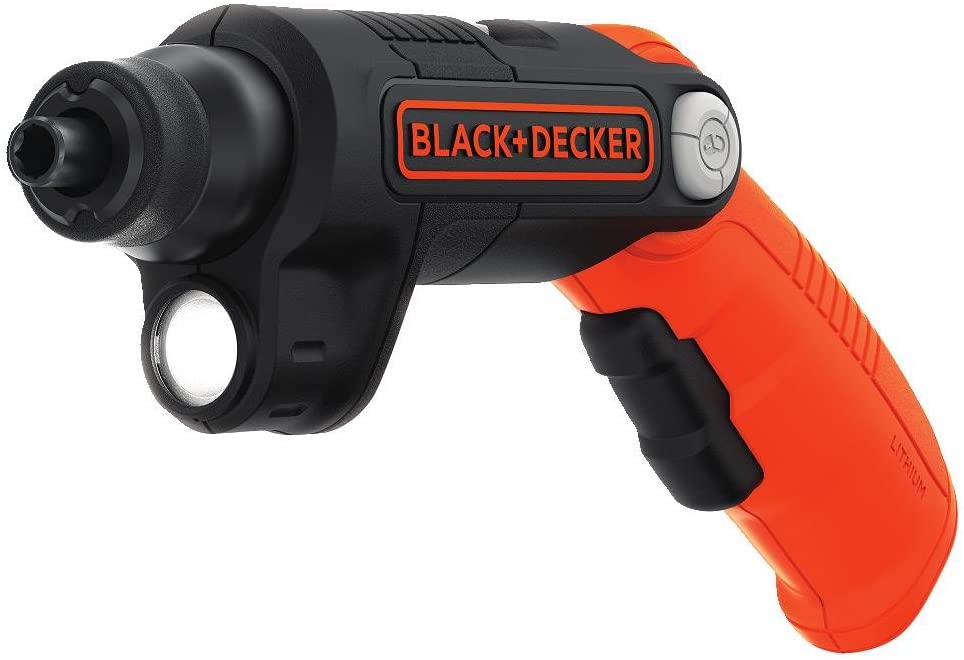 Another Black and Decker entry on the list is well known for providing quality and durable products to their customers, and that's what Black and Decker BDCSFL20C is for.
With its two-factor design that can easily be switched from one to another, this is an excellent electric screwdriver. You can either use it as a straight line drive or make it a pistol-grip one; the choice is on your comfort.
The ample light attached in front is provided to be used as an assistant when working in dark areas, but due to its large size, it can easily be used as a standalone flashlight.
The rubber grips make it highly comfortable to hold and ideal for long-hour usage along with its lightweight body. Overall, this product is made to provide comfort in working.
PROS (What we liked)
It is lightweight in design and is easy to use.
The color used should be bright enough to be easily seen from a distance.
CONS (What we didn't like)
There is no bit storage available.
There are no speed options, and you have to stick with the default speed.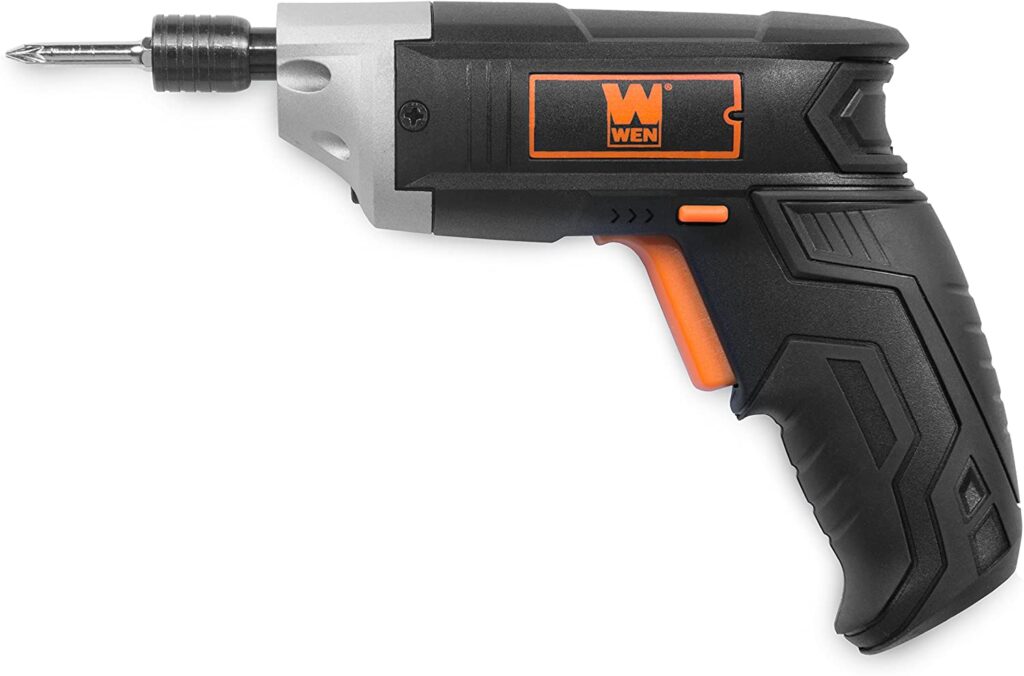 The WEN 49103 is designed to reach hard-to-reach screws with a unique design. It places the chuck at the top of the body, which helps locate the screw in all difficult to get places.
There is also an onboard light, a battery meter, and a charger included in this product. It also has two flat head bits and a Phillips head bit which, if you ask me, is more than you can ask from a below 20$ product.
The rubber grips are made for the comfort of the consumer while they work and can hold your bits with an inbuilt carrying holster so you can carry your kit with you all the time,
There is also a battery indicator at the device itself, so you can check how much work time is left until the subsequent charging is required.
PROS (What we liked)
Easy to reach screws in awkward places.
The quick-release chuck is the most convenient option to use.
The price is low.
CONS (What we didn't like)
I didn't like the bit selection.
It doesn't have torque settings.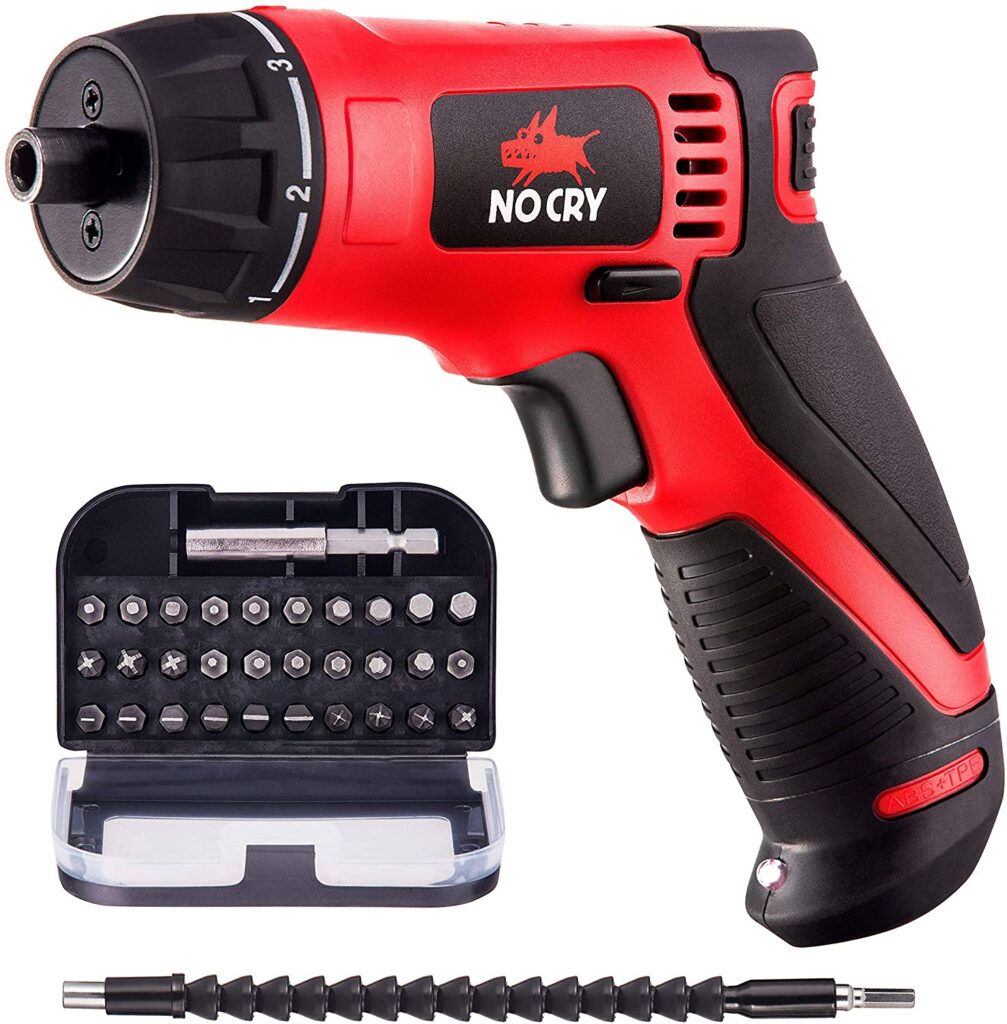 The NoCry 10 N.m is a powerful device with a compact size and probably offers more features than any of the above devices from the list. It has 6 different torque settings that can handle tasks ranging from very delicate to heavy.
10 Nm is higher than most of the electronic screwdrivers in this price range. Most have a torque range of 3 to 4 Nm. This allows it to handle some of the most challenging jobs, like building a fence or whatever, with ease.
Moreover, its battery is again a lot longer lasting than the standard ones. It's got a rechargeable, 7.2V battery. It's capable of putting in 300 screws on a single charge. The NoCry 10 N.m electric screwdriver has other nifty features, such as the LED light at the bottom illuminating a wider area. It has multiple sizes of bits, an easy-to-hold box, and a 4-year warranty, too!
It offers a battery indicator on the device body itself. Also, it provides 40 different bits that, in my opinion, can, with the power it gives can handle every screwing task you give it to.
PROS (What we liked)
A lightweight and powerful device.
It can be set to various speeds.
CONS (What we didn't like)
There are no replacement batteries.
The Hychika Electric Screwdriver can help you across all the repairing tasks around your household and comes with a bit that can help in small drilling tasks along with 36 bits that comes along with this device.
The handle features a three-position handle for easier handling. In contrast to other models, it has two LED lights: a working light and a flashlight.
This product runs a 2000-mAh lithium-ion battery, which is sufficient for any DIY project. The charger includes a standard DC plug, but there are also USB cables. That means you can connect it to a laptop, car charger, etc.
The torque has a maximum power of 6.0 N.m, which is not very powerful but is good enough to handle delicate tasks quickly, and with rubber-based grips, you can be sure this product will provide comfortable use for long hours.
PROS (What we liked)
It can work as a screwdriver, too, with the drill that comes with it.
It has a long battery life for extended use periods.
CONS (What we didn't like)
There's no charging indicator.
There's no torque control.
Factors to Consider Buying an Electric Screwdriver
We all have different needs and different tasks at hand for our electric screwdriver and need to get the one that suits our needs perfectly. As you have seen the best ten electric devices available in the market, it's time to know what you need to look for in an electric screwdriver buying one.
1. Torque
Torque is the rotation force that tightens up your screws, and this is crucial for an excellent screwdriver to have a powerful torque to work on heavy jobs. You need to see if you would just need power jobs, or you are going to use the driver for delicate DIY projects also.
Electrical screwdrivers typically have torque powers of 2-3 Nm. Conversely, higher-end, more powerful electrical screwdrivers can have torque strengths from 10 Nm to 20 Nm.
2. Rotation Speed
Rotation speed is vital to look for, as you might need high rotation speed to speed up your screwing jobs, and also, those electric drivers that come with a bit need high rotation to drill better.
The cordless device rotates between 180 and 450 times per minute. The speed of rotation on corded machines is typically 3000 to 6,000 times per minute.
3. Battery
You can't have a plug always around you to plug your screwdriver to use; thus, a battery-based electric screwdriver is used as they do not require any cord and can work independently. You need to look for a device that has a high-powered battery and can last longer, or else you will always end up in the middle of your work recharging the device.
Those power tools have lithium-ion batteries or nickel-cadmium batteries in them. Lithium-ion batteries can store high energy, and they're portable. They're much more durable, light, and are quick to charge.
So I prefer to go for a screwdriver with a lithium-ion-based battery.
4. Weight
The best electronic screwdrivers are light in weight. That's one of their most appealing features. If you buy one with a brushless motor and lithium-ion battery, it even weighs less.
Though there are still heavy devices in weight, and if you need high power and extended battery life, you might need to sacrifice a little with weight, I would still suggest you choose a soft spot between extraordinary battery life and lightweight.
5. Design
Design is crucial for any product, and electric screwdrivers are no exception. They come in mainly two different designs: pistol-grip design and the other one being a straight-line design.
Some in the market offer both of these designs in a single device, but the moving part can affect the product's durability.
Frequently Asked Questions
Are electric screwdrivers worth it?
Yes, if you are looking for something compact and for light works, then with a smaller motor, convenient when working on softer woods or materials that tend to splinter or crack, electric screwdrivers are more lightweight and more portable. They fit easily in most tool belts or a pocket.
Is a drill the same as a screwdriver?
No, the drill has high speed, so it's difficult to maintain precision while driving screws, while electric screwdrivers offer less power and speed that allows precision while driving screws. 
What is a cordless screwdriver?
Cordless screwdrivers are electric screwdrivers that can operate independently using a battery without plugging into a power socket. This allows you to carry it to places where there is no electric supply.
What can you use an electric screwdriver for?
Electric screwdrivers offer less power but with more precision that allows them to be used for DIY tasks like assembling furniture, replacing a light switch cover, or tightening loose cabinet hinges.