Winters are not everyone's cup of tea. You might not feel comfortable around winders due to heavy cold, and the problems start when your home starts getting cold. I mean, that's your home; you can't go anywhere else now.
Still, you can manage to heat small places as they tend to get warm faster even with a small heater, but large rooms are the ones that are hardest to warm. Luckily, to keep your whole house warm, including those large halls and rooms that are tedious to warm in the heavy winter cold, you can use a space heater. Space heaters are small and portable heaters explicitly made to warm large rooms that might be difficult to heat otherwise.
Heaters like these are easy to set up and super convenient to use with any large room, such as your living room, office space, or bedroom. Being mobile and powerful, they are the perfect solution for your bedrooms or halls to warm them up effectively on cold winter nights.
There are wide varieties of space heaters available, and a consumer-like you can easily get lost in fake promises that many of these brands make, so I got out there, tried, and researched for some of the best space heaters, so you don't have to find them yourself.
Best Space Heaters for Large Rooms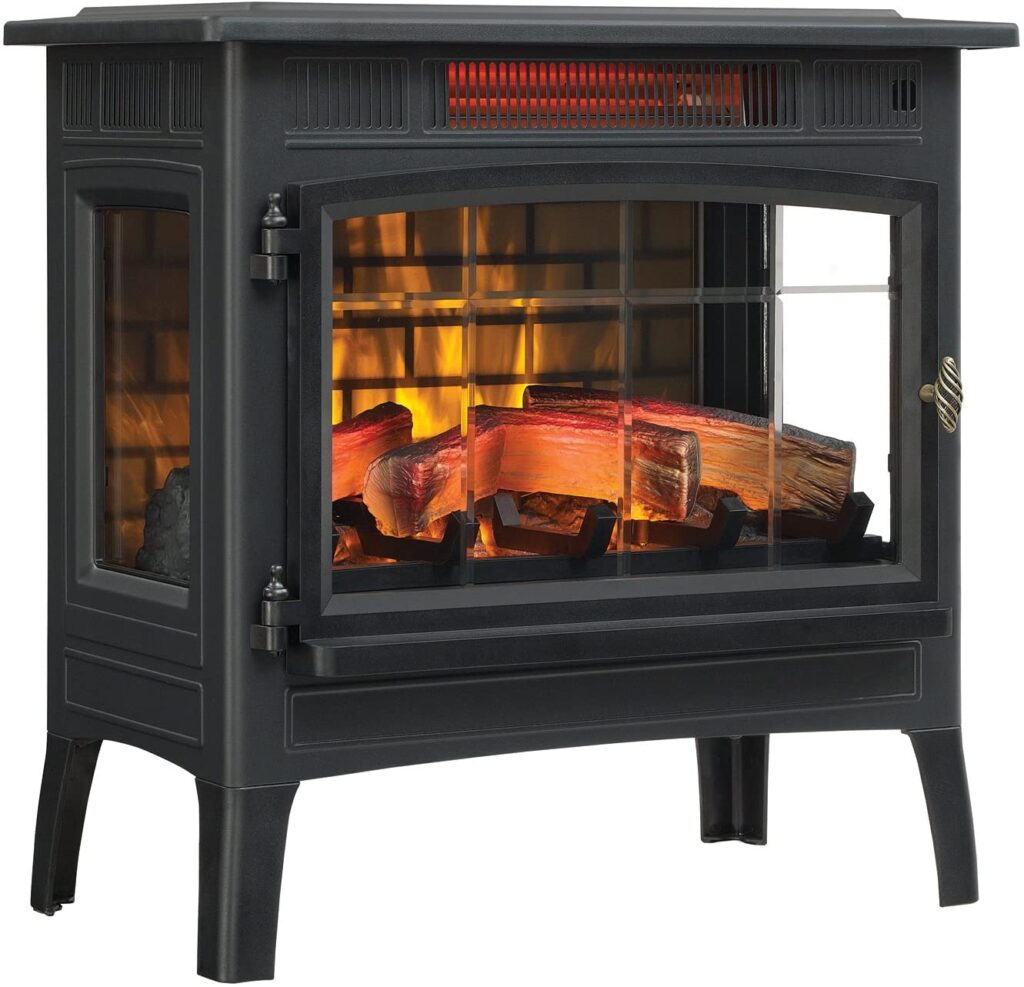 The DuraFlame Space Heater is unlike most others that you will find in this list in its ability and design. Though it is a space heater made to warm large rooms, it designs as a fake aesthetic fireplace to give those classic vibes to your rooms and compliment your interiors without looking like an electronic device from another store.
The space heater doesn't compromise its heating ability and can heat up to 1,000 sq. ft. So, apart from looking aesthetic in your halls and rooms, this will also make sure they are adequately heated. Though you can use this in any room, we recommend using it in your living rooms or halls as it can work at its best in these rooms.
Though it does make a little noise while running, you will not notice it frequently, and the remote control that it comes with will make sure you can place it even far away even to reduce that noise. Though one downside of that remote is you can only change heat settings from it, so you would want to keep it close and charged all the time.
Additionally, this heater is compact and portable in size and is comparatively smaller than other heaters in the market. It uses zone heating technology to ensure it only warms the part you want it to, rather than emitting excessive heat to the places not needed. The safety is on point as the design reduces any chance of accidental touches, and it also offers protection against overheating.
It comes with 3D printed flames inside the heater in five different colours, customizable brightness and speed settings that make the fake flames look realistic, adding to the already aesthetic design and classic vibes.
PROS (What we liked)
This heater will shut off instantly to prevent overheating.
An appealing & customizable design
Safe for children and pets
Zone heating can be practical and economical.
CONS (What we didn't like)
It creates noise when running, which can be audible from a distance.
It provides no physical controls and relies entirely on the remote.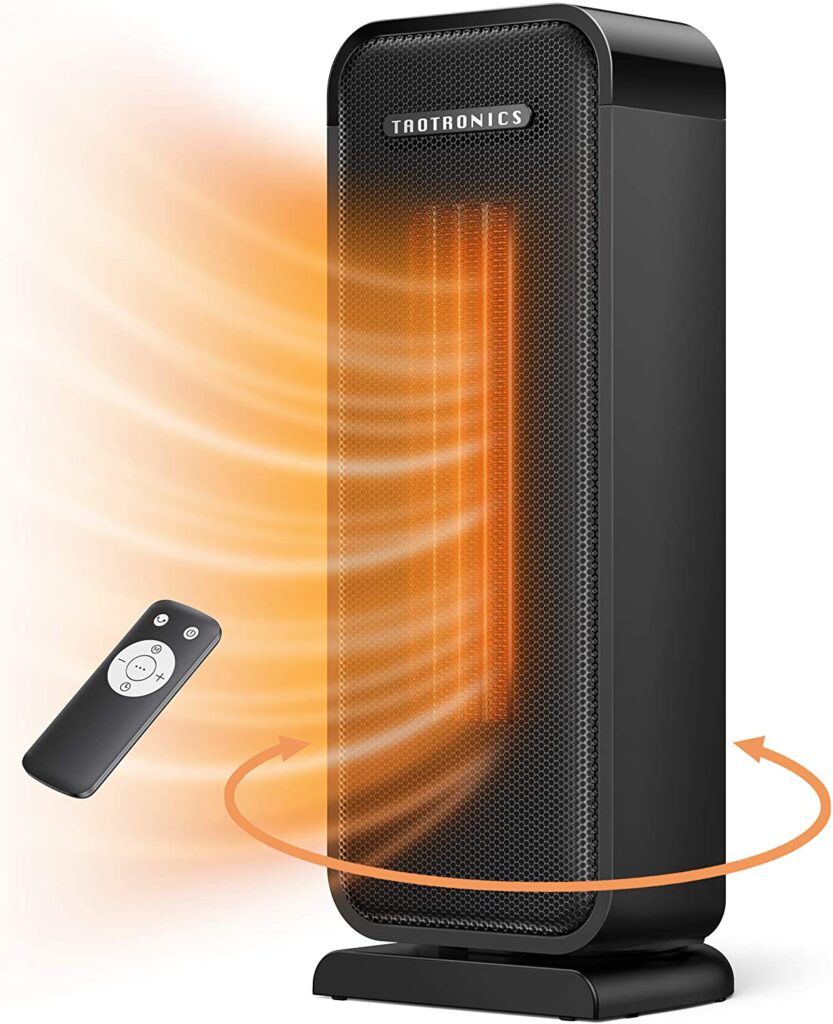 The Taotronics TT-HE001 Space Heater is compact and portable but doesn't mislead by its size; it has the excellent heating capacity and can efficiently heat your bedrooms, home office or living rooms.
It can offer heating up to 200 sq. ft of space quickly, so if you want to heat your rooms relatively quickly, this is a great choice. Also, the small size makes it highly portable so that you can carry it around in different rooms.
The space heater offers two sensors that include a tip-over and an overheating sensor and is designed to use space to use around kids and pets without any worries. Also, the two-hour auto-switch timer and a quiet operation provide tension-free use overnight.
It comes with a remote controller so you can control it from the comfort of your bed or sofa without moving a bit, but in case you don't want to or don't have the remote with you at the moment, you can use the inbuilt LED-based controls on the top of the body.
Two things that caught my attention about this heater are the energy-saving ECO mode and a wide-range 70 degrees oscillation system. This little beast can heat more space and at a much faster rate with power saving. Now, that's a deal-breaker for me!
PROS (What we liked)
It is quiet in operation.
With wide oscillation, it delivers efficient & even heat distribution.
It has a remote control and touch control.
CONS (What we didn't like)
It is smaller than most other heaters on the market.
The heating space is relatively more minor.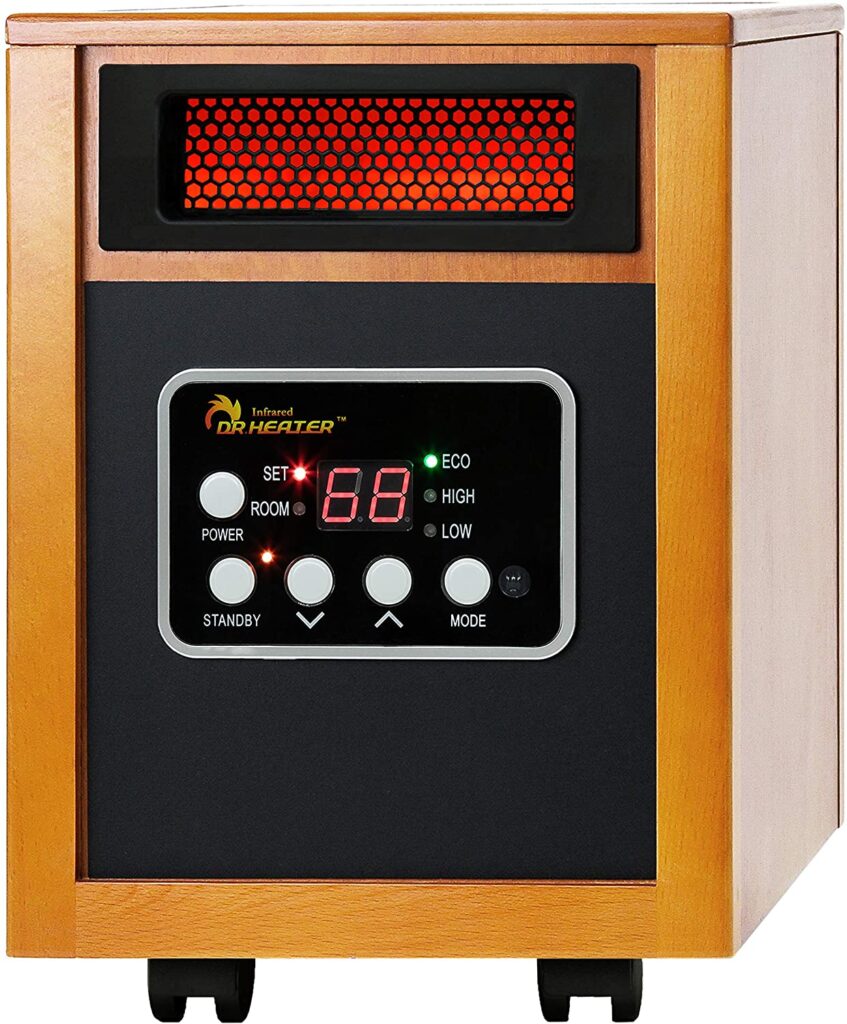 Dr Infrared Space Heater is one the best space heaters available, and it justifies the status very well. This heater consumes the same amount of energy as the other heaters but emits more heat in that same power consumption.
Being small in size and looking robust, this heater also offers remote control to turn it on or off, or maybe change the speed settings, all directly from your couch or bed and also provides a customizable 12-hour timer for tension-free use for long hours.
Unlike many space heaters that make loud noises while running, the Dr Infrared is quiet in its operations. It does so without compromising the heating ability with the help of a 7-inch blower that helps to reduce the noise by generating less air pressure and moving more air around.
The space heater offers advanced safety features to ensure the safety of kids and pets around the house. It has a customizable auto shut off timer and includes sensors that turn off the heat if tipped over so no accidental touch can hurt anyone.
PROS (What we liked)
It can be controlled using a remote controller.
It's quiet in operation.
The device also has overheat protection and an automatic shutoff timer.
Tip-over shut down feature makes it safe and secure.
CONS (What we didn't like)
It is corded, so you need to connect the cord to a power source to make it work.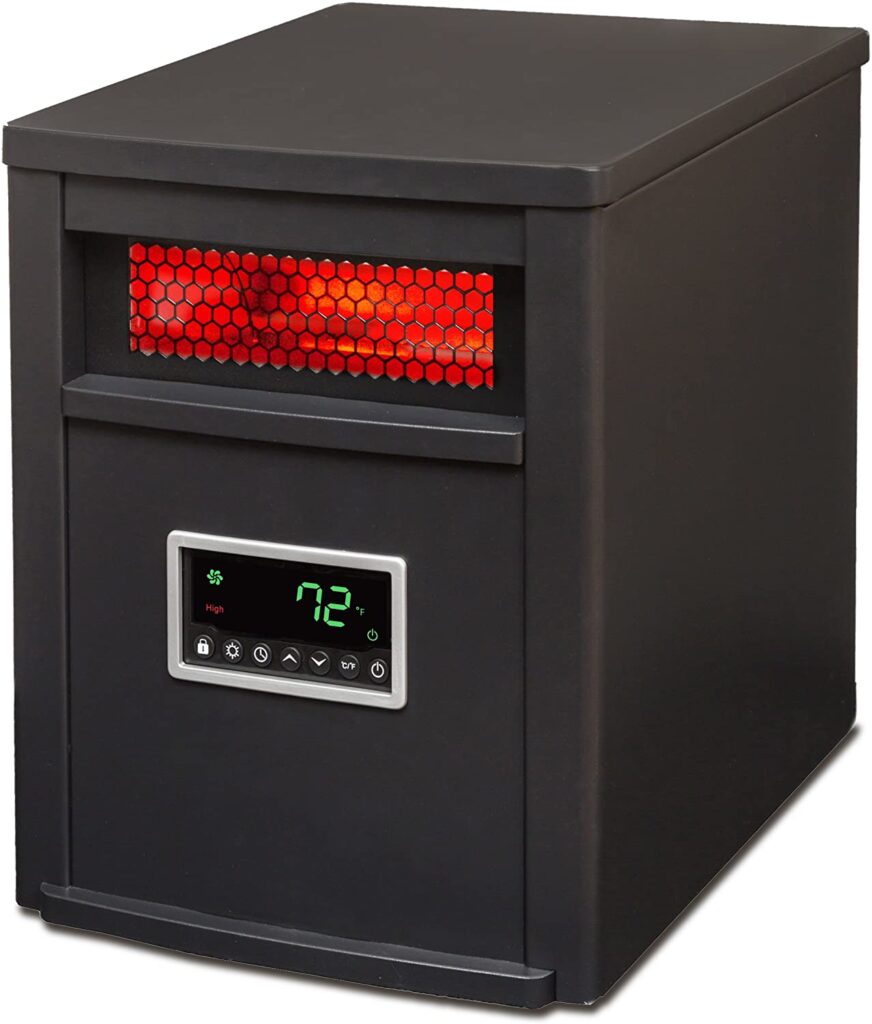 The Life Smart Space Heater is an eco-friendly and power-saving heater for large rooms. It is small in size and works best to heat your rooms most effectively and efficiently without wasting energy. If you want to keep their rooms warm and save power consumption in the process, this is the choice for you.
It offers zone heating technology to ensure you are only heating the area of the room you want to and offers different heat settings, including an eco setting to heat smaller rooms and ensure that no energy is wasted. It also packs an air filter to add to the eco-friendly approach of the buyer.
The heat resistant metal cabinets surrounding the heater provide a sleek and matte finish look to this device. As the metal around is heat resistant, it does not get heated up when used, so even if someone accidentally touches it, there will be no injuries. Additionally, the slider at the back makes it easy to move from one room to another.
All and all, this heater is made with environment and heating in mind, with heaters, in general, consuming and emitting a large amount of energy and heat; this device provides the benefit of heating with the most eco-friendly approach possible.
PROS (What we liked)
It heats your room with infrared.
Heat zones reduce energy consumption.
It offers a quiet working operation.
With Easy Glide, it's highly portable.
CONS (What we didn't like)
The warranty offers only for the parts and not for the machine itself.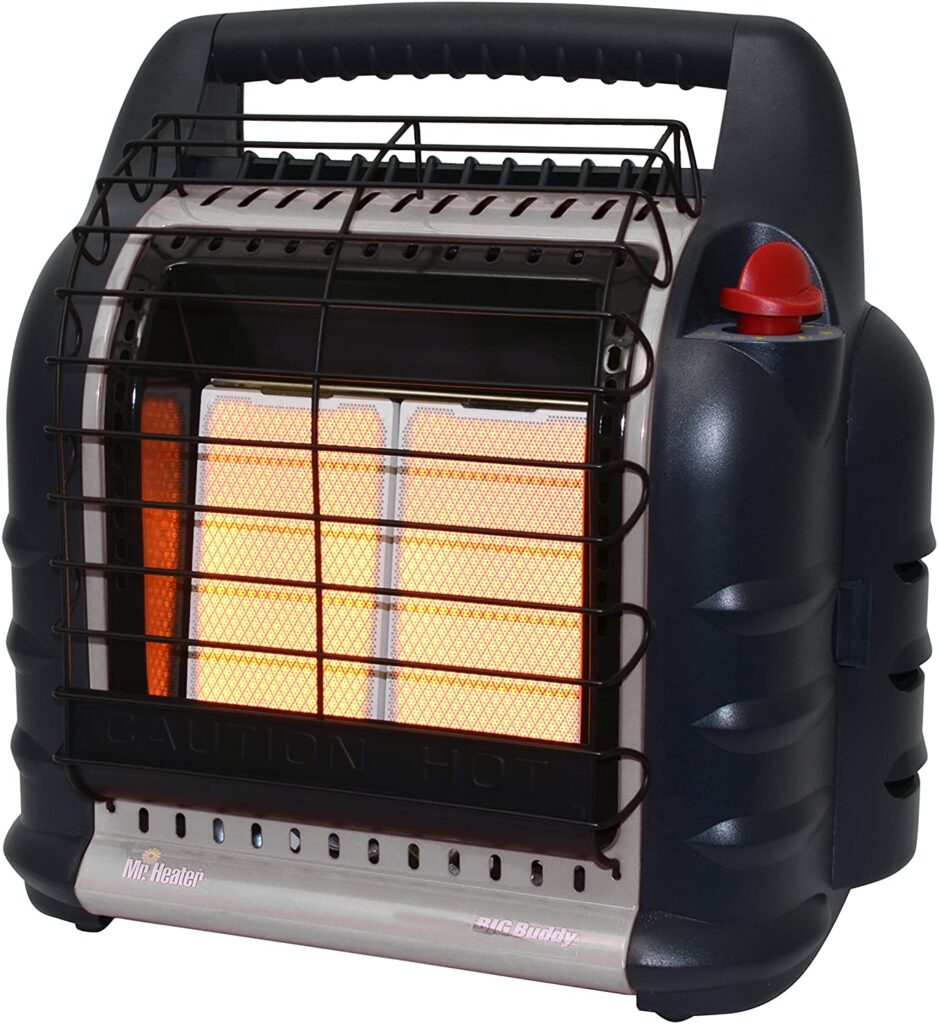 The MR. Heater F274830 MH18BRV Space Heater is one of the most popular space heaters due to it being highly ideal for outdoor heating of ample space as it works on gas and can quickly warm you on your camp trips or outside the park in the chilling winter cold.
Typically a gas heater is one of the most unsafe heaters out there but MR. Heater solves these problems to ensure most safety of its users. It has an Oxygen Depletion Sensor to detect and react to the available oxygen in the environment and also comes with a tip-over safety shut off that will ensure it gets turned off anytime it falls or puts it in the wrong position.
It offers three different heating speeds that range from low to high to keep you warm even in a large group outside and, if needed, can be used inside, all you need is to make the settings down, and you are good to go to warm the inside of your house.
Still, the primary use of this space heater is while being outside travelling or camping. Gas heaters are in general know for their outside heating abilities and MR. Heater holds well on that name and is very effective in cooling outside. It also comes with a swivel regulator, which is one more added feature to suit your long winter travels, be it in your patios or RV.
PROS (What we liked)
It has three different flexible heat settings to choose from.
Auto-shutoff function for maximum safety.
Effecting in heating outside environments.
CONS (What we didn't like)
The plastic body is not durable and can melt if used for long hours in one go.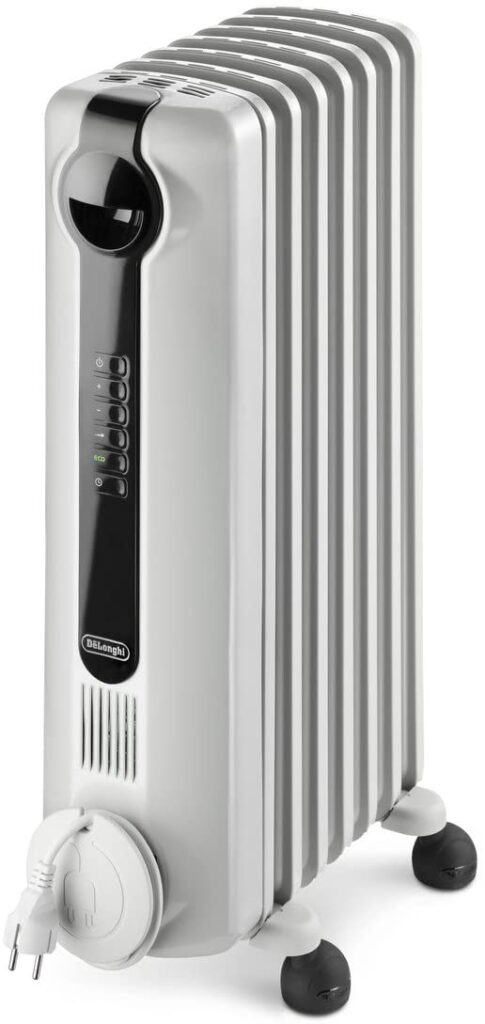 The De'Longhi Eco Digital Full Room Radiant Heater is a highly durable and efficient heater that can quickly heat your large rooms. It packs a massive 1500 watts of power, and with this much power, you won't be feeling that winter cold in your house anytime soon. Also, it is quiet in operation even with such massive power consumption.
With high power and silent working, when put on a comparison with other heaters on this list, this boasts an average of 25% more heat surface than others.
The space heater is relatively easy to maintain with a quality steel body made to be durable in the long run and can prevent your heater from accidental damages. It also packs antifreeze settings and thermal cutoff to prevent the pipes inside from freezing in winter.
It boasts different customizable settings that include three different heat settings to suit all your heating needs with a 24-hour timer. If that's not enough, you also get an ECO mode to conserve energy and run it efficiently when maximum heating is not needed. The thermal slots in the body design allow full heat flow in the room, utilizing the power most and heating all room parts equally.
PROS (What we liked)
Its steel-based design is highly durable.
It offers a 25% faster heater surface area.
The ECO mode helps save power consumption.
CONS (What we didn't like)
Noise when turning the machine on or off.

Space heaters are made to heat the large room; thus, the working is more than small heaters, making them extremely noisy while operating. But the De'Longhi Ceramic Tower Heater was made with silence in mind; hence the unique design cuts the heater's sound in half in use, making it ideal to use in bedrooms to sleep or in your living room while watching TV.
You would turn it on with such silent working and forget, but that can cause various safety problems such as overheating or falling of the heater. This space heater provides an auto thermal shutoff feature to prevent overheating and a tip-over part to avoid damage if the heater falls down.
Along with silent working, these safety features offer a peaceful use of this heater for a long time without worrying about safety issues. It also provides a manual customizable auto-shutoff timer and a wide range of oscillation to direct heat throughout the room, and it is attached to the pedal of the heater from where you can turn it on.
You can also control all comfort settings with a primary remote control that allows for an adjustable thermostat and multiple heat settings, all with the comfort of your sofa or bed without any hassle.
PROS (What we liked)
The ECO function saves energy.
It contains an Adjustable thermostat setting.
The multiple heat settings provide comfortable heating in all types of cold.
CONS (What we didn't like)
The 1500 watt of power consumption is not suitable for small houses and rooms.

The Lasko 5538 Ceramic Tire Space Heater is the most minimalistic and easy to use space heaters. I like how easy the electronics are to use even for people with low tech knowledge and how flexible the thermostat is. Still, if you don't want the thermostat to control your heat, you can always set it yourself between two adjustable heat settings.
The heater's louvre is excellent at leading air up and out but has problems leading air downwards due to its location. There are two heating settings available, so you'll stay toasty during the cold months. Though on high settings, the heater does create noises that are not loud, but still, if you like a completely quiet environment, you might want to not like it that much.
You can constantly adjust the airflow direction in this heater to adjust according to your needs and heat all the parts of the room you want with ease. The ceramic body is self-regulated, so you don't have to worry about overheating.
Overall, if you want something simple that heats good, looks great and is extremely easy to use, this space heater is a perfect choice for you; you just have to mind that little noise on the high setting.
PROS (What we liked)
It is of great look to complement the decor of your room.
You can store it against a wall easily.
The ceramic body is self-regulating and stops overheating.
It can regulate airflow efficiently.
CONS (What we didn't like)
Not significant in regulating the airflow downwards.
There is a little bit of noise in the high setting.
Factors to Consider Buying a Space Heater for Large Rooms
Buying a space heater for a large room is no easy task, and if you messed up, you could end up not only in loss of money but also of comfort, and if a replacement is not readily available, you might need to bear the winter's cold also.
To avoid this, I will show you specific things you should keep in mind before buying any space heater.
1. Power
You need to check the power your heater can provide and see if it is powerful enough to heat your rooms or not. Sometimes, in tiny houses, heaters like the Taotronics TT-HE001 Space Heater works best and consumes less power.
But in case you need to warm large rooms, you might need to find something more powerful to get your large rooms warm.
2. Ease of Setup
Not all of us have the same amount of time available, and some are busier than others. In the same sense, some heaters are extremely simple to install, while others might need some work.
If you have any technical background, you can get one that needs some work to get installed as it will be relatively cheaper than one that is pre-setup and can be placed anywhere and will start working.
3. Size
Depending upon your preference and space available in the room, you will have to decide if you want a compact space heater or a big one.
If you want something small and portable that will consume less power and heat small rooms efficiently, the Duraflame 3D Infrared Portable Indoor Space Heater is a great choice.
But if you want something big that can heat huge rooms, you will like the De'Longhi Ceramic Tower Space Heater, but remind you that these big ones consume a lot of power.
4. Thermostat
Most modern space heaters come with thermostat settings and easily measure the room temperature and change the heating speed accordingly. You should always go for a space heater that contains thermostat settings like the Lasko 5538 Ceramic Tower Space Heater.
This will not only save you time but will make sure you can sleep at night without any worry that the room might get overheated.
5. Safety
Let me tell you, a space heater, if not build with good safety features, can sometimes cause fatal accidents, and that's why safety should be your topmost priority when buying a space heater.
Few things to look for in safety:
Your heater should have overheat protection to prevent any fire or electrical hazard.
A tip-over shut off mode that turns off the heater immediately if tipped over to avoid any damage.
6. Flexible features
No heater will be good enough without flexible settings that a user can customize on their own easily. If you want to buy a heater, always look for helpful control features with remote access, auto-shutoff timer and different heating modes.
Cause, let's be honest, you won't always be using the same heat settings all winter, some days, it is not that cold, and you might want to use a lower heat setting as per your comfort.
7. Design
I can't stress this anymore, you will notice your heater in your room more than few times, and if it looks ugly like some crap machine from the 90s, then I guess that won't be a great experience. The space heater with working great should also provide aesthetic looks like the Lasko 5538 Ceramic Tower Space Heater. An excellent looking heater will look great and benefit in heating the room with a quality design that will ensure proper airflow and heating of the device itself.
Frequently Asked Questions
Which type of space heater will suit me the best?
You can choose from two different major types of heaters according to your need.
Electric Space Heaters: These space heaters run on electricity and can be plugged in any electric outlet, and is best suited for indoor uses.
Gas Space Heaters: These heaters work primarily on either propane or butane gas, and due use of these gases, it produces carbon dioxide that is not suitable for indoor services. You can use them for outdoor use, such as camping, long trips or in your backyard. 
Can a space heater be left on all night?
Yes, modern space heaters can be very safe to leave on for extended periods, even doing so while sleeping. It is essential to choose a heater with features like automatic shutoff, tipping protection, an adjustable thermostat, and certified by one of the three major testing organizations to ensure long hours usage without any safety issues.
Is it dangerous to use ceramic heaters?
No, a ceramic space heater is a convection heater that uses electricity instead of burning fuel and does not release any carbon monoxide or other toxic gases. It also consumes less power compared to other space heaters.
Do space heaters consume much electricity?
It depends on your usage and heater model. If you are using a small heater to heat a small room, it will consume less energy, but if you are using a 1500 watt heater straight for 8 hours, it will soon start adding up on your electricity bills. You can use something like the LIFE SMART Black 6 Element Infrared Large Room Heater if you want to heat large rooms but save on power consumption.