Roomba is the same as robot vacuums. However, it is unknown to many that there is no specific model. In this context, it ranges from Roomba 690 (at $375) to Roomba 900 and Roomba 980. This review is about the iRobot Roomba 960 that is $700.
It neither falls under the costliest segment nor under the cheapest. Most of it is pretty similar to that of the high-end iRobot Roomba 980 segment in terms of features.
This robot vacuum offers Wi-Fi connectivity. There is a smartphone application in it to send alerts and complete reports about cleaning. The best part is that the robot vacuum comes with a three-stage cleaning system.
Experts claim that this three-stage system can provide better outcomes compared to all other robot vacuums in present times. Anyway, those who are still confused about whether to buy may go through the detailed review below.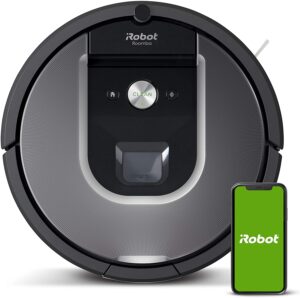 Roomba 960 Vs. Roomba 980
The most evident difference between the two is colour. Roomba 960's body is a bit lighter gray. Otherwise, both these are quite similar. Both these are 13.8 inches diametrically and are 3.6 inches in height. One can find controls and indicator lights exactly at the same place in the case of both. The navigation camera remains there at the top center.
Starting from a couple of roller brushes, cliff sensors, side brushes to the front wheel, one can easily find similarities in the case of both. One can find a removable dustbin at the rear end of them both.
Roomba 960 and 980, though, are different in terms of their weight. However, the Roomba 960 is a little lighter in comparison. It weighs only 8.5 pounds, whereas the Roomba 980 weighs 8.7 pounds. The main reason behind the lighter weight of Roomba 960 is because it possesses a different batter.
Where Roomba 960 comes with one virtual wall, the Roomba 980 comes with two. One of the prime differences between the two is that in Roomba 960, one can find a Cleaning Preference menu.
This menu allows the users to customize how many times it cleans a room. Within the Lifetime Performance menu, one can find complete statistics about every session. This includes the total area cleaned.
The Roomba 960 also comes with iRobot Clean Map allowing users to find where the robot has vacuumed. Roomba 960 will enable users to control the device through the iRobot Home app that one can find through Apple App Store and Google Play Store.
This helps all along with the setup processes and can be helpful for Wi-Fi connectivity, though this aspect is quite similar in the case of all the models. In short, both the models are similar, only with few differences.
What Do You Get With The Roomba 960?
Upon buying Roomba 960, the person finds Home Base charging along a power cord, a couple of AA batteries, an additional filter, along an additional side brush.
Its battery run time is 70 to 75 minutes. The buyer gets a manufacturer warranty of 1 year. Once put into action, its 3 stage cleaning system uses the multi-surface brushes along suction using 5 times superior power of Roomba 600.
1. Smart Technology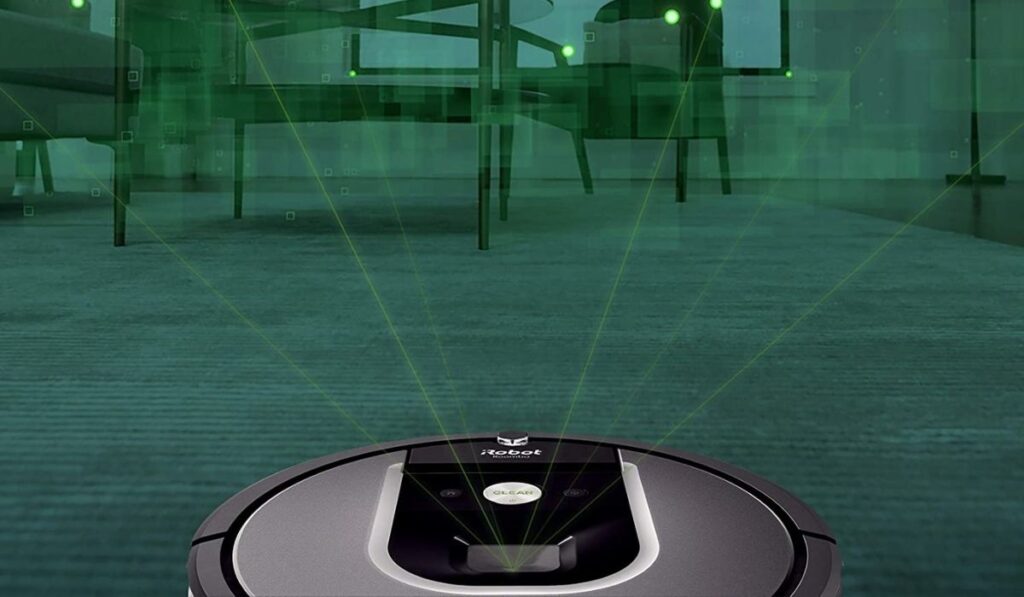 It comes with high-end Dirt Detect Technology letting Roomba 960 spots containing heavy dirt as one might spot in high-traffic areas. There is iAdapt 2.0 guides Roomba 960 on a smooth path and has details of all the areas it has covered.
This is capable of getting under the beds and equivalently challenging zones. There is a virtual wall through which one can avoid entering the undesired zones, like the offices or other sensitive areas.
There is an automatic mode that allows Roomba to decide about the number of passes to make according to the room size. It takes a couple or more passes for a smaller room and only one pass for smaller rooms.
In addition, there remains an 'edge clean' feature in it as well, toggling, which can make the robot vacuum clean along the walls and legs of the furniture, apart from the open zones. It comes with many sensors to help in identifying the zones with higher dirt concentrations, demanding more effort.
It is the most user-friendly of all Roomba robot vacuums by enabling the users to control this manually. However, as explained above, there are automatic options available as well for the new users.
It comes with a front camera embedded in it that lets the Roomba 960 robot Vacuum navigate in a much smoother way. In addition, there is a dustbin available in it. Along with iRobot's Clean Map visualizations, it provides the best satisfaction about cleaning.
Users can even connect with Wi-Fi and can control the same through the iRobot Home app. Along with features like voice assistant compatibility, the product happens to be the most user-friendly.
See Also: Top 10 Best Ductless or Mini-Split Air Conditioner in 2021
2. Performance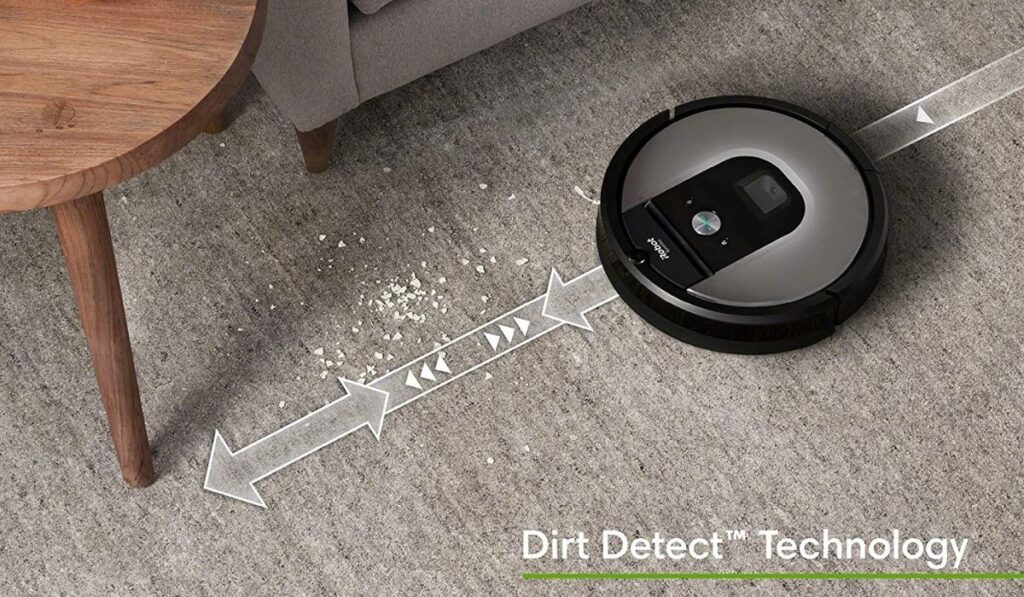 Most of the robot vacuums go with random cleaning modes that can be irritating to observe, considering that it leaves obvious dust particles. Specifically, this problem is more visible with the Roomba 690.
But with Roomba 960, everything looks very much methodical in its way. It can reach smoothly to those challenging areas, like under the tables, beds, etc. No need to worry about bumping into table legs as it has a camera.
The interesting part about Roomba 960 is its ability to calculate the next move. It gets paused for a moment and calculates the next move. Its performance in the case of uneven floor types is also quite excellent.
Roomba 960 is undoubtedly much better than the 690 on this matter. It can easily move through the rugs without much issue. Roomba 960 performs excellently while transiting between wooden parts to the tiles.
Its methodical approach makes it pass through a certain area once. However, one can set it to make it pass through the room twice. Despite not having equivalent suction power as Roomba 980, Roomba 960 still is quite up-to-the-mark in terms of its performance.
The Carpet Boost features make it distinguishing in terms of performance as it allows users to turn the suction up on rugs. In short, simply if one removes the wire on its way, there are not many issues about it.
One of the major advantages of Roomba 960 in comparison to others is its technology to help users in guiding about the mode of cleaning. It tells the user about the mode of cleaning simply upon selecting any of the three cleaning settings.
For example, tapping One-cleaning mode, the Roomba 960 makes only pass through the whole area. Clicking the Two-Cleaning pass makes it pass twice over the cleaned area, essential for those with pets at home.
What's The Roomba 960 Good At?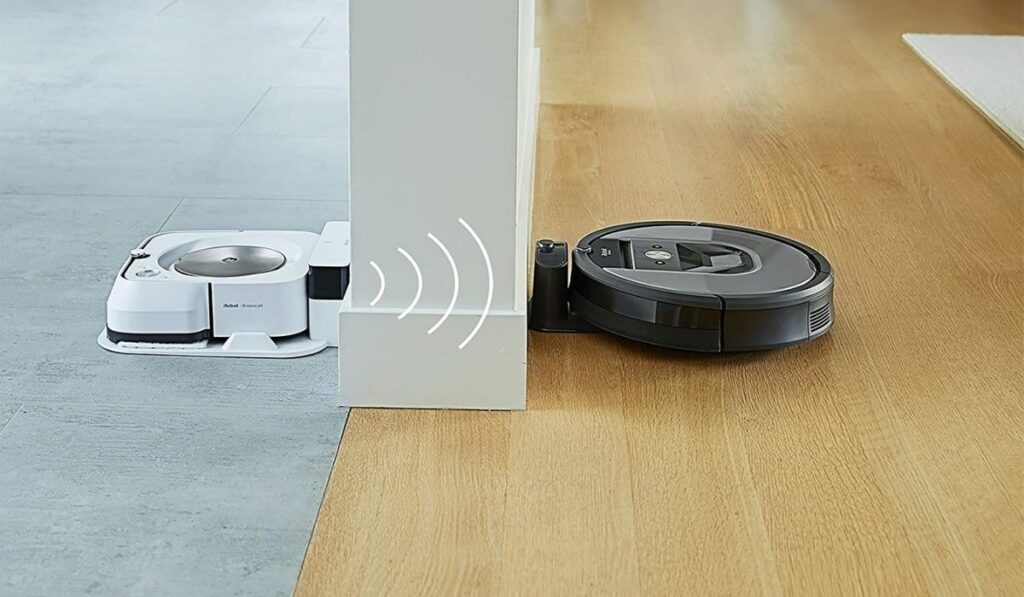 In comparison to all other Roomba, the 960 is certainly the most impressive. The best part is that one doesn't need to worry about it clashing insanely onto the walls or furniture coming on its way.
By coming closer to the objects, it often stops for a while and calculates for further moves. It means the user can stay assured about the safety of the product, as well as Roomba 960. Beginners thus can find it preferable over others.
Those who have only the objects of measurable dimensions, like an animal or square box, don't need to worry as it can easily calculate and move accordingly. Specifically, those having pets at home can find it an incredible option as the Roomba 960 is the best for sucking pet hair.
The harder the floor is, the better the Roomba 960 is. It has got the most efficient filter that holds the ability to suck up around 99 percent allergens of size even of 10 microns size.
There is not much hustle needed with it while moving through hard surfaces and moving from one floor type to the other. In comparison to all other Roomba, the 960 one is much superior on this matter.
Roomba 960 is excellent with pet hair. Specifically, it is simply fantastic on hard surfaces. Its super-efficient filter can grab to around 99 percent allergens even of 10 microns. This enables it to keep the pollen level and dander level as minimum as possible.
It can suck up the food crumbs and little torn papers as well. Its ability to suck up pet hair is certainly the highest of all. There is a double multi-surface rubber brush providing greater flexibility, making it best for all surfaces.
It comes with double multi-surface brushes made up of rubber, providing greater flexibility. This arrangement enables it to have perfect contact with floors of all types. It holds the ability to alert the user as the dustbin gets full.
See Also: Top 10 Best Projectors Under $500 in 2021
What's The Roomba 960 Not So Good At?
Roomba 960 has the battery with about 75 minutes run time, which might not be bad, but certainly is not excellent. This much run time makes it a better option for a comparatively smaller room.
In comparison, the dustbin of Roomba 960 is quite smaller in size. It means those who have chances of seeing excessive pet hair and similar dirt inside the room should remain prepared for more duration as it has to rotate for more cycles.
One of Roomba 960 is that it holds threats of getting stuck within the low-level furniture. Specifically, those with furniture lower than 3.6 inches hold maximum threats of coming across with such issues.
There are also chances of getting stuck on different objects within the room, like the legs of the chair that are comparatively shorter in size as it gets difficult to climb over.
As there remains the threat of getting stuck with lower-level objects, it is suggested not to run it during night hours. Those with deep black floors can also find it difficult to get messy while coming across through cliff sensors.
Those even having black borders can also confront similar issues. Upon coming across the black patches, the Roomba 960 mostly avoids it entirely as it feels like coming across with edges.
One must keep the lights on for putting it into action during the night hour as it demands some light to let the sensors of the camera function well. Though it can deal well with extremely low pile carpet, there remain threats of it leaving hairballs in case of thicker carpets.
There is also no carpet boost function in it, which means there is no powerful suction to let it drag dirt out from a deeper carpet level. Comparatively, loose rugs hold every possibility for getting caught within the Roomba 960.
Conclusion
Starting from a camera for navigation to an exclusive application with comprehensive maps to Google Assistant, it provides everything as per its price. It also comes with Amazon Alexa. But, there is only one virtual wall in it. Its motor is also a little less powerful in comparison.
In short, those who want a higher version than the 690 or 800 series but at a reasonable price can find the Roomba 960 an excellent option. Instead, it delivers better performance as par with high-end versions, which makes it highly preferable.
We hope this article about iRobot Roomba 960 Review is helpful to you. Do share it on social media if you found this article helpful for you in any manner. Please stay connected with us for future updates.