As the summer season is here, the weather is getting warmer every passing day, and we all are trying to find ways to keep our homes and apartments cool on these hot summer days. An easy way to do this is by using a Tower Fan that is far ahead of its traditional counterparts.
Tower fans work like a charm in the burning heat of summer as their sleek and tall design allows constant and powerful airflow to cool rooms effectively. They generally come with an air purifier and are often quiet while running.
Due to these, tower fans are in great demand. More and more companies are building them; with this, there is a boatload of tower fans available in the market. We find out some of the best and quietest tower fans that you can purchase.
Best and Quietest Tower Fans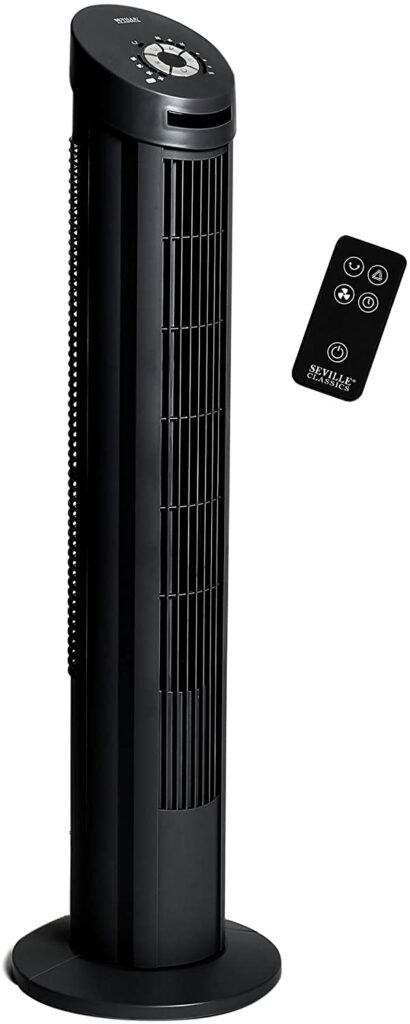 Unlike its competitors, Seville Classics UltraSlimeline Tower Fan offers a flexible timer option between 30 minutes – 7.5 hours timeframe with 30 minutes increments so that you can adjust the automatic shut-off timer of your fan to suit your needs.
Additionally, it comes with three different speed settings, low, medium, high, and energy saving. Energy-saving or eco setting gives a breeze of air with minimal to no noise for gentle cooling. In contrast, the high settings will cool your room even on the hottest of days. It has an oscillation of 75 degrees, which is good enough to cover large parts of the room and provide fast airflow movement throughout.
It has a sleek, slim, and tall design with an air intake grill, minimizing the noise and maximizing the cooling. The base is compact and made in a way that it can fit even in the smallest of the corners. Though the small base also makes it a bit unstable sometimes; so you might want to keep it away from your children and pets.
The top panel is an LED-lit control panel that is well-lit and easy to read, and controlled by a remote controller that comes with the fan. The remote controller allows you to set it from the comfort of your place without moving.
PROS (What we liked)
75-degrees of oscillation for comprehensive cooling of the entire room.
It comes with a customizable timer.
Four different speed options: low, medium, high, and eco.
CONS (What we didn't like)
It is tough to clean.
The base becomes unstable sometimes, especially in high settings.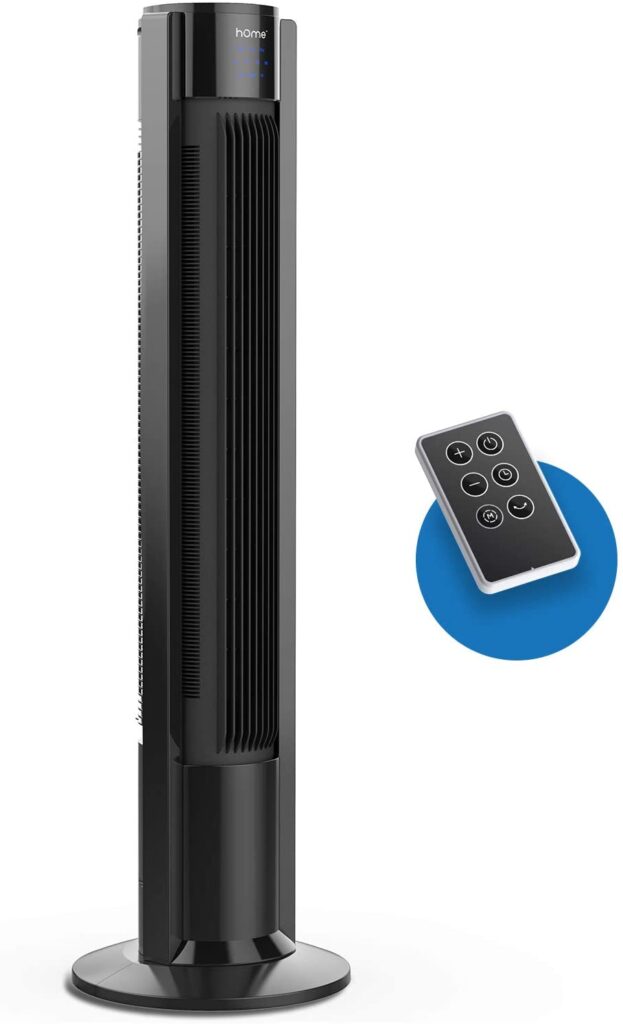 As the name suggests, hOmeLabs 40 Inch Oscillating Tower Fan offers wide oscillation throughout the room. With this much oscillation, it can flow a cool breeze from one side of a room to the other, covering everything and everyone in between.
You can customize air circulation speed to your liking. It offers three different speed modes that range from low, medium, and high. Additionally, it has three wind modes, natural, sleep, and oscillating. These settings allow you to set the cooling mode to your liking or needs according to the weather. The timer offers 1, 2, 4, and 8 hours choice to have an undisturbed sleep and helps in power saving.
It has a tall design with a compact base that offers a premium look and a lightweight body suitable for the kitchen, living room, and home office. It also comes with a handle for easy portability and a safety fuse to avoid damage from electricity fluctuations.
It features a top-mounted control panel with LED light indicator that contains various settings such as fan modes, speed settings, turning swing on/off, and timer selection. You will get a 16 working range remote controller that you can use to access all these settings with ease and comfort.
PROS (What we liked)
Wide oscillation for complete coverage of the room.
Multiple modes to suit all your needs.
CONS (What we didn't like)
It noisy and in the high setting creates loud noises.

Honeywell QuietSet Tower Fan is of the most popular and loved fans in the market, and for good reasons. It is packed with tons of features and offers quiet operation with eight fans speed and oscillation, making it a convenient choice for any part of your house.
The Honeywell QuietSet Tower Fan offers not 3 or 6 but 8 different speed modes. Whether it be sleeping or watching a movie, you can be rest assured it has got you covered in all those situations. It supports and provides wide oscillating fans for proper cooling of all the room's parts and has 1, 2, 4, and 8 hours timer option for auto shutting when not in use and save power consumption.
Additionally, it has a slim and modern-looking design with a solid base made to absorb vibrations and reduce noise while in operation. It also comes with a handle to move it from one place to another with ease.
The control panel is an LED-based robust panel with tons of options, including speed modes, timer selection, dimming feature, and oscillation button. You can use a small remote controller that you get along with it to control all these options remotely, or you can do it manually from the fan.
PROS (What we liked)
Eight different speed modes.
Adjustable light option to ensure it remains dim at night.
Sturdy base made to absorb vibrations and reduce noise.
CONS (What we didn't like)
Difficult to properly clean.

Hunter Digital Oscillation Tower Fan is most suitable for Bedrooms. It has an excellent sleep mode and is quiet when running. You can also change the speed using the remote from the comfort of your bed without moving.
Like other entries in this list, it also offers three different speed settings ranging from low, medium, and high and includes three different normal, natural, and sleep modes. The sleep mode provides excellent cooling for long quiet nights of sleep. It has a widespread oscillation to throw cool air in all directions in a room with a timer of 1, 2, 4, and 8 hours, so you wouldn't need to worry about turning it off manually.
The design is highly modern, with a sleek talk body that comes in black. It has a small base made to fit in small places, but the size sometimes makes it unstable when used at medium or high-speed settings.
It offers a brightly lit LED-based control panel to control all the features and indicators to know the current one in use. You can control it entirely with a remote that you will get with it.
PROS (What we liked)
Sleep mode perfect for nighttime cooling.
Three different speed modes for all weathers.
CONS (What we didn't like)
The base is small but weak and can easily fall if pushed gently by accident.

Vornado 184 Tower Fan is one of my favorite tower fans from this list, and for a good reason. This fan doesn't have an oscillator base, but it has got something even better. It utilizes Vornado's fans' power of V-Flow technology; with a crosscut shape body, it provides a cool breeze in a broad direction without any movement like in oscillation-based fans.
This fan offers four different speed settings, allowing you to set the speed according to your personal preference or needs. This fan excels in powerful cooling as it can cool down larger rooms, and with its crosscut outlet, it flows air in all directions at the same time. It also comes with the standard 1, 2, 4, and 8 hours of timer.
The Vornado 184 Tower Fan design is one of its stand-out factors, along with its incredible power. The unique design avoids the need for oscillation and lets the fan stand straight without any movement. Though the power, it still manages to stay relatively quiet while running.
Additionally, it has an excellent-looking control pane at the top with a remote controller if you prefer to operate it remotely.
PROS (What we liked)
Crosscut V-Flow design directs the airflow in all directions at the same time.
Powerful cooling capable of cooling large rooms and halls.
CONS (What we didn't like)
Expensive for an average user.
The complex design is difficult to clean easily.

The word portable in this tower fan is not there for show, and it is for the tremendous remote control we get to control this tiny beast. The remote control can control the fan from across the rooms with its long-range signals.
The 42-inch device offers three different speed settings, low, medium, and high. Even in high settings, it can cool your entire room, and you will barely hear any noise. Yes, it is that quiet in operation. Unlike most of the other tower fans in the list that offers a pre-defined time for timer, it comes with a custom timer setting from between 30 minutes to 7.5 hours.
This sleek-looking tall fan is aesthetically pleasing and is made with space in mind, as it can be fit in small corners easily because of its small 13″ x 13″ footprint. Additionally, it packs with a built-in ionizer that removes dust, bacteria, smoke, and other impurities from the air around feels like naturally fresh air.
As I already mentioned, the remote control is far better than most of its counterparts. Still, you can manually operate it from the control panel at the top of the fan.
PROS (What we liked)
Modern-looking aesthetic design for a premium look.
Long-range remote control for access across rooms also.
It operated quietly even in the high-speed setting option.
CONS (What we didn't like)
Oscillation is not very widespread.
The lights are too bright for night usage.

Dyson Pure Cool TP01 HEPA Air Purifier and Fan offers, as you guessed, two features in one. It is a fully functional room cooling tower fan but at the top of it provides air purification also for pure and clean air that is equally cool and refreshing. The best part if, this fan does both the thing without compromising on the quality of either.
It offers ten different airspeed settings for all types of weather situations. You got a little warm day or maybe a burning hot summer afternoon; it got you covered in all. The oscillation is widespread and capable enough to throw the air across large rooms and comes with a customizable sleep timer.
It has a different design than other tower fans due to the air purifier and gives a futuristic look and feel in rooms. The air purifier will clean and kill almost all of the impurities and, in extended use, provide health benefits of breathing clean air. Other tower fans give refreshing air, but the air is often not clean, but that's not an issue with this fan.
You can control it with your phone. All you have to do is download the app, and you can use all the features right from your mobile device.
PROS (What we liked)
It provides excellent air purification.
You can control it entirely from the app.
Widespread oscillation to make airflow in all corners of the room.
CONS (What we didn't like)
Very Expensive, mainly because of the additional air purifier.
It creates whining noises at the high settings.

Ozeri 360 Tower Fan is a beast of a tower fan. The noise reduction technology is on point and works incredibly good and the 360 oscillation, as the name suggests, can cool down every corner of the room.
It offers three different airflow patterns, including foster sleep, relaxation, and comfort, that can easily suffice all your needs. The oscillation provides four options, 60, 90, 180, and 360 degrees, to circulate the airflow as per your room's needs, with 200 staggered micro blades to provide the quietest room cooling a tower fan can give.
It has a long cylindrical design with a stylish, sophisticated body made for saving space so you can fit it in even the tiniest places. It offers a programmable timer of 8 hours limit that can be set in 1-hour increments. This fan is a perfect fit for a nighttime tower fan as you can sleep undisturbed with its sleep mode and whisper-silent speed.
Like previous mentions, you can also control this with your mobile phone. All you have to do is download the respective app and set it up for once.
PROS (What we liked)
Stylish and sleek look to complement your room decor.
The quiet operation with passive noise cancellation.
You can directly control it from your mobile phone.
CONS (What we didn't like)
Expensive for the ordinary consumer.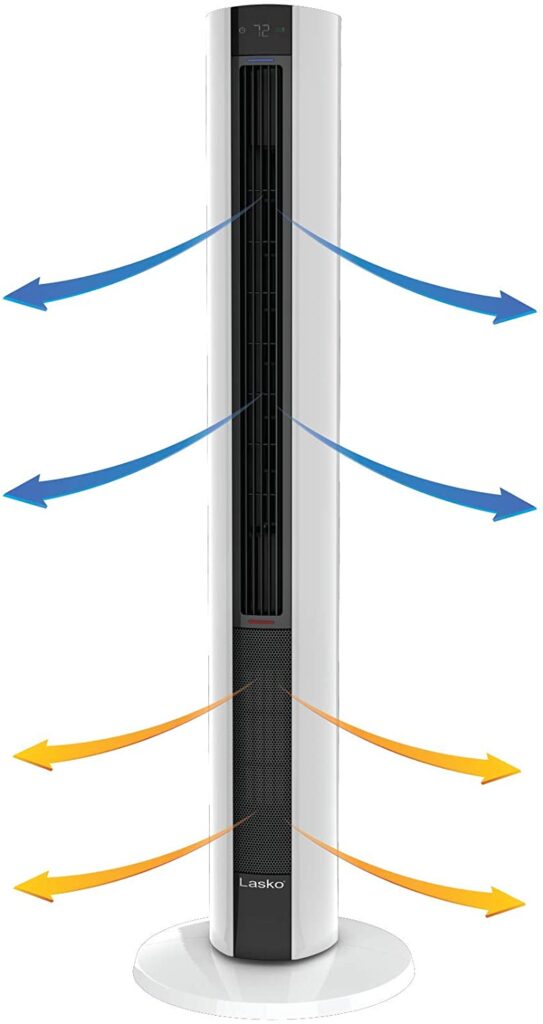 With its powerful fan and widespread oscillation, the Lasko FH500 will undoubtedly keep you cool on hot summer days, but what when summers are over, and it's winter now? You will buy a heater to keep you warm, or instead, you can buy Lasko FH500 and reap the benefit of both Fan and Heater.
This fan offers four different speed settings: high, medium, low, and super low and comes with three different speed settings for the heater, high, medium, and low. The broad oscillation makes sure the air reaches evenly throughout the room, and with 8 hours programable auto shut-off timer and white noise, it will become your perfect sleep companion.
Additionally, the design is sleek and space-saving with small 13″ x 13″ footprints with 42 in. height. The upper part of the fan features the cooling fans, and the lower part contains the heater and provides a Tip-Over Safety Switch and Overheat Protection which takes the worry out while using it for a long time.
It has a robust control system built on the top of the fan and displays the room temperature, and you can use the remote control to access it from anywhere, and the built-in handle ensures you can move it in any room you want with ease.
PROS (What we liked)
It combines both the fan and heater in one device.
Excellent airflow to cool an entire room.
Remote control to access it from a distance in comfort.
CONS (What we didn't like)
It is not suitable for all users if you don't want to pay for the extra heater.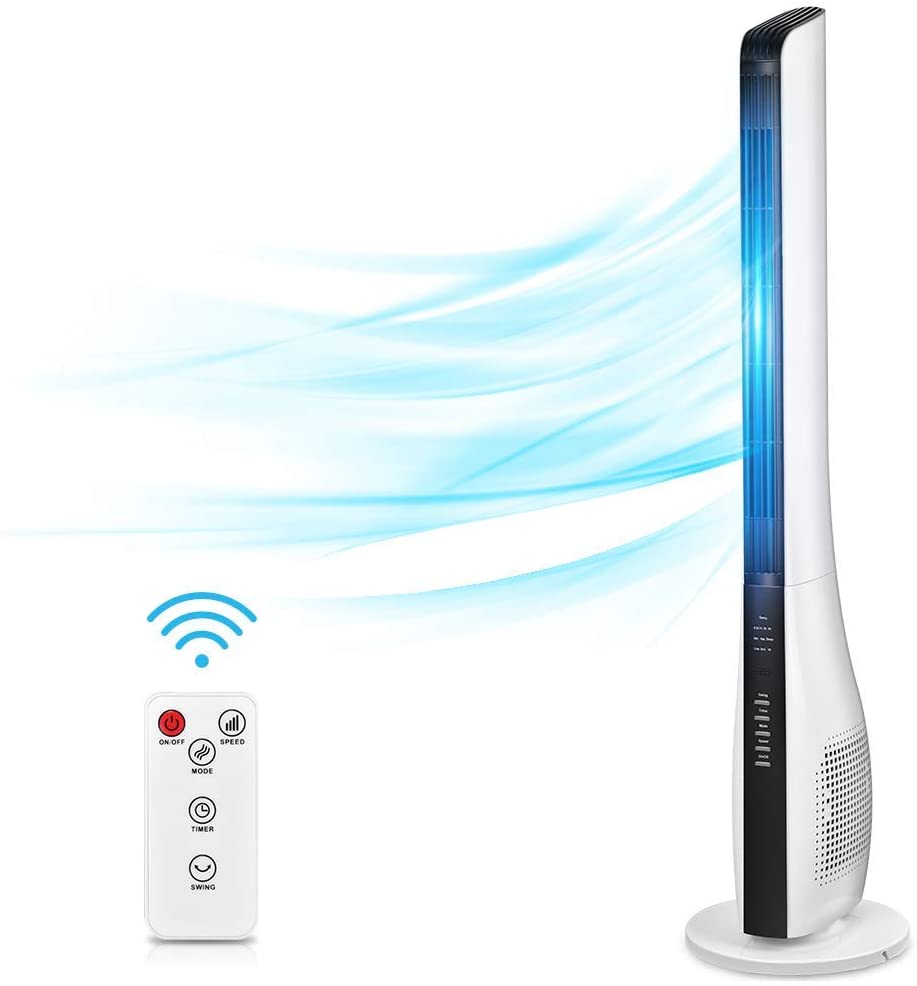 It comes with three-speed settings and three airflow modes with powerful airflow, quiet working, and a widespread 70-degree oscillation. The Trustech Oscillation Tower Fan ensures you get a fully packed tower fan with all the qualities you can ask for, though it comes with a premium price tag.
The three-speed settings are low, medium, and high. The three modes are normal mode for a general cool breeze; Natural mode to replicate a natural environment wind-cold winds blowing; Sleep mode for silent operation during optimum cooling. It offers a 70-degree oscillation that can cover a large portion of the room and a customization 7.5 hours sleep timer.
The design is modern-looking and slim, minimizing space utilization, reducing noise, and giving an aesthetically pleasing look with quiet operation. You can place this in your living room or bedroom, and it will complement the decor perfectly with its elegant design.
It comes with a bladeless design made to avoid hurt on your fingers in case of any accidental touches. It supports remote control to control all the tower fan functions from 18 feet of distance.
PROS (What we liked)
Silent in its operations.
Sleek and tall design with an aesthetically pleasing look.
CONS (What we didn't like)
Factors to Consider Buying Tower Fan
The market is flooded with an increasing number of Tower fans. In summers, we sometimes have to put on our air conditioner, and sometimes, even with them, we might need to turn to an additional cooling source. Through this demand for tower fans, there are countless vendors today.
To filter your needs and preference, you need to specify few things that you should be looking at in your fan before buying any of them, and I am going to share these essential buying factors with you so you can be sure to look for these features in your next Tower fan.
1. Cooling Power
A tower fan is made to cool down entire rooms on its own on hot summer days. If your fan can't provide powerful cooling, then no matter how well made and premium looking it is, it will be a total waste.
It is best to look for tower fans with multiple speed settings as you might not always require the same speed. On an average day, you might love your fan to be slow, but on hot and humid days, you might want it to turn on full power and maximum speed.
High quality and well-designed blades will utilize the fan's full potential and give massive airflow for the user as nicely designed blades are made to catch and release maximum air possible.
2. Design
A tower fan is no exception; with the correct blade design that allows for multi-direction airflow, it should be constructed to provide you with comfort. A good design is also needed to reduce and absorb most of the fan's noise to provide you with a clean air environment.
It should be durable and made with solid materials that can long last and can be cleaned and maintained easily.
It should be silent in working, as such that when in use even when on high power, it should generate minimal to no noise at all and be silent while operating.
It should contain a compact footprint and sleek design so that you can fit in small places with ease.
3. Features
Our preference for a Tower fan is a model with some great features to enhance your experience. It should provide both a customizable timer and a room temperature indicator with various speed settings and airflow modes.
It should provide a customizable auto shut-off timer for power saving and undisturbed usage for long hours and nighttime use.
Oscillation is a must in tower fans as they need widespread movement to cool down a large portion of the room with relative ease.
Frequently Asked Questions
How do tower fans work?
The vertical blades of tower fans make them more efficient than other fans; they can move air more effectively than horizontal fans, and their long blades spread the air more widely throughout a room. Tower fans have a unique design made them one of the most effective types of fans available. Tower fans that can oscillate offer an even more comprehensive range of air distribution.
When should I choose a tower fan over other types of fans?
With their sheer size and minimal footprint, tower fans are especially appealing in places that need a lot of cooling but do not have the additional space they require. An efficient tower fan is ideal in busy spaces like offices and studio apartments.
Are Tower fans worth it? 
A powerful tower fan is more than adequate in today's climate. It is convenient, and it is the best powerful cooling option available. It can increase airflow and support your air conditioning to cool better. Being robust and slim, it can cool the room efficiently and with ease.
How do I clean a tower fan?
If your tower fan comes with a cleaning brush, you can use it to scrub dust and lint off the intake grills. If not a brush, access a can of compressed air to clear out debris from the blades and the rest of the fan's interior.
Which is the quietest tower fan?
Which is the best affordable tower fan?