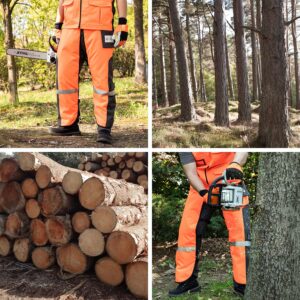 Safety should be our #1 priority while we are operating a chainsaw. It is because the chainsaws are a power-hungry aggressive tool and a small mistake may cause gruesome injury. As a result, we should always gear up before operating a chainsaw.
We should always wear proper safety equipment for our legs because our lower limbs are most vulnerable. But, please note that wearing tough jeans or thick pants is not enough to protect your legs. You should always wear a chainsaw chap to ensure maximum security and mitigate the chance of injuries in case of accidents.
To ensure that the readers of our article get the safest and the best chainsaw chaps, I am listing some of the best chainsaw chaps below.
What Is a Chainsaw Chap
Before, heading towards the list of the best chainsaw chaps it will be lucrative for us to know what chaps are. For, this purpose I will briefly define what a chainsaw chap is and what it is made up of.
Chainsaw chaps are a kind of PPE or Personal Protective Equipment designed for the protection of the legs. As we can deduce by the name, it is for those people who operate a chainsaw. Generally, this PPE has cut-resistant material which comprises multiple protective layers. I am listing below the name of the layers present in the majority of the chainsaw chaps.
Material Of Chainsaw Chaps
Polyester And Nylon – The primary material which makes up a chainsaw chap is polyester and nylon. It is because, both of these materials are super strong and can withstand harsh impacts.
Nylon, Avertic, and Kevlar – These materials help in stopping the rotation of the chainsaw by slowing down the chainsaw because there are multiple layers of this material. As a result, the chain starts to slow down as penetrating through multiple layers of this material is very difficult for a slow.
Buckels And Straps – Buckles and Straps are worn to keep the chap in the right position and do not slip. Generally, the build material of the strap and buckle is spandex and polymer plastic.
PVC Coating – The outermost layer of the chainsaw chaps is made from PVC coating to make it slippery. Moreover, the PVC coating also makes the chaps water-resistant. Hence, the outer layers play one of the most important roles in preventing the saw from penetrating.
We should note that not all the chaps have exactly the same material. For instance, some chaps may only have multiple layers of Kevlar fiber instead of Avertic and Nylon. Hence, chainsaw chaps come in multiple kinds of fabrics.
Designs Of Chainsaw Chaps
Just like different chainsaw chaps are made up of different materials the chainsaw chaps also come in different designs. However, there are only two main types of designs Apron Wear and Wrap-Around.
Apron Style – This design of chap is worn by most of the casual chainsaw users. It is because this design is lighter than the wrap-around style and also allows free movement. However, this design has the drawback that it does not protect the backside of the legs of the user.
Wrap-Around Style – I will recommend this design for heavy-duty chainsaw users. It is because this design offers 360-degree protection to the user. But, please note that this chap is a little heavy and causes sweating in the legs.
Best Chainsaw Chaps
There are hundreds of chainsaw chaps available in the market. For this reason, most of the customers get perplexed regarding which chap to use. As a result, most of the time they end up buying the wrong chainsaw chap. It is because the majority of the chainsaw chaps available in the market do not have an authentic certification. Furthermore, proper build material might also be absent.
Henceforth, it will be very lucrative for you to read the list of the chainsaw chaps provided below. It is because the chaps provided below are the finest available in the market. Furthermore, I have personally used the chaps and tested their durability in order to verify the claims of the manufacturers. After a series of examinations, I came up with the following 5 best chainsaw chaps.
1. Husqvarna 587160704 Technical Apron Wrap Chap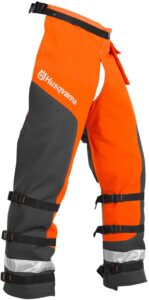 When it comes to chainsaws or anything related to it the first thing that comes into mind is either Husqvarna or Sthil. It is because these brands have robust goodwill and is serving us for around a century. As a result, most of the customers have blind faith in these brands.
The first chainsaw chap on our list is indeed Husqvarna 587160704 apron wrap chap. it is because this chap has a bunch of mesmerizing safety features like its thickness is 1,000 denier. Furthermore, this wrap chap is water and oil-proof and has an adjustable waist size of 2 inches variation.
The most mesmerizing this about this chainsaw chap is that this chap has a 4.8 stars rating, which is very rare for a product with nearly 4,000 reviews. Hence, it is a sure-shot thing that this chainsaw chap is the finest in the market.
Lastly, this chap is UL certified and meets ASTM f1897, ANSI z133.1, And OSHA regulation 1910-266.
2. STIHL 0000 886 3202 36-Inch Protective Apron Chain Saw Chaps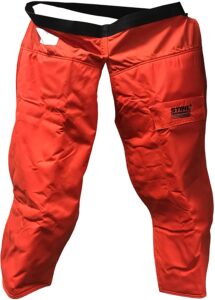 Sthil is also a magnanimous brand like Husqvarna and it also provides the finest products. Similarly, it is also loaded with tonnes of amazing features. Firstly, it has a deep cargo pocket that can fit in large tools. Secondly, it has a waist size variation from 30 inches to 42 inches. Hence, we have the surety to get the best fit. Thirdly, the protective material is made up of Entex which is an anti-cut material capable of stopping harsh blows.
In addition to tonnes of mesmerizing features, this chap has a jaw-dropping rating of 4.4 stars on Amazon. Furthermore. there are a couple of videos available online showing these chaps withstanding harsh blows. Hence, it is evident that this chainsaw chap is super safe and a must-buy.
3. FORESTER Durable Chainsaw Safety Chaps with Pocket & Adjustable Belt
FORESTER Chainsaw Apron Chaps with Pocket, Orange 37 Length with Adjustable Belt
FORESTER: Chainsaw Safety Chaps - Apron Style Adjustable Protective Pants We've taken care to design chainsaw aprons that give top of the line protection and are easier to put on and take off than ever before. There's no reason not to use protection when it's this easy!
Each set of chaps comes with a deep utility pocket for easy storage. We've made a lightweight 4 ply barrier that meets the heaviest standards. Our protective gear meets OSHA Regulation 1910-266 for chainsaw operators. They're UL Tested & Classified Chainsaw Chaps (ASTM F1897), and they meet ASTM F1897-2008 39JY standard specifications for leg protection Made BetterEach pair of chaps is water-resistant and oil-resistant so you can stay focused on the job.
If you are looking for an affordable chainsaw chap then this might be the best option for you. Forester is known for its amazing quality and affordable price tag. The price of this chap is around 45$, which is nearly half the price of the chaps available in the market.
I will like to say that we should not miscompute the efficiency of this chainsaw chap because of its price. It is because this marvelous chainsaw is much just as good as a chainsaw chap costing 80$ and has amazing features. Firstly, this chainsaw chap has a couple of handy pockets. Secondly, it has a strong nylon build material. Thirdly, the adjustable belt will ensure that this chainsaw will fit well.
The affordable price tag entailed the fact that this chap will have a mesmerizing rating. The rating of this product is 4.7 stars which means that this product is people's favorite.
Lastly, this chainsaw chap also has ASTM, OSHA, UL certifications. Hence, this is the best bang for the bucks chainsaw chap on this list.
4. Notch Armorflex Chainsaw Protective Pants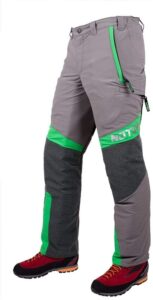 If you are looking for the finest chainsaw chaps in the market and are ready to pay the price for them, then this chainsaw chap is for you. It is because the price of these protective pants is the most expensive on our list. But, the safety, comforts, and durability of these pants are worth every buck spent on them.
This protective pant is diffrent from the apron and wrap-around chainsaw chaps as it is a pant. As a result, it is very handy to wear these pants and do work wearing them. Furthermore, the best part is that these pants offer complete protection from the chainsaw as it covers our whole legs.
It has a 5-layer Avertic Engtex high-performance protective fabric, which can withstand heavy blows. Furthermore, the shape of this chap is super comfortable and does not restrict our movement.
The only issue which most of the customers will be having is the price of these pants as they cost more than 200$. But, when we look at its 4.6 stars rating and tonnes of unique features these pants sound value for money.
These pants are the finest from the safety point of view as well. It is because these pants have OSHA and UL certifications. Hence, make sure to get one for yourself before the stock of these pants run out.
5. WoodlandPro Chainsaw Safety Chaps
Woodland is one of the most popular companies for leather products like shoes and wallets. But, most of you will be surprised to know that this marvelous company also manufactures world-class chainsaw chaps.
This WoordlandPro safety chap is what I call a perfect balance between comfort and safety. It is because these safety chaps have a thickness of 400 deniers and are made of polyester and kevlar. Furthermore, these chainsaw chaps also possess the certifications of OSHA and UL. As a result, we get the surety that the chap can stop a very fast-moving saw.
In addition to supreme safety, the weight of these chaps is quite light. As a result, it won't restrict your movement or cause irritation.
Lastly, this chainsaw chap comes with an amazing rating of 4.7 stars, which ensures that the claims of Woodland are true. Hence, these amazing pairs of chainsaw chaps are a must-buy.
Things To Consider Before Finalizing Decision
Firstly, make sure that the chainsaw chap has most of the protective material in it, which I have explained at the beginning. Secondly, make sure that the style of chainsaw chap you are choosing is as per your requirements. For instance, if you do casual lawn and yard work then Apron Style will be more comfortable for you. On the other hand, if you are a professional and have a powerful chainsaw then safety should be your priority and you must choose to wrap-around style.
In addition to these points, there are a couple of more things to consider as well. These things include safety certification, fitting, comfort, weight, thickness, and some additional materials. I am briefly discussing them below to ensure that you end up buying the best chainsaw chaps.
1. Safety And Certifications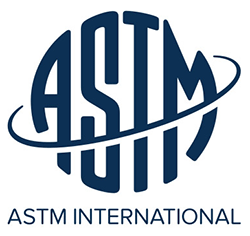 Chainsaw is safety equipment. As we know most of the safety equipment available in the market have gone through certain durability and safety test. Furthermore, we prefer to buy that safety equipment that possesses certifications from authentic organizations. It is because we get a sense of security that the product is genuine if it is verified by a reputed organization.
So I will recommend you to look for the chainsaw chaps with the certifications of UL, OSHA, ASTM, or ANSI. Furthermore, these organizations also prescribe some basic standards for a safe chainsaw chap. Hence, make sure that the chainsaw chap which you are going to buy meets those standards.
2. Fitting And Comfort
First and foremost, we need to make sure that the chainsaw chap is fitting us properly. Otherwise, it is of no use because it will restrict our movement and increase the chances of accidents. Hence, try to buckle it up around your waist and check that it's neither too tight nor too loose.
The second thing to look after fitting is comfort. By comfort, I mean to say the overall weight of the chap and is it allowing you to move freely or not. For instance, you may go for apron style chainsaw chap if you want a super comfortable chainsaw chap. However, if you want to maximize your safety you must go for a wrap-around style chainsaw chap.
3. Thickness
The thickness of the fiber threads of a chainsaw chap is measured in Denier. Generally, the thickness varies from 400 to 1000 Deniers. We should note that thicker fabric material makes it even difficult for the chainsaw to penetrate through. However, it also increases the weight of the chainsaw chap.
Hence, I will advise you to strike a perfect balance between maximum safety and comfort and chose a chap that is not too heavy and not too thin as well.
4. Additonal Things/Features
These features do not contribute to safety but enhance the comforts while operating the chainsaw. I am listing below some of the best additional features you must look for to maximize your comfort.
Big Pockets – Buying a chainsaw chap with big pockets will ensure that you will have most of the small tools in your pocket. As a result, you wont have to run to grab a small tool every time.
Multiple Straps – Having multiple straps will make sure that the chainsaw chap will not slip off during the work. Therefore, it is my recommendation to have a chainsaw chap with atleast 4 straps.
Oil and Water Resistance – Well majority of the chainsaw chaps have PVC coating which makes the chap oil and water resistance. But, sometimes the PVC coating is absent, which does not reduce the overall safety of the saw. But, the comfort level is effected severly. It is because, while operating a saw we might face oil spill and water splashesh and working with a wet lower sounds too annoying. Therefore, make sure to buy a water and oil resistant chainsaw chap.
Final Words
Firstly, I will like to inform all the readers that I am a professional logger and I am in this profession for more than 15 years. Hence, you may also call me a professional. Furthermore, all the tools and equipment which I recommend in this article are personally tested by me.
In addition to the personal testing, I also verify the authenticity of the products by visiting the official and authentic websites. As a result, the products which I come up with in the article are the best of the best.
Lastly, I will recommend you to have complete protective gear and guide instead of just having a chainsaw chap. For this, I will recommend you to have a look at my blog on chainsaw safety tips. If you follow all the tips and get the right equipment, the chances of accidents will plummet.
Henceforth, always focus on maximizing safety and the chances of accidents will mitigate automatically.
If you have any doubts or grievances regarding this article just shoot them in the comment section. I will love to hear from you and solve all your issues.
Resources
Here at best for customers, we try our best to provide complete and correct information. Therefore, we have a stern guideline for sourcing the information. As a result, we refrain ourself to display the facts and data garnered from tertiary sources because they might have some distorted information that may cause harm to our readers.
You May Also Like To Read About