I am a seasoned professional logger, I have tried nearly all types of best professional chainsaws available in the market. Professional chainsaws are really a blessing if we are having a commercial business or large wooded lot. With their power-hungry characteristics, the task of hours can be completed in just a few minutes. Moreover, professional chainsaws can operate for hours imparting uninterrupted efficiency and work.
Are All Professional Chainsaws Worth The Money?
With the experience of nearly 3 decades, I have deduced that not all professional chainsaws are worth the money. Some professional chainsaws get heated too early or might even break down during operations. Moreover, I personally feel electric chainsaws are not as effective as gas-powered ones.
In this article, I will list down the best professional chainsaws in the market. This will help you to avoid the hassles of buying an underpowered chainsaw that will not fit your purpose.
6 Best Professional Chainsaws
After exploring more than dozens of different chainsaws I have come up with the 6 best professional chainsaws. I will be briefly describing the features of the best professional chainsaw along with their pros and cons.
This is my favorite chainsaw among the 6. Husqvarna is one of the best chainsaw brands in the market since 1689. It is known for its topmost quality products along with ergonomics and durability. The features of Husqvarna 460 rancher are.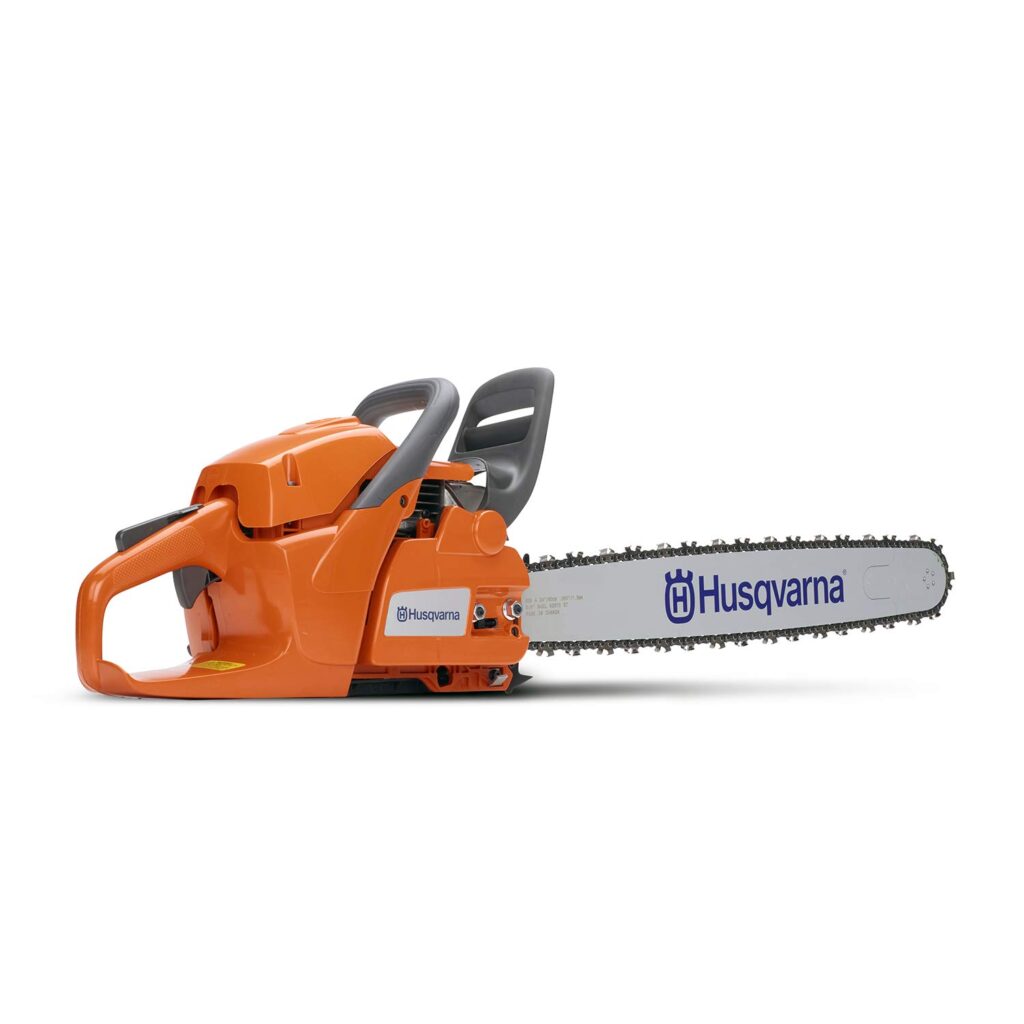 It has a robust 3.62 H.P engine along with X torq feature which gives the best performance and consumes less fuel.
it's a premium quality plastic build with a 13-24 inch bar length.
quick-release air filter makes the chainsaw easy to clean and replace its air filter.
It has an easy start recoil, with which you can start it in a couple of pulls.
An enhanced chain brake system to totally eliminate the chance of an accident on faulty usage of the chainsaw.
Husqvarna 460 Rancher Gas Chainsaw Key Specifications
Power Output – 3.62 Horse Power
Power Type – Gas Powered
Rate Of Fuel Consumption – 437 g/kWh
Dimensions – 38 x 12 x 12 inches
Weight – 21 lbs
Max Power Speed – 9,000 RPM
Idling speed – 2,700 RPM
PROS (What we liked)
Portable and easy to operate.
Mitigate non-environment-friendly fumes emission attributable to its X torq feature making the emission in accordance with the accepted standards.
Eliminates the hassles of long cleaning and maintenance time attributable to its quick-release air filter.
The same button to switch on and off making it even easier to operate.
CONS (What we didn't like)
Little expensive as compared to other chainsaws.
Difficult to start when it is hot.
It is a little heavier as compared to the other chainsaws in the market (22.6 Pounds)
This chainsaw is one of the best and most popular 50cc 2 strokes gas-powered engines. Its price is nearly half of that of Husqvarna which makes it a good choice for one who has budget restraints. The features of Poulan Pro are as follows.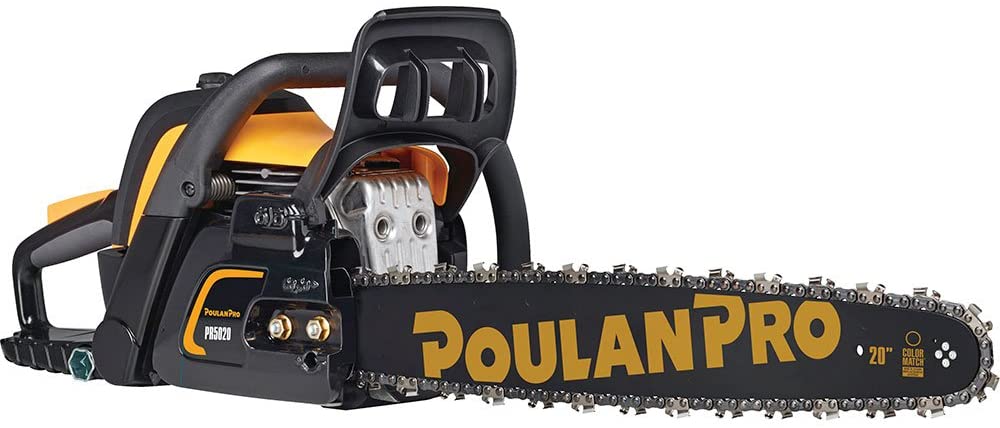 Poulan Pro comes with the latest OxyPower engine technology, which enhances the performance. Moreover, it reduces emissions by 70% and fuel consumption by 20% making it a must-try.
Poulan Pro comes with an Effortless pull starting system that reduces pull force by 30%. This gives it an astonishing edge over the competing chainsaws.
Centrifugal air filter cleaning system keeps its filter super clean, thereby elongating its life.
The handle comprises an anti-vibration mechanism.
Poulan Pro has an automated chain oiler emancipating us from regularly oiling the bar chain.
Chain brake system to avoid accidents.
Poulan Pro PP5020AV 20-Inch 50cc Key Specifications
Power Type – Gas Powered
Dimensions – 20 x 15.8 x 22.3 inches
Weight – 10 pounds
Bar Length – 20 Inch
PROS (What we liked)
It has an automated chain oiler which gives a respite from regularly oiling the chain bar.
Durable engine.
Comes with astonishing anti-vibration mechanisms which eliminate most of the vibrations from the engine.
CONS (What we didn't like)
When the engine is hot, the start mechanism needs to be pulled multiple times to start.
A little complicated to operate as compared to Husqvarna.
Poulan Pro 20 in. 50cc 2-Cycle Gas Chainsaw, PR5020
With the OxyPower engine technology, you can get that extra power for virtually any task. This technology offers a more powerful engine, but also 70% less emissions and 20% lower fuel consumption
Effortless pull starting system reduces pull force 30% for easier starting and reduced wear on the starter mechanism
This is the latest version launched in 2020 and the first and only electric chainsaw on this list. It comes with superior technology that makes the bar moves at lightning speed. Coupled with world-class bucking spikes the chainsaw works even smoother than the gas-powered chainsaws. This cutting-edge chainsaw comes with the following features.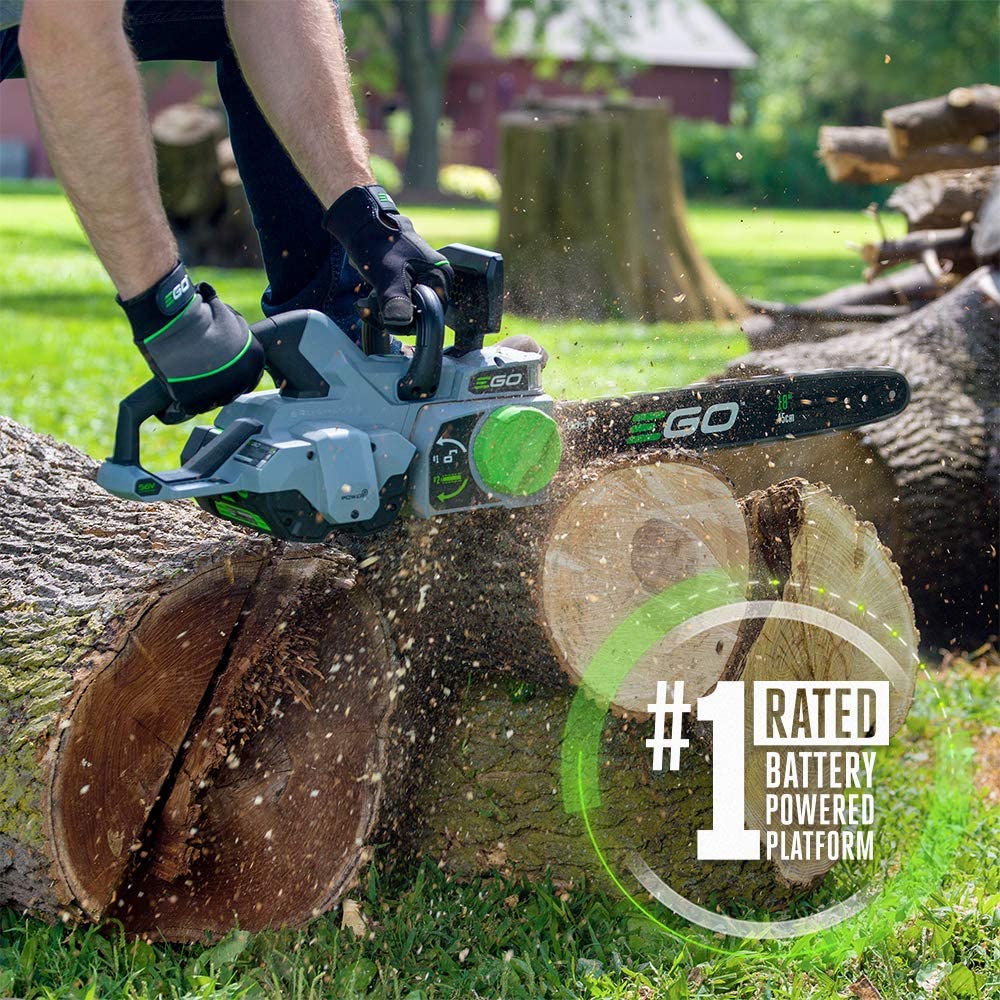 56V brushless motor and upto 11,000 RPM making it strongerthan most of the 40 CC.
Max Cut width is 20 inches.
5Ah batter offering 280 watt hours.
Latest Chain Brake mechanism ensuring 100% safety.
EGO Power+ CS1800 18-Inch 56-Volt Cordless Chain Saw Key Specifications
Power Type – Electricity/Battery Powered
Dimensions – 34 x 9.9 x 9.5 inches
Weight – 13.01 lbs
Max Power Speed – 11,000 RPM
Bar Length – 18 Inch
PROS (What we liked)
Very quiet during operation one can even hear the chains moving to make it a pleasing experience.
Low maintenance cost as compared to gas-powered chainsaws.
Made with the latest cutting-edge technology.
CONS (What we didn't like)
Charging consumes a good amount of time as compared to gas-powered who doesn't take time.
Ego is not a seasoned brand like Husqvarna, Stihl, or Black & Decker. It was launched in 1993 hence, not an magnanimous goodwill.
Pricer than other 40CC gas-powered chainsaws, which might offer similar output.
Sale
This is the most pocket-friendly chainsaw among the 6 best professional chainsaws. However, we should not under-compute its performance with its pricing. It's an amazing chainsaw with nearly all the features which we will get in a chainsaw nearly double of its price.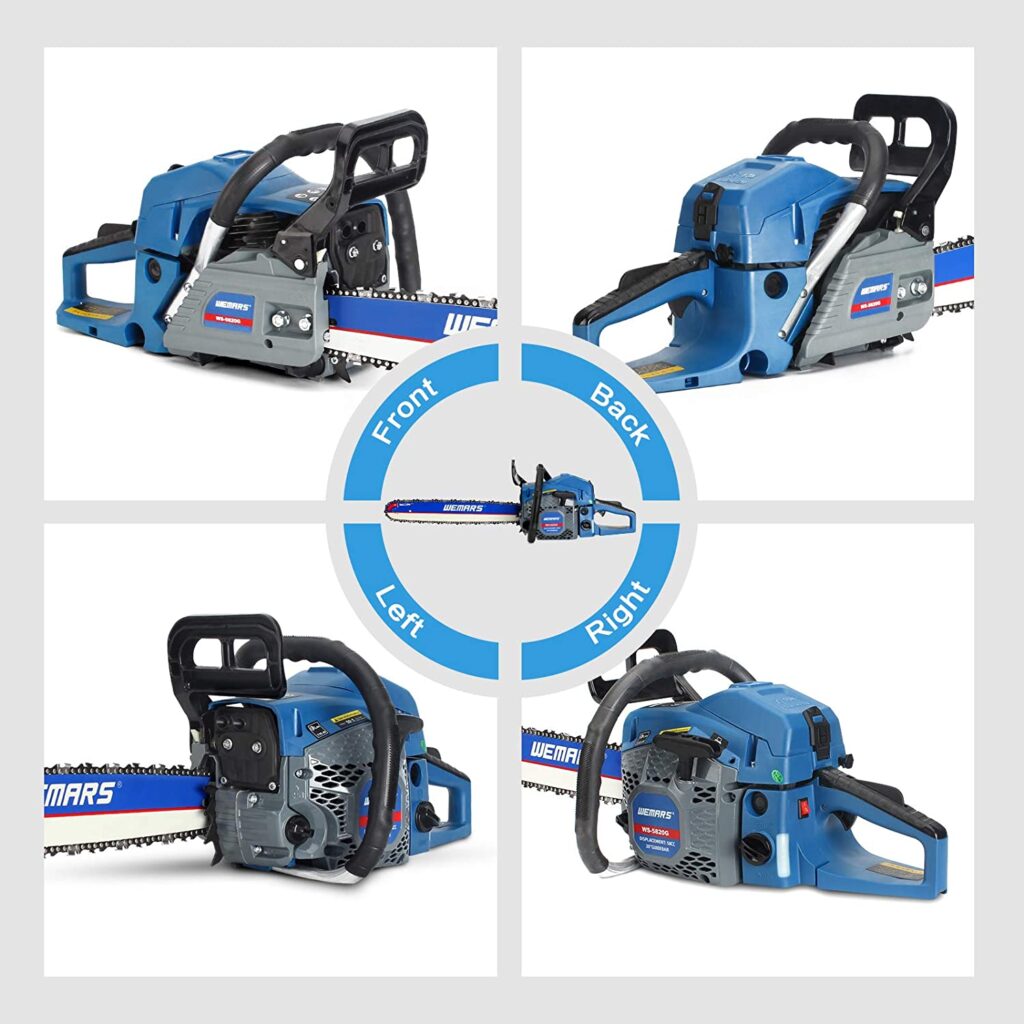 Some astonishing features of Wemars gas chainsaws are:
2 stroke motor integrated chain brake and low kickback features. Which ensures its smooth operation on all kinds of woods.
Negligible vibrations on operation attributable to its anti-vibration and cushion-wrapped handles.
An automatic lubrication feature eliminating the need to regularly squirting the oil in the engine.
An integrated chain brake system that eliminates the risk of any kind of accident.
WEMARS Gas Chainsaw 58 CC 20 Inch Power Chain Saw Key Specifications
Power Output – 3.4 Horse Power
Power Type – Gasoline Powered
Dimensions – 34.1 x 19.3 x 11 inches
Weight – 17.9 lbs
Max Power Speed – 12,000 RPM
PROS (What we liked)
Very economical pricing making it an amazing product for new chainsaw users.
Its 58 CC engine provides a high-quality uninterrupted performance.
Has an effective anti-vibration feature which is astonishing for such a price range.
CONS (What we didn't like)
Customers frequently complain about the defective oiler.
We have to pull the cord multiple times to start the chainsaw.
WEMARS Gas Chainsaw 58cc 20 Inch Power Chain Saw 2-Cycle Handed Petrol Chainsaws Gasoline Chain Saws Garden Tool for Cutting Wood Outdoor Home Farm Use
High Performance: WEMARS 58cc 20 inch powerful gas chainsaw with guide bar and chain for cutting wood that need a longer bars. 2 stroke motors with integrated chain brake for safety and stable while operating. Low kickback safety function and excellent electronic ignition system can reduce the risk during operation
Tension Adjustment: Automatic chain lubricator adjustable chain oil feed and quick and easy chain tension adjustment. The rugged 20 inch steel chain saw knob-type automatic tightening function is a side-adjustable chain that is easy to operate and maintain while delivering the highest cutting performance
It is a heavy-duty chainsaw with a budget price range of 300 dollars. This chainsaw is very popular among my friends attributable to its pricing and performance. The feature of Craftsman CMXGSAMY426S are.
It has a powerful 46 CC 2-Cycle engine making it capable of very heavy work.
Provides an effective control with its, 20-Inch low kickback bar and chain, bucking spikes, and inertia-activated chain brake.
It comes along with a carrying case making it very easy to carry around.
5-point anti-vibration system imparting better and smooth control and reducing hassles of accidents due to chain brake.
Automatic oiler maintaining the quality and condition of the bar and chain.

Craftsman CMXGSAMY426S 46cc 2-Cycle Full Crank 20-Inch Gas Powered Chainsaw Key Specifications
Power Type – Gas Powered
Dimensions – 35.5 x 10 x 11.25 inches
Weight – 17.7 Pounds
Bar Length – 20 Inch
PROS (What we liked)
Sturdy and professional build quality that lasts for years.
Comes with negligible vibrations attributable to its 5-point anti-vibration system.
Very easy and comfortable to handle because of, cushioned full wrap aluminum handle.
CONS (What we didn't like)
little heavy to carry around 17.7 pounds which gets even heavier with fuel.
Its 42 CC variant sounds much affordable with nearly the same features.
Echo 20 is my second favorite chainsaw after Husqvarna attributable to its robust metallic build quality. Moreover, it offers exceptional portability due to its lightweight which is just a little more than 13 pounds. It has some spell bounding features like.
59.8cc ECHO 2-Cycle Engine helping to start the engine with ease and yields long-lasting, exceptional performance.
Detachable and standard air filters ensuring easy cleaning and replacement.
A translucent fuel tank helps to keep a check on the fuel level.
Dual-Post chain brake system to avoid hazards.
ECHO 20 in. Timber Wolf 59.8 cc Gas Key Specifications
Power Type – Gas Powered
Dimensions – 20 x 13 x 11 inches
Weight – 13.2 lbs
Max Power Speed – 12,500 RPM
Idling speed – 2,800 RPM
PROS (What we liked)
Impressive safety features
An automated and adjustable flow oiler.
Light weight making it comfortable to use and easy to carry around.
CONS (What we didn't like)
It does not come with a carrying case
A 24-inch chain saw will be more efficient if one wants to penetrate in heavier and bulky woods.
Chain Saw, Gas, 20 in. Bar, 59.8cc
Price For: Each Fuel Type: Gas Anti Vibration Handle: Yes Item: Chain Saw HP: 3.9 Chain Oiler: Auto/Adjustable Includes: Chain, Bar, Operators Manual Bar Length: 20" Fuel Type: Gas Fuel Tank Capacity: 21.8 oz. Engine Displacement: 59.8cc Anti Vibration Handle: Yes Replacement Chain: Mfr. No. 72LPX70CQ Item: Chain Saw Country of Origin (subject to change): Japan
Must-Try Professional Chainsaws
Frankly, all the chainsaws mentioned above value money products. All six offer nearly the same benefits. Remember, the ranking can be altered as per your personal expectations and needs with a chainsaw. Their needs may vary from bar length, pricing, fuel preference, and maintenance cost.
To evaluate the real value of a chainsaw you must refer to both the personal needs along general needs of having a chainsaw. With the help of this article, I hope that you will be able to evaluate these chainsaws and choose one for yourself.
[For, detailed specifications @Resources you may visit the official websites of these chainsaws brands to finalize your decision.]
Resources
Here at Best For Customers, we highly appreciate the trust of our readers. Due to this, we have made a stern guideline regarding sourcing for our articles to omit the spread of any false information. We refrain from displaying the facts from tertiary sources as they might have some information that may cause harm to our readers. The key sources of this article are given below.
You May Also Like To Read About