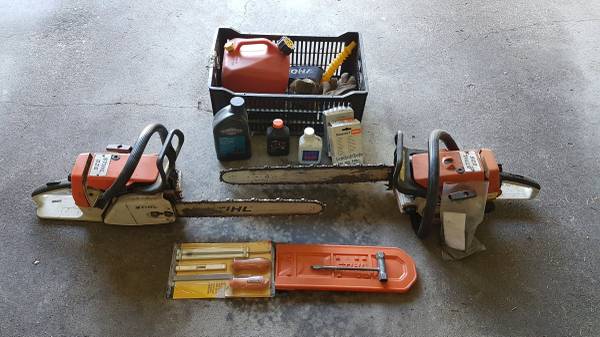 Stihl and Husqvarna are like Play Station and Xbox for a professional gamer or a Ferrari and Lamborgini for super cars lovers. Therefore, there is hardly any other brand that is as efficient and popular as these two brands. Hence, Stihl and Husqvarna are the king brands of the chainsaw industry.
But, when it comes to deciding which chainsaw is the best between Sthil and Husqvarna? Most of the new loggers and even professional loggers get confused. The reason behind this is that they both offer nearly the same quality and experience. Furthermore, they have nearly the same price to quality ratio.
However, there are some minor and personal factors that influence the decision of the customer. For this purpose, I will be doing a complete analysis of both brands based upon multiple factors in this article. These factors will help you get a clear image of both brands. Furthermore, it will also help you to deduce differences between the chainsaws of these companies. Hence, this article will help you in your decision-making process for purchasing the best chainsaw for yourself.
Stihl Vs Husqvarna Chainsaw | Which One Is The Best For You
Frankly, pinpointing a particular brand as the best for you will be absolutely wrong. It is because all of us have different liking and requirements with a brand and its products. For instance, Some customers prefer to buy a product by focusing on their goodwill. On the other hand, some customers prefer to buy a product depending upon the affordability of the product. While some even consider both along with other factors as wells.
Henceforth, I will not be framing a particular brand as the champion and the other as the loser. But, I will give a detailed analysis based upon myriads of factors and facts of each brand. Then finally, I will sum up all the factors and will leave the decision upon the readers to choose for themself. Hence, I will only help you to understand the brand and connect your needs with the products to make decisions.
To give a brief analysis, I will be doing a separate analysis of the six most important factors. These factors are goodwill, Product Categories, Durability, Handling, Power, and Key Features, of the chainsaws manufactured by Stihl and Husqvarna.
Recommended: Best Professional Chainsaw | Honest Review
1. Stihl Vs Husqvarna Chainsaw | Goodwill And Overview
Stihl Goodwill And Overview

Sthil is a German company founded in 1926 by Andreas Stihl. Andreas Stihl is considered the father of modern chainsaws because he made the first gas-powered chainsaw in the world. Furthermore, this brand is the first brand to do mass production of chainsaws as well.
After gaining a substantial reputation in the market it expanded to manufacture chainsaws, brush cutters, hedge trimmers, blowers, vacuum shredders, telescopic pruners, earth Augers, rescue saw, and cut–off Saws. However, the majority of the goodwill of this brand is attributed to its power-hungry chainsaws.
Husqvarna Goodwill And Overview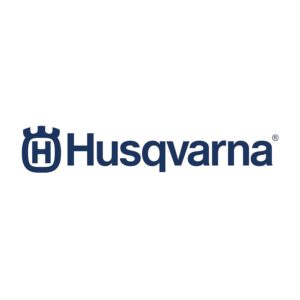 Husqvarna is a Swedish company and was founded in 1689 as a state-owned rifle factory. But, Husqvarna introduced their first chainsaw in 1959. Hence, we can say that this company is in the chainsaw industry for more than 50 years.
By the end of the 19th century, Husqvarna introduced myriads of products along with its power-hungry chainsaws. Some of these products are trimmers, motor vehicles, garden tractors, lawnmowers, consumer watering products, and equipment and diamond tools. But, unlike Stihl, we can not attribute Husqvarna's chainsaws as the prime source of their goodwill. It is because the company is also popular for its world-class motorcycles like Husqvarna Svartpilen 701.
Which Brand Has The Edge In Terms Of Goodwill And Brand Overiview?
I will personally say, that Stihl has an edge here. Firstly, this is the first brand to manufacture and introduce gas-powered chainsaws. Secondly, Stihl is selling chainsaws for nearly a century while Husqvarna is close to 70 years. Lastly, the prime focus of Stihl is on the chainsaw industry while Husqvarna also focuses on other industries.
Nevertheless, Husvaran also enjoys humongous goodwill and Stilh has a minor advantage in terms of goodwill. Therefore, we can also say that both of the brands have the same profile in terms of goodwill.
2. Stihl Vs Husqvarna | Products Categories
Under this head, I will only discuss the different type of chainsaws Stihl and Husqvarna produces.
Stihl Products Categories

Stihl produces ten different types of chainsaws to cover all different kinds of customers' needs from chainsaws. I am listing these ten different product categories below.
Chainsaws For Property maintanence like, Stihl MS 171
Chainsaws For Agriculture And Horticulture like, Stihl MS 271
Cordless Powesystem Chainsaws Like, Stihl MSA 120 C-B tool only
Chainsaw For Foresetry like, Stihl MS 201 C-M
Electric Chainsaws Like, Stihl MSE 141
Emergency services chainsaws, Stihl MS 461-R
Arborist Saws Like, Stihl MS 151 TC-E
Saws For Craving Purpose like, Stihl MS 151 C-E Carving
Pole PrunersSaws like, Stihl HT 103
Cordless Pruners Saws like, Stihl HTA 66
As we can see that Stihl provides a wide variety of chainsaws to fulfill all the customers' requirements.
Husqvarna Products Categories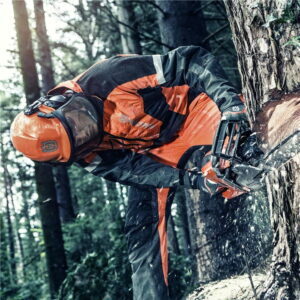 Husqvarna produces six different types of chainsaws, these are.
Forestry Clearing Saws like, Husqvarna 336 FR
Pole Pruners Saws like, Husqvarna 530iP4
Power Cutter Saws like, Husqvarna K770
Chainsaws For Stump Grinding like, Husqvarna SG13
Cordless Chainsaws Like, Husqvarna 120i Cordless
Electric Chainsaws Like, Husqvarna 120i Cordless
As we can see, the Husqvarna chainsaws variety is more oriented towards power-oriented and professional-grade saws.
Which Brand Has The Edge In Terms Of Product Categories?
It is evident that Stihl has a clear edge in terms of product categories. We have listed product categories as a primary factor for decision-making because most of the time a customer has a variety of needs. It will be more lucrative for him/her to stick to a brand that offers a wide variety to avoid hopping brand. It is because sticking to one brand enhances your know-how and specialization with the products.
Nevertheless, if you are looking for chainsaws for power and professional purpose. Then, Husqvarna is as better as Stihl.
3. Stihl Vs Husqvarna | Durability
Stihl Chainsaw's Durability
The chainsaws of Stihl are manufactured in various countries like the US and China and are very durable. On average, a Stihl chainsaws last for 3-6 years and a well-maintained one even lasts for 8 years. Furthermore, the chainsaws come with a warranty of one to two years. This assures us that a breakdown earlier than the average life span of the chainsaw will entail a free replacement/repair.
Husqvarna Chainsaw's Durability
Most of the chainsaws of Husqvarna are manufactured in Sweden and other Scandinavian countries. These chainsaws are also popular for their durability and last for 5-8 years. However, if you do the regular maintenance of the chainsaw the life span may extend up to 12 years. I recommend everyone to exclusively use their brand of oil as it will extend the warranty up to 5 years. In addition to the extended warranty, the brand oil will also enhance the life span of the chainsaw.
Therefore, Husqvarna chainsaws are also very durable, and proper maintenance will make them last for years.
Which Brand Has The Edge In Terms Of Durability
It is very evident that Huqvarana has a clear edge in all aspects when we talk about durability. In addition to this Husvrana also comes with a warranty of up to 5 years while Stihl might offer only 2 years of the warrant. Therefore, if your chainsaw breaks down during the third or the fourth year, there is nothing to worry about if you have a Husqvarna. On the other hand, if you have Stihl then a repair or replacement is a must which might cost up to $1,000. Hence, if your prime motivation for buying a chainsaw is its durability then Husqvarna is the best option for you.
4. Stihl Vs Husqvarna | Handeling
Good handling of chainsaws is very prominent for someone who uses chainsaws for hours. In addition, good handling also ensures the safety of the chainsaw user along with lesser fatigue. Hence, my advice to new chainsaw users is to pay focus on how well can you handle a particular chainsaw before buying it.
Stihl Chainsaw's Handeling

Most of the Stihl chainsaws come with a patented vibration reduction mechanism known as Anti-Vibration Systems. This system comprises rubber elements that are situated between the handles and the engine. As a result, the rubber absorbs a good proportion of the vibration from the engine cutting the vibration level in half.
Husqvarna Chainsaw's Handeling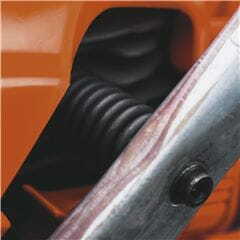 Husqvarna also comes with a vibration reduction system known as the LowVib system. LowVib systems use dampeners to mitigate the vibration from the engine of the chainsaw. It is a sure-shot thing that this system will mitigate the vibration to nearly 50%.
Which Brand Has The Edge In Terms Of Handeling
As we can see, both brands offer a unique and effective anti-vibration mechanism. Hence, we can consider this factor as a draw. But, while comparing your favorite chainsaws of these brands, compare their weight as well. Though, both the brands have the same handling but the lighter one will come with better handling. Sadly, I can not compare the weight of the chainsaws in this article because the weight of each chainsaw is different.
5. Stihl Vs Husqvarna | Power
Power is one of the most important things to consider while buying a chainsaw for professional users. However, not all of us are looking for professional-grade chainsaws. As some of us are homeowners and use chainsaws for casual activities. As a result, some of us are looking for a low-powered chainsaw, and some for high-powered. Hence, I will not be ranking the brands upon the maximum power they offer. But, I will rank them on the basis of the difference between the maximum and minimum power output the chainsaws offer.
Stihl Chainsaw's Power

This brand makes chainsaws for both, residential and professional purposes. Their residential purpose chainsaws have a power rating of 1.3 kW to 1.5 kW (1.6 HP to 2 HP). For example, Stihl MS 180 Petrol Chainsaw is a casual use chainsaw with a 2 HP power rating. On the other hand, the professional chainsaws come with a power rating of 1.5 HP to 6.4 KW (2HP to 8.7 HP). For example, the 41 Inch Stihl MS 880 comes with a power rating of 8.7 HP.
Husqvarna Chainsaw's Power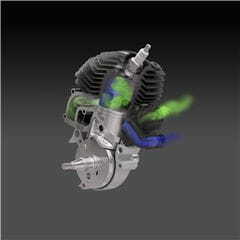 This brand also manufactures chainsaws for professional as well as residential use. The residential purpose chainsaws by Husqvarna come with a power rating of 1.34 KW to 1.5 KW ( 1.8 HP to 2 HP). For example, the Husqvarna 120 comes with a power rating of 1.44 KW. On the other hand, the professional chainsaws come with a power rating of 1.5 HP to 6.18 KW (2HP to 8.3 HP). For example, the Husqvarna 365 comes with a power rating of 3.4 KW.
Which Brand Has The Edge In The Terms Of Power
It is evident that Stihl has a clear edge in the terms of power rating. As the difference between the max and min power rating of Stihl is 7.1, while Husqvarna only has 6.5. (in terms of HP).
However, power is not the only thing that a professional longer focuses on. There are some other factors as well like guarantee, handling, key features, e.t.c. But, if power is the prime factor for you then simply go for Stihl.
6. Stihl Vs Husqvarna | Key Features
Key features are the Most Important factors that influence our decision because they determine the overall performance of the chainsaws. Moreover, they also enhance the power of the chainsaw along with its handling and fuel consumption. Hence, it is my adjuration to the readers not to skip key features comparison.
Stihl Key Features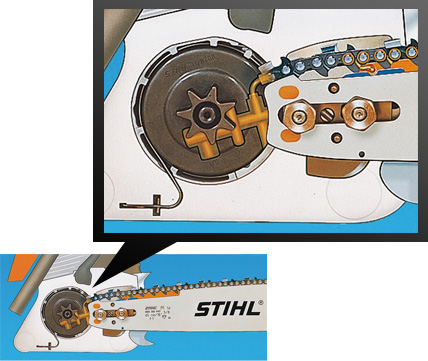 Compensator: This feature helps in preventing the fuel-air mixture from clogging. Moreover, the compensator also maintains a perfect fuel to air ratio resulting in cleaner and efficient burning of the fuel.
Ematic system: This feature reduces the consumption of chain lubrication oil to nearly half the requirement. Furthermore, this feature also enhances the performance of the chainsaw.
2-Mix Engine: This feature is solely for the chainsaw whose source of power is gas. This engine reduces the average fuel consumption by nearly 20%. Furthermore, this 2-Mix engine also reduces the emission by 70%.
Anti-vibration system: This feature reduces the vibration of the chainsaw by 50%, thereby enhancing its handling.
Quick stop chain break: It is a unique feature available in cordless chainsaw models, that instantly makes the chain stops when we let go of the rear handle.
Control handle: Sthil chainsaws feature a soft-cushioned control handle. These handles help us to have a firm grip on the chainsaw while we are operating it.
Husqvarna Key Features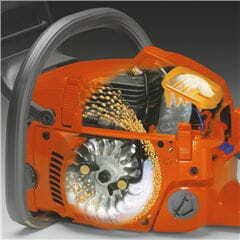 X-Torq: The X-Torq technology decreases the fuel consumption rate by enhancing the fuel efficiency of the chainsaw. Furthermore, the X-Torq engine also dampens the emission level of the exhaust.
Smart Start: This feature ensures that we can start the chainsaw quickly with less effort by improving the pulling mechanism.
Air Injection Feature: This feature is a centrifugal air cleaning system that extends the chainsaw's operating time between filter cleanings. Furthermore, it also reduces wear, thereby ensuring a longer life span of the chainsaw.
Autotune: This feature helps the Husqvarna chainsaws outshine all the other chainsaws available in the market. This feature helps the chainsaw achieve an optimal engine performance throughout the automatic engine settings. Hence, it makes us free from the hassles of manually adjusting the carburetor for getting the desired performance from the engine.
LowVib system: These systems use dampeners for eliminating vibration from the chainsaw. Hence, giving us a better experience and a firm grip while handling and operating the chainsaws.
Which Brand Has The Edge In Terms Of Power
Although Stihl has more distinct features than Husqvarna, I am giving this point to Husqvarna because of Autotune. It is because the remaining feature of Stihl and Husqvarna are nearly the same. Furthermore, similar features are also available in chainsaws from other brands excluding Autotune. Hence, Husqvarna is a clear winner here.
However, the Autotune feature is usually appreciated by new chainsaws users. It is because experienced chainsaws user knows how to strike a sweet spot for achieving optimal engine performance. Henceforth, if you are a pro in chainsaw you may count this section as a draw as well.
Final Words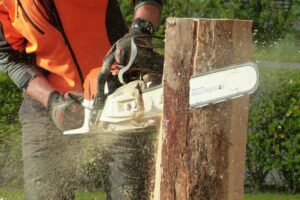 After comparing the chainsaws on the 6 prime factors we got to know that both of these brands are phenomenal. Furthermore, they offer unique products which are very popular in the market. As a result, it is very difficult for me to draw a clear conclusion to determine which brand is the best.
However, as per our comparison, Stihl won in 3 out of six factors while Husqvarna got an edge in only 2 factors the remainder was a draw. So according to the comparison Stihl is more appealing for a customer. But, at last, it is our personal needs and desires which will motivate us to buy a product.
For instance, if you are looking for a casual use chainsaw then your power requirement will be 3HP. Hence, the comparison based upon the power will be of no use for you as both the brands offer 3 HP powered chainsaws. Henceforth, I will recommend you to first determine your actual needs with a chainsaw then compare them on the basis of your requirements with a chainsaw.
But, still, if you are not able to come to a conclusion I will recommend you to rent or test the chainsaws if possible. I am sure that most of the hardware stores will be having spare Stihl and Husqvarna chainsaws for testing. Furthermore, you may also borrow chainsaws from your relatives or friends.
However, if all of these options, i.e borrow, rent, and test is not available then simply make your decision based upon Our comparison. I am sure that this guide will help you to come up with the perfect decision.
If you still have any doubts or queries regarding this article or any other topic. Please let me know through the comment section. I will be very happy to solve your queries.
Resources
Being one of the most trusted pages of our readers, we try our best to provide correct and complete information to them. As a result, we have a stern guideline for sourcing the data and information for our article. For this purpose, we refrain ourself from gathering the information from tertiary or third party website. It is because the majority of the tertiary websites do not provide authentic data and might also cause harm to our readers.
You May Also Like To Read About